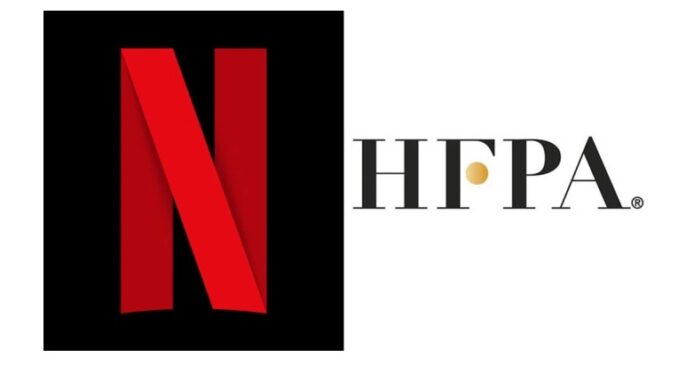 Reprinted from Deadline Hollywood by Dominic Patten on May 7, 2021.
"As the beleaguered Hollywood Foreign Press Association pledges to reform itself, Netflix has declared that its will not be working with the Golden Globes group until it gets its act together, to put it mildly," writes Dominic Patten in Deadline Hollywood.
"'Like many in our industry, we've been waiting for [Friday's] announcement in the hope that you would acknowledge the breadth of issues facing the HFPA and provide a clear roadmap for change,' the streamer's co-CEO Ted Sarandos wrote in a letter Thursday to the HFPA's Leadership Committee that Deadline has obtained.
"The correspondence from the top exec came on May 6 after around 75 of the insular HFPA's 86 members voted for an inclusion and overhaul proposal the group's board put forth at the beginning of this week. The HFPA has been scrambling since it was revealed just before February 28's semi-virtual Golden Globes that the freewheeling group had zero Black members. Amid a series of stumbles and critiques since, the HFPA saw racially offensive remarks from a former president and newly minted Diversity and Inclusion advisor Dr. Shaun Harper and fixer supreme/Scandal inspiration Judy Smith both resign in frustration last month. …
"The HFPA did respond (eventually), in their own way.
"'We hear your concerns about the changes our association needs to make and want to assure you that we are working diligently on all of them,' current HFPA president Ali Sar wrote to Sarandos later Friday. 'We would love to meet with you and your team so we can review the very specific actions that are already in the works,' he added. 'An open dialogue would help to ensure that we are addressing these concerns as quickly as possible.' Sar then went on to challenge several of Sarandos and Netflix's claims about the state of the organization and its reforms. …
Scarlett Johansson Calls Out HFPA Over 'Sexist Questions,' Proposed Reforms
Reprinted from The Hollywood Reporter by Sharareh Drury on May 8, 2021.
Scarlett Johansson criticized the Hollywood Foreign Press Association on Saturday, saying she has faced "sexist questions and remarks" at press conferences and is urging the industry to "step back" from the beleaguered association.
Johansson's comments come a day after Mark Ruffalo became the first Hollywood A-lister to distance himself from the HFPA. Time's Up, a coalition of PR firms, Amazon, and Netflix have also suggested that reforms announced by the HFPA earlier this week do not adequately address concerns about the organization's demographics and ethics.
"As an actor promoting a film, one is expected to participate in awards season by attending press conferences as well as awards shows," Johansson shared in a statement to THR. "In the past, this has often meant facing sexist questions and remarks by certain HFPA members that bordered on sexual harassment. It is the exact reason why I, for many years, refused to participate in their conferences. The HFPA is an organization that was legitimized by the likes of Harvey Weinstein to amass momentum for Academy recognition and the industry followed suit. Unless there is necessary fundamental reform within the organization, I believe it is time that we take a step back from the HFPA and focus on the importance and strength of unity within our unions and the industry as a whole." …