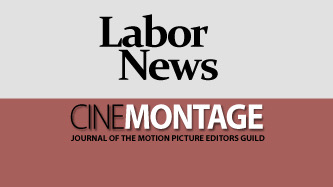 Reprinted from The Hollywood Reporter by Alex Weprin and Pamela McClintock on February 22, 2021.
Hollywood received a huge boost Monday upon receiving word that theaters in New York City — which have been shut down for nearly a year because of COVID-19 — will be permitted to reopen March 5, albeit with strict restrictions in place.
New York City is the country's second largest moviegoing market behind Los Angeles, and is crucial if studios hope to begin to recover from the pandemic.
New York Governor Andrew Cuomo announced the decision during a press event Monday. In recent days, Cuomo had been criticized for keeping cinemas closed while allowing bars and gyms to reopen as pandemic numbers subside.
"Theater owners are pleased with the announcement that New York City movie theaters will be allowed to safely reopen. Stringent voluntary health and safety protocols have made it possible for cinemas across the country to operate safely and responsibly at higher capacity limits for many months without a single outbreak of COVID-19 being traced to movie theaters," the National Association of Theatre Owners said in response to the announcement. …
Presently, roughly 38 percent of the theaters in North America are in operation. With New York coming online, studios will certainly be more inclined to begin to release their backlog of titles. …
More California Restaurants, Cinemas, Gyms Could Reopen this Week as COVID-19 Cases Drop
Reprinted from The Los Angeles Times by Rong-Gong Lin II and Hayley Smith on February 23, 2021.
With coronavirus cases continuing to drop, more parts of California could reopen in the coming days.
Several counties could be eligible to open indoor operations at restaurant dining rooms, gyms, movie theaters, museums, zoos, aquariums and colleges as soon as Wednesday amid a dramatic improvement in the COVID-19 pandemic.
Among the counties that could be eligible to leave the most restrictive purple tier on Wednesday are San Mateo and Marin counties in the Bay Area and Yolo County, west of Sacramento and home to UC Davis. …
Counties in the second-most restrictive red tier can reopen indoor restaurant dining rooms and movie theaters with up to 25% capacity or 100 people, whichever is fewer. Gyms and dance and yoga studios can open at 10% capacity. Museums, zoos and aquariums can open indoor activities at 25% capacity. Stores, indoor malls and libraries can open at 50% capacity, an increase from the most-restrictive tier, in which only nonessential stores could open at 25% capacity. …
Southern California was hit much harder by the winter wave than other parts of the state, so reopenings are likely going to be slower there, officials have said. …