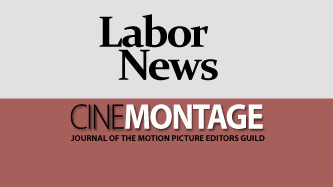 Reprinted from Deadline Hollywood by David Robb on December 29, 2020.
The WGA has rejected WME's latest proposal that would end their long-running legal battle, saying that "WME has yet to grapple, in a serious way, with its own conflicts of interest." WME sent the guild a new proposal on December 22 that would, had it been accepted by the guild, have ended the WGA's 20-month boycott against the agency. WME said last week that it had "updated the terms of our proposal and submitted it to the WGA in a good-faith effort to jumpstart our discussions. We want to find a way forward with the Guild and return to representing our writer-clients. We are willing and available to meet with the Guild as soon as possible, including over the holidays, in order to reach a resolution."
The guild's agency negotiating committee, however, says that the agency's proposal is unacceptable because it has more favorable terms than the agreement reached with CAA on December 16, leaving WME as the last major agency not to have signed the WGA's franchise agreement, which phases out packaging fees and limits ownership in an affiliated production company to 20%. …
Writers Guild: No Deal on WME's Updated Offer, Agency Won't Get Bonus for 'Going Last'
Reprinted from The Hollywood Reporter by Erik Hayden on December 29, 2020.
Hollywood's long-running standoff between a top agency and the Writers Guild of America isn't over yet.
The guild has declined WME's December 22 updated proposal that would've allowed the talent firm to represent writers for the first time since April 2019, saying that the offer "substantially alters" a deal made with rival agency CAA earlier this month.
"Having sat mostly on the sidelines for the past 20 months, there will be no 'going last' bonus for WME – no accommodation for the fact that they are the most conflicted of all agencies – no alterations to our existing deals that soften the protections that writers have fought for nearly two years to achieve," wrote the guild's agency negotiating committee in a note to its members on December 29.
The guild contends that Endeavor, the parent company of WME, won't place its ownership interest in film and TV company Endeavor Content in a blind trust. The guild has called affiliate production a conflict of interest for agencies and has stated that talent firms must reduce their ownership interest to 20 percent in such entities. …
Judge Denies WME's Request for Preliminary Injunction to End WGA Boycott; Major Legal Victory for Writers' Guild
Reprinted from Deadline Hollywood by David Robb on December 30, 2020.
A federal judge has denied WME's request for a preliminary injunction that would have ended the WGA's boycott of the agency until the antitrust case can go to trial. It's a major legal victory for the guild, and should add pressure on WME to settle the long-running dispute and sign the WGA's franchise agreement, as have all the other major talent agencies.
In his ruling Wednesday, US District Court Judge André Birotte Jr. said that he denied WME's request because "The Court lacks jurisdiction to enter an injunction because this matter involves a labor dispute as defined by the Norris-LaGuardia Act." According to the Norris-LaGuardia Act, "No court shall have jurisdiction to issue any injunction in a case involving or growing out of a labor dispute except in a strict conformity" with the act's requirements.
"In short," the judge ruled, "the Court lacks jurisdiction to issue an injunction because the NLGA precludes it from doing so. Because injunctive relief is precluded, the Court need not delve into the merits of (WME's) FCC or any of the other strict requirements for the issuance of a preliminary injunction."
Read the ruling here. …