The day before Sunday's Academy Awards Ceremonies, a capacity audience gathered in Sherman Oaks to celebrate the art of picture editing. The American Cinema Editors' 22nd Annual "Invisible Art/Visible Artists" (IAVA) comprised a panel of this year's Oscar-nominated editors, who talked about the genesis of their careers and offered unique insights about how they cut key scenes from their films.
This year's nominees for Film Editing were Hank Corwin, ACE, who cut "Don't Look Up;" BAFTA nominee and subsequent Oscar winner Joe Walker, ACE ("Dune: Part One"); Pamela Martin, ACE ("King Richard"); Peter Sciberras ("The Power of the Dog"); plus Myron Kerstein, ACE, who with Andrew Weisblum, ACE, edited "tick, tick … Boom!" The moderator was MPEG president Alan Heim, ACE. (Earlier, Martin received an ACE Eddie Award for Best Edited Feature Film (Dramatic), while Kerstein and Weisblum picked up an Eddie for Best Edited Feature Film (Comedy).)
During his introduction, ACE president Kevin Tent made pointed reference to the Academy's decision to pre-record the award presentations for eight craft awards, including film editing and sound. Tent called the decision "hurtful, insensitive and short-sighted," with residual effects that will require bridge-building. Panel moderator Heim agreed and, while unhappy with the decision, he said that ACE needs to continue the fight for appropriate recognition from the Academy for film editors.
Addressing Heim's initial question about how panelists had entered the industry, Corwin recalled that "working in film in New York was a plush job," and that he edged his way up after learning how to sync dailies. With a background as a classical music composer and later a sound editor in his native England, Walker was "never interested in becoming a film editor," but he "loved the way that sound and images work together." Martin attended NYU Film School and turned to film editing in her second year. "I ended up working on many, many corporate presentations, music videos and documentaries," she said, eventually getting her big break with director Ang Lee.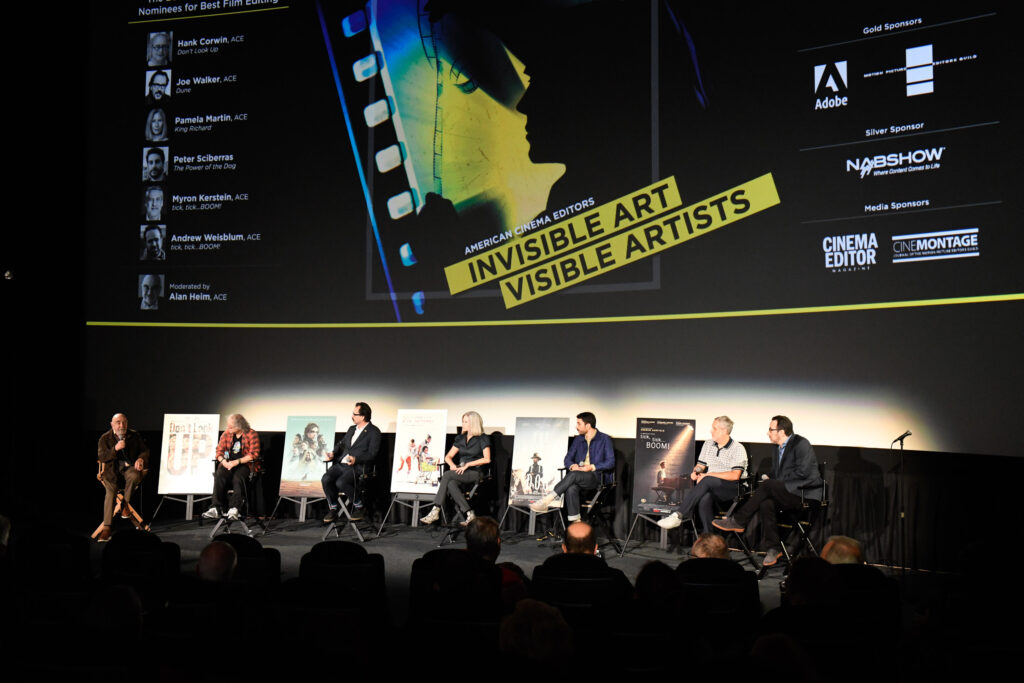 Australia-based Sciberras studied design and illustration in his early 20s and transitioned into editing music videos; "within three years I was cutting my first feature," he said. Originally, Kerstein wanted to be an artist – "a painter, a printmaker or maybe a photographer" – but instead attended UMass Amherst to study filmmaking, before moving to New York City as a PA on several TV shows. "I got hired to cut the first season of 'Sex and the City,' before hustling my way onto features – anything to make a living," he added. Weisblum managed to break into filmmaking in the '90s, "as an intern cutting on film," he said. "Perseverance for 10 years as an assistant let me break into the mainstream."
The remainder of the morning's presentation comprised illustrative clips from the five nominated films by their respective editors, starting with Corwin, who had selected the final sequence from director Adam McKay's "Don't Look Up," during which key characters have gathered for a dinner party while comet debris is falling through the atmosphere. Leonardo DiCaprio, as astronomer Dr. Randall Mindy, sums up the film's bleak message: "We really did have everything, didn't we?"
"That scene was very personal to me," Corwin said, "including images from my own wedding video," to add a poignant memory. "I'm a reactive editor; I had my assistant pull images that show the chemical representation of chemical synapses [in the brain]," to underscore the dramatic changes taking place. "I also used freeze frames to crystalize key moments and serve as small time capsules. I knew where the sequence was going to start and where it would end – everything else was up for grabs!"
Walker selected a sequence from director Denis Villeneuve's "Dune: Part One" that illustrated an early use of "The Voice" to control opponents, as members of the noble Atreides family become embroiled in a war for control over the galaxy's most valuable asset. "That breakfast scene, a quiet sequence early in the film, established an important sense of family [between Paul Atreides and his mother, Lady Jessica]. It never changed after the first cut," the editor recalled. "I added a time loop showing Jessica's hand moving a glass which, it is revealed, only happens in her unconscious mind. That sets up another loop when a few scenes later Paul is introduced to the Reverend Mother. I'm attracted to time loops; you can't tell whether it's one day, or every day – an event or a syndrome. We were cutting 'Dune' for 20 months with a three-month gap in the middle caused by the pandemic, which gave us time to think about where we were – this was after we'd delivered the director's cut. During the pandemic, I was cutting at home and could come down in the middle of the night as solutions occurred to me. I'm sorry, but a lot of this movie was cut in pajamas!"
Martin chose an early sequence from director Reinaldo Marcus Green's "King Richard" during which Richard Williams is seen anxiously coaching his daughter Venus as she develops her intense competitive edge during a key tennis match. Acknowledging that music modulated the scene, the editor recalled working closely with composer Kris Bowers to set the pace, even with a temp track. "I told the director that, for me, the scene was over when Venus hit her big serve," he revealed. "So … he didn't shoot the remainder of the scripted scene! We also added some pickups to slow down part of the action to highlight the energy of the game as each player followed their own unique arcs. And we couldn't cut it like a televised event with a commentary; I needed to set the pace and abbreviate the action to eliminate time. Family contact also was important between Richard and Venus, to underscore their close interaction."
Sciberras selected a sequence from director Jane Campion's subversive western, "The Power of the Dog," which used music to underscore the tension between two lead characters as a charismatic rancher torments his brother's new wife. "Rosa was practicing a piece at the piano while Phil [the rancher] began to demonstrate his prowess on the banjo," the editor explained. "It was a classic scene with slow push-ins to build dramatic tension; the scenes were shot on two sets with no interaction. My first cut was pretty much it – we pulled it apart and put it back together with the same result. Sound quality was also critical. I've worked with [supervising sound editor] Rob Mackenzie on many films to build atmospheres; we took advantage of sounds recorded on the sets and, during the mix, added Foley to develop the best sounding space we could."
Kerstein and Weisblum chose two short sequences from director Lin-Manuel Miranda's "tick, tick … Boom!" that comprised an animated therapy session between the lead character and his girlfriend juxtaposed with a musical number, and then swimming lengths as he composed a key theme for his unique musical, "Rent." Although Weisblum started the edit, pandemic-related delays and a commitment to another film meant that he couldn't complete the film. "I left after the director's cut had been completed," he recalled. Kerstein, who had worked previously with the director on "In The Heights," took over and saw the picture home. "There was no overlap," Kerstein stated. "Andrew [Weisblum] stopped and I took over. Although we never cut at the same time, it was useful to bounce ideas off him. But I was on my own, solving my own problems." "We kept in touch, particularly during later audience screenings," added Weisblum.
"I had to go back to the dailies and recalibrate," Kerstein said. "Overlapping the powerful performances [of the composer and his girlfriend] was a challenge. Andrew Garfield [as composer Jonathan Larson] delivered an Oscar-quality performance, so we didn't need to take a sledgehammer to it! Cutting a musical presents its own demands; to cut it down yet hold the audience's interest for two hours." "We both needed to find our own language from the script," said Weisblum.
During a subsequent Q&A Session, one audience member asked the panelists about the most rewarding moment while working on their respective films. Oscar-winner Walker recalled a recent screening of "Dune: Part One" that was packed with a young crowd. "I was there with Greig Fraser, the DP [director of photography], for a Q&A," he stated. "It was such an amazing experience to be with people that were digging the film so much." Asked about the kind of tasks that an assistant editor can solve, Corwin revealed that "they are my sounding boards; I rely on their visceral reactions."
Sponsors for this year's "Invisible Art/Visible Artists" included Adobe, Motion Picture Editors Guild and the National Association of Broadcasters (NAB) Show; CineMontage served as a Media Sponsor.