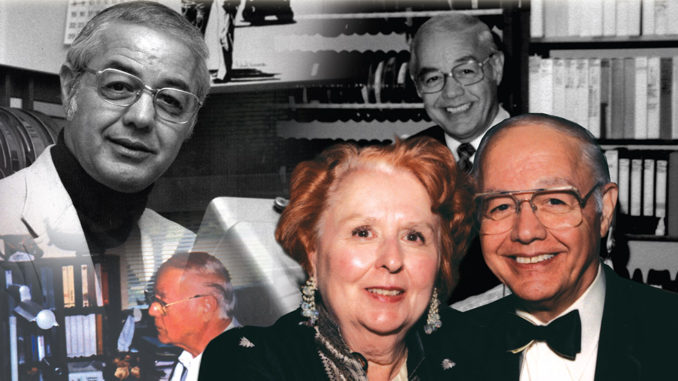 By Michael Kunkes
When AMPAS announced a permanent Oscar for sound editing earlier this year no one cheered louder than Peter Berkos. It was Peter, who, as two-term President of the MPSE from 1963-1966, spearheaded the fight to achieve full membership for sound editors in both the Motion Picture and Television Academies; and to obtain full screen credit recognition for sound editors.
Sound effects have been Peter's life. He started in live radio drama in the1940's as a sound effects man at WVAH in Hines, IL, walking in a sandbox, knocking on miniature doors and shooting off blank pistols in the studio. As an apprentice at Universal Studios after moving to Hollywood in 1952, he was inspired by Dore Schary's book "Portrait of a Movie," in which sound editing was described as "the place where the creative process begins." Already hooked on sound, this set Peter on a 35-year career path that included some 300 features and 1,000 television shows.
An Editors Guild Member since 1954, Peter won a "Special Achievement in Sound Editing" Academy Award in 1976 for The Hindenburg. His feature credits include The Sting, The Great Waldo Pepper, Slap Shot, Thoroughly Modern Millie, Gray Lady Down, Airport and Coogan's Bluff. He earned seven Golden Reel Awards and an Emmy nomination for his supervising work on Short Walk to Daylight. His TV credits include 77 Sunset Strip and Battlestar Galactica.
Nothing gave Peter greater personal satisfaction in his career than passing on his knowledge to new editors and students. He is a recipient of the coveted USC Department of Cinema Medallion, awarded for his 16 years of presenting seminars. He once mentored a 19 year-old Steven Spielberg in sound editing for a month, calling him the "most eager learner I ever met."
Sound effects have been Peter's life.
A charter member of the MPSE, Peter originated the design for the Golden Reel Award, and wrote, produced and directed the organization's awards program and dinner-dance for 27 years. He was honored with the MPSE's Lifetime Achievement Award in 1996.
Peter retired in 1987, but hasn't slowed much. He has written and published Reflections and Memoirs of Sally Ann Berkos, a collection of his late wife's (pictured) writings, and completed a 500-page novel, The Double Double Cross, a crime story that takes place in a post-production department. His play, Harmony, has been produced in the Southland, and he continues to facilitate a writers' group near his San Diego-area home while he works on a new novel.
"I've had a wonderful career," he says. "I made friendships that have lasted a lifetime and worked with the greatest people in the business."