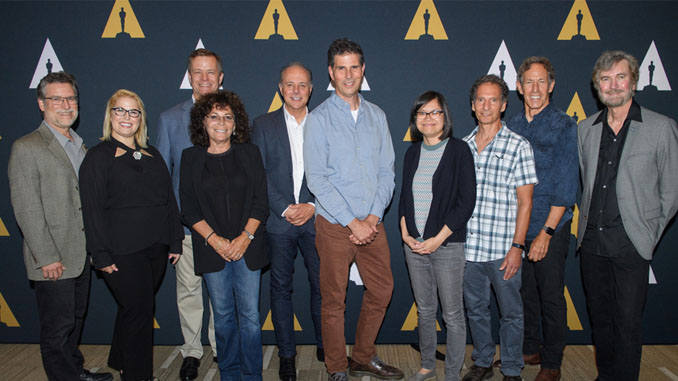 by Mel Lambert
"Developing a soundtrack is a collaborative process, from the spotting session to the dub stage," stressed Oscar–nominated sound designer, supervising sound editor and re-recording mixer Ai-Ling Lee, CAS, during the Masters of Sound panel discussion in late July at the Samuel Goldwyn Theatre in Beverly Hills. Organized by the Academy of Motion Picture Arts and Sciences (AMPAS) for its Academy Gold Program — a multi-tiered educational and experiential initiative designed to enhance and extend its intern program — the sound panel formed part of an eight-week educational series, here focusing on the creative importance of high-quality post-production processes and techniques, together with providing mentoring and networking access to Academy members.
"While spotting a film scene, we are thinking about what sound effects to pull," Lee explained to the capacity audience, including invited members from SMPTE and AES local Hollywood sections. "We also provide creative feedback [to the director, picture editor and producer] during the entire post-production process.
"On the dubbing stage, a lot of creative conversations have already taken place, but the soundtrack can always be improved once we hear how the various dialogue, music and effects elements play against one another," she continued. "We are always experimenting with balances until we achieve the result that the film's director is looking for."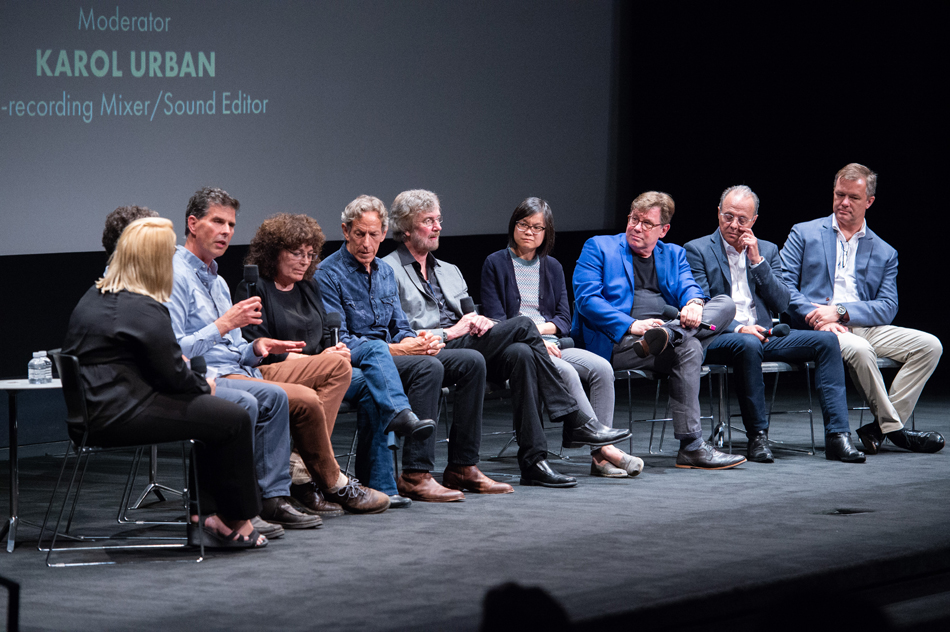 Moderated by Karol Urban CAS, MPSE, herself a re-recording mixer, sound editor and co-editor of Cinema Audio Society Quarterly, the discussion panel was designed to cover key aspects of a film's soundtrack from the location shoot to print mastering. In addition to Lee, the panel consisted of supervising dialogue editor/sound editor Teri Dorman, sound designer/sound effects field recordist John Paul Fasal, scoring mixer Alan Meyerson, CAS, re-recording mixer Scott Millan, CAS, Foley artist Dan O'Connell, production sound mixer Lee Orloff, CAS, Brian Slack, a re-recording mixer/audio engineer and senior manager of professional audio at Xperi Corporation, which acquired DTS some 18 months ago; and supervising sound editor/sound designer Mark Stoeckinger.
In cooperation with film studios, industry suppliers and organizations, the Academy Gold Program is targeted at more than 100 film/entertainment undergraduate and graduate students, including 22 interns placed in various academy departments. For the first time, the program is being made available to students with a career interest in cinematography, production design, post-production and film editing, with hands-on experience on a soundstage, as well as the set of an active production, shadowing various departments.
Working with the academy's Sound Branch, panelists chose clips of illustrative sequences that highlighted their key work. To emphasize the importance of securing well-recorded dialogue tracks from the set, Orloff introduced a high-action sequence from Gore Verbinski's Pirate of the Caribbean: Curse of the Black Pearl (2003), for which he received an Oscar nomination. "Working with the wardrobe department, we can now use tiny lavalier microphones the size of a pin head," the production mixer explained. "For the fight sequence from Black Pearl," Orloff recalled, "the action continued up onto some rafters, for which we needed access for my boom operator [Thomas A. Payne]. We couldn't use lavaliers [for that sequence] because multiple beads worn by Jack Sparrow [Johnny Depp] were clinking and clacking in close proximity to the microphone."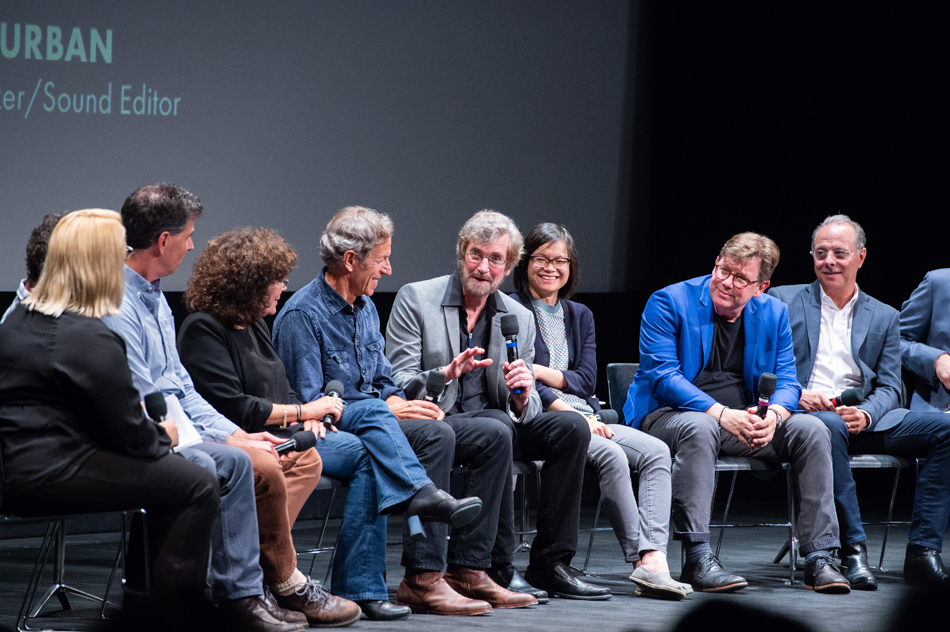 Dorman recalled that she also worked on Curse of the Black Pearl, editing Orloff's dialogue tracks for the re-recording stage. "I rely on detailed sound reports from the shoot to select the best solution for each scene," she conceded, explaining that during a spotting session, while the supervising dialogue editor reviews a locked picture edit of the film, she needs to determine what sound style the director and picture editor want. "What dialogue do we keep; what needs to be replaced during ADR?" she says. "If we have multiple channels of boom and lavalier tracks, which one will sound best on the soundtrack? There are a lot of choices be made at this stage."
Stoeckinger's sound example came from director Tony Scott'sUnstoppable (2010) for which he received an Oscar nomination. The supervising sound editor had provided four different versions of a train-chase sequence to demonstrate the process of building a soundtrack. "The first version includes [production mixer] Bill Kaplan's dialogue recordings from the sets, as well as Group and ADR," Stoeckinger explained. "Version 2 is the music elements from the score [by Harry Gregson-Williams], while Version 3 is the sound effects stem. Finally, Version 4 puts it all altogether to deliver what we heard in the movie theatre." Dorman also served as supervising dialogue editor on Unstoppable, and recalled that voices of the children seen inside the runaway train were enhanced with ADR. "As with all Tony Scott films, the dialogue was a challenge because of the fast-paced, stylized editing," she said. "The cutting between [the railway] control room, TV news footage and the train made the track layout for the final mixing stage critically important."
Described by Urban as a "Cowboy of Sound," effects recordist Fasal brought along a show reel of his work securing unique sound elements. "You have to have an inquisitive nature," he offered. In terms of dangerous environments in which Fasal has worked, he recalled that while recording sound effects for Michael Bay's Transformers: Revenge of the Fallen (2009) he was "trapped within an aircraft carrier's turnaround area, with jet blasts going over our heads!"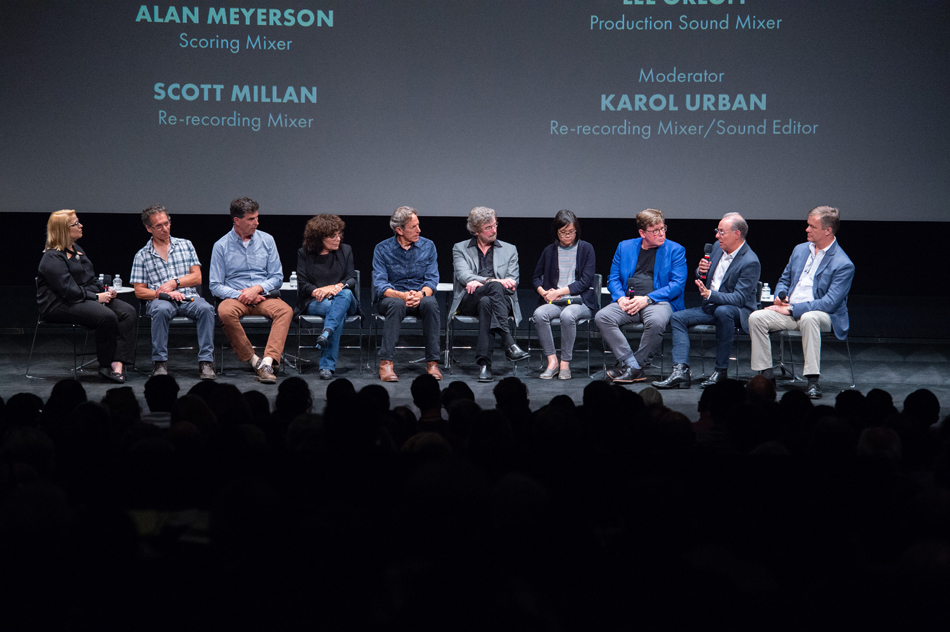 As a self-styled "sound hoarder," Foley artist O'Connell acknowledged that he and his colleagues are "the best recyclers in the world; we never throw anything away. We are the stunt people of sound; we perform what you see on the screen, including hand-to-hand combat and other human contacts. For example, I performed the armor from several of the Pirates of the Caribbean films, as well as Jack Sparrow's earrings. Realism is important to tell the director's story within the best of our ability." O'Connell's sound example came from Paul Greengrass' The Bourne Ultimatum (2009) During the high-action fight scene he had selected, "The good guy must sound better than the bad guy," the Foley artist reasoned. "You also have to figure out what is happening in the room and find suitable sounds."
The film sequence selected by sound designer/supervising sound editor Lee came from Hany Abu-Assad's action thriller, The Mountain Between Us (2017). "Selecting and editing the complex sound effects required for the plane crash involved a lot of team work," she explained. By coincidence, Lee worked on the film using aircraft sounds recorded by Fasal, together with Foley performed by O'Connell, further underscoring the collaborative nature of sound post-production.
Turning to the importance of a well-recorded musical score, Meyerson said, "I try to help realize the composer's and the director's vision. I provide various stems to the re-recording stage to offer options that accommodate the dub. Maybe a cue is masking an ADR line; the re-recording mixers can now make the necessary adjustments to match. There is a huge synergy between the scoring stage and the dub stage while making a film; I try to visit the dub stage whenever I can."
Meyerson's selected clip came from Terrence Malick's Oscar-nominated The Thin Red Line (1998). "You can play the perspective of the action, for example, or the perspective of the tension and fear," he explained. "In the scene I selected [showing the fate of captured Japanese soldiers], the director went with the score [from composer Hans Zimmer] and a simple voiceover — very few sound effects. To drive the energy, we used a percussion element as a pulse, which is not heard clearly until the end of the sequence."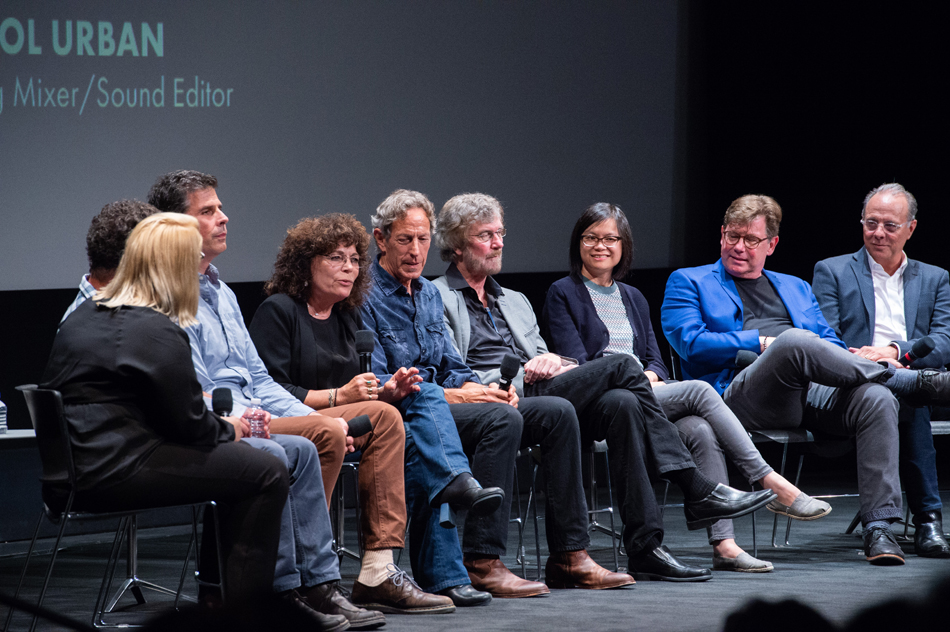 Millan was described as a seasoned "gaffer mixer," handling music and dialogue against sound effects and Foley elements. "I always aim for clarity, working closely with the director and picture editor to realize their vision," he said. "We need to anticipate each other's sensibilities. It helps if I have worked with these people before, because we can develop an unspoken language, as we creatively zig and zag while crafting the soundtrack. What does a director really mean when he states, 'Make this sound red?' How should I respond; how should I interpret such requests? And all films are radically different."
The re-recording mixer's sound example was the execution scene from Sam Mendes' The Road To Perdition (2002), during which Tom Hanks, playing the mob's hired gun (Michael Sullivan) seeks revenge on his treacherous boss (Paul Newman). "The film was edited in New York but mixed here in Los Angeles," he explained. "Before we started the [soundtrack], we had planned a review screening on September 11, 2001, to discuss the style of the film. But Sam Mendes got stranded in New York [because of the air traffic shutdown]. We had to start the temp mix in Sam's absence, and later discovered that he wanted to tell this story from the perspective of a young boy's memory of his father. We didn't have to be literal. Sam told us, 'You have mirrored the image perfectly, but it's not what I want.'"
According to Millan, from temp dubs through the final mix, the mixers experimented with many different versions of the showdown scene between the lead characters at the end of the film. "We tried slowly muting the sound of the environments and the sound of the guns," he explained, "moving from a sense of reality to a stylized feel, until we hear Paul Newman say, 'I'm glad that it's you.' Tom Hanks' character then opens up on him at close range, and we hear the full impact of his machine gun. In other words, we allowed the audience to emotionally fill in the gaps. That's fun." Millan was Oscar-nominated for his work on the film's soundtrack.
Finally, Slack showed a clip from Peter Berg's Patriot's Day (2017), about a terrorist attack during the 2013 Boston Marathon, and for which he handled the up-mix from a 5.1 channel to an immersive soundtrack format with additional surround channels. "I worked closely with the film's supervising sound editor and added extra elements as necessary," said Slack, who specializes in workflows required behind the dub stage. "Just operating a re-recording console isn't all of it," he added. "We are 'unionized scientific artists' who use sophisticated tools to create immersive soundtracks in a number of formats, including DTS-X and IMAX 12, as well as home-delivery formats." Between five and six years from now, Slack predicted, the film industry will have the ability to re-record a soundtrack once, which would down-mix automatically to match the exhibition or delivery format. "That would ensure a uniformity of artistic intent," he concluded.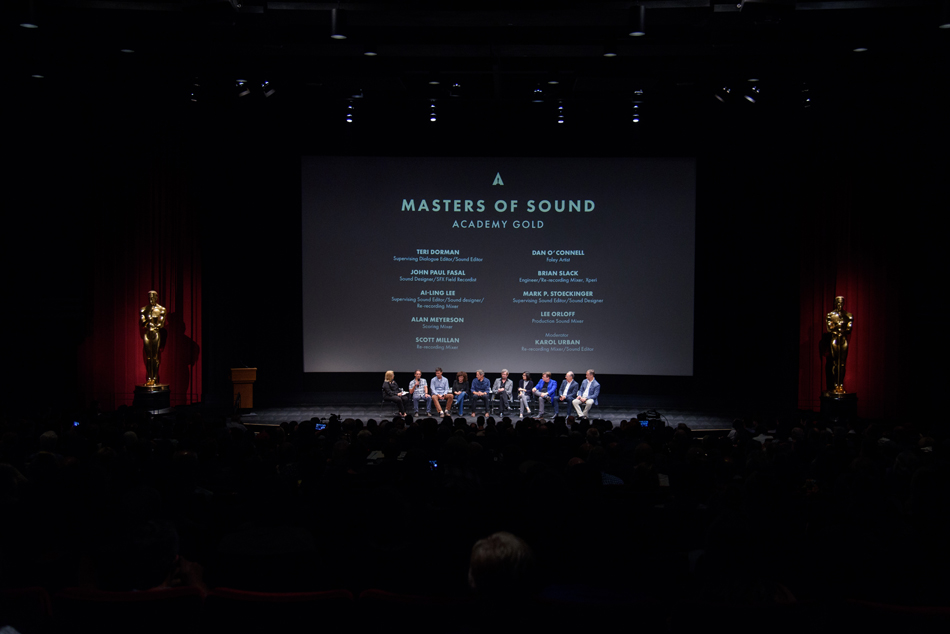 During a subsequent question and answer session, an audience member asked O'Connell whether a score was recorded to run beneath the fight sequence from The Bourne Ultimatum. "No, it played without music," the Foley artist replied. "It was spotted with music," added Millan, who re-recorded the film's soundtrack. "But we wanted to play up the nuances of hand-to-hand combat, particularly the clashing knife blades."
Lee was also asked about her unique role during the post-production process, handling sound design, sound supervision and re-recording. "I am okay working as a sound designer and supervising sound editor," she replied, because a [separate] re-recording mixer can bring a fresh perspective to a project. But it's all about achieving the director's vision and following her or his vision. It is useful for me to have worked on the soundtrack from the beginning, because I know where every element is and why it's there [during the re-recording process]." "Filmmaking as a team sport," Urban stated, winding up the Q&A session, before thanking all panel participants for their unique, collaborative contributions.
In his session introduction, AMPAS governor Kevin Collier provided more information about the Academy Gold initiative, which was launched in June 2017 to "connect companies from across the entertainment landscape with a pool of diverse young talent."
All major film studios have committed to Academy Gold, along with such companies as HBO, IMAX, Lionsgate/Starz, Panavision and Dolby Laboratories, with each partner pledging to sponsor up to three interns. The industry-wide summer internship and mentoring program aims to broaden opportunities for students and young professionals from under-represented communities. According to a statement from Edgar Aguirre, the 8,000-member academy's director of talent development and inclusion, the new program "will empower and create new opportunities for emerging and diverse talent, while engaging our membership and underscoring the impact these leaders can have on shaping the future of our industry."
Major support for Academy Gold is provided by Walmart, with the Production Track series supported in part by JPMorgan Chase Foundation, plus additional support from the Walt Disney Company, Warner Bros. and Wells Fargo.