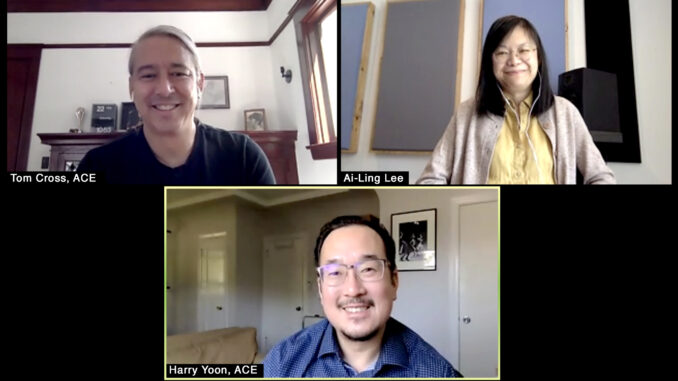 The look of love? Of that, Damien Chazelle was certain. For the courtship scene in 2016's "La La Land" with Ryan Gosling's jazz pianist Sebastian and Emma Stone's actress Mia, the Oscar-winning director captured the pair's chemistry in a sunset dance through L.A.'s Griffith Park.
Admiring that look was Tom Cross, ACE, who won an Oscar for Best Editing on Chazelle's 2014 film "Whiplash." After all, the only visual effects involved adding a few pinpoints of light in the scenery and stabilizing the lamppost Gosling leaned against since it was a practical prop that moved a bit. "Other than that, it's a single take in-camera with in-camera lighting and, you know, Linus Sandgren photography," Cross said. "So when I saw it, I was like, 'This is amazing.'"
The scene was so incredible that one nervous studio executive asked, "Where's the coverage?" Also, Cross added with a laugh, "One of my assistants said, 'Oh, this is great. All you have to do is cut the slates off of this.'"
But the sound of love? Of that, the filmmakers were not so certain. "There was a big discussion about tap shoes," Cross said. "Would we have the sound of tap shoes? Would we not? Because they're not wearing tap shoes in the scene."
The floor yielded to the expertise of four-time Oscar nominee Ai-Ling Lee, the film's supervising sound editor, who experimented with different footwear. "We tried it with a hard sole because that's what they wore, and that didn't quite have that magical touch to it," Lee said. "And so Damien wanted it to have more a Fred-and-Ginger kind of feel."
While choreographer Mandy Moore gathered dancers for a Foley-stage recording session to perform the routine in varying styles of tap shoes on varying surfaces, Lee sent Chazelle clips of iconic dance sequences for him to select the tap sounds he liked the most. She then asked her team to recreate the desired tone with all the gathered intel. Further enhancing the scene, which had Gosling and Stone gliding upslope, "the dancers added extra steps here and there, and scuffs here and there," Lee said, "to make more magical moments."
The result was a seamless transition from walking and talking to dancing and singing, one made possible by the collaboration between sound and editing. As Cross noted, "You know, it's not about realism after a certain point. It's about emotional value."
Cross and Lee discussed their joint work on "La La Land" and Chazelle's 2018 Neil Armstrong biopic "First Man" in a "Celebrating Asian Pacific Heritage Month" Zoom seminar hosted by Harry Yoon, ACE, on May 22 and presented by MPEG's Pan Pacific Asian Steering Committee.
Yoon, an Eddie nominee for 2021's "Minari" who provided additional editing on "First Man," said after the seminar: "In the thick of a project, it's hard to find time to reflect on process and to appreciate the work of your colleagues in different crafts. I loved how Tom and Ai-Ling were able to speak to how interrelated and interdependent picture editing and sound design truly are in crafting something truly cinematic. I know I'm going to be thinking of ways that I can make 'room' for sound in my cuts in the future."
Equally important, the panel spoke about their careers and their desire to encourage more members of the AAPI community to follow in their (non-tapping) footsteps.
Rosanne Tan, ACE, co-chair of PPASC along with Nena Erb, ACE, said providing inspiration was a key goal for the seminar. "A career in picture editing seemed unattainable because the majority of the editors didn't look like me," Tan explained of her formative years. "I wished I could go to events like these back then, so I hope these events can inspire future assistant editors, sound editors, editors, and every MPEG member to keep believing and striving for their goals towards success."
That sentiment is shared by Yoon, who was born in Seoul but moved with his family to the U.S. when he was five. He told Cross and Lee during the seminar, "[You] are having an impact, as well with your modeling a possibility that just didn't exist, I think, when we were coming up."
Cross credited his Vietnamese mother, a prolific painter, printmaker and sculptor, for creating an art-friendly home environment that made him believe anything was possible. He remembered attending his mom's exhibitions and going to the cinema with his movie-loving father. "I grew up in an environment that really encouraged creativity," he said.
The Milwaukee-born aspiring editor headed East to receive his BFA in visual arts from Purchase College, New York. His break came when Ang Lee collaborator Tim Squyres, ACE, was in Manhattan cutting some commercials in between movies "and he put his feelers out for an assistant specifically versed in commercials," Cross said. "At the time, I was trying to make the jump and someone recommended me because of my commercial background."
From there, Cross moved on to independent films, TV series and features, including Michael Gracey's 2017 musical "The Greatest Showman" and Cary Joji Fukunaga's upcoming James Bond film "No Time To Die." Next, he's re-teaming with Chazelle for "Babylon," an ode to Hollywood in the 1920's, and also keen to work with future AAPI editors. Diversity steering committees "are doing the heavy lifting," he said, "but I think it's incumbent upon everyone, all the members, to join in on these conversations and to hire people who have different backgrounds."
Lee's career path started more than 8,700 miles away in Singapore where she grew up reveling in cinema sound thanks to her dad's decent hi-fi system. Films such as "Jurassic Park" sparked her curiosity because "you don't really see the dinosaur," she said. "You hear it." So she studied audio engineering, going on to mixing and editing commercials and music locally, then wrote letters to Hollywood studio sound department heads expressing an interest in observing and learning.
The letters worked, and soon Lee arrived in LA with a plan: If she couldn't land a job within a year, she would head back to Singapore. The first hurdle would be resisting advice that steered her toward ADR jobs, which required its own interest and expertise. "Traditionally, at least back then, effects design was mostly a male-dominated job," she said. "But I wanted to focus more on the design side, so I had to make clear to them what I wanted to do."
Her work would soon speak for itself. By the mid-2000's, she was creating effects for blockbusters such as "Spider-Man 2" and "Watchmen." "Maybe it's a subjective thing," Lee said, "but, you know, people sometimes don't really expect big sound, or big gunfights, or car crashes, or monsters and explosions coming from a young woman."
She has since earned Oscar nominations in sound editing and mixing for "La La Land" and "First Man," and was the sound designer on 2014's "Deadpool" and the supervising sound editor for 2019's "JoJo Rabbit." Lee returns to musicals for Kay Cannon's "Cinderella," and when she is not working, she is still collecting sounds, be it honking cars or flushing toilets, with the recorder she carries in her purse everywhere she goes.
Revealing that little detail is part of Lee's outreach to Asians and Asian Americans to say that there is such a job as doing post "and that it's fun, and it's not just technical," she said. "it's a creative process." On a positive note, she added that over the last couple of years, college graduates "have reached out to me or introduced themselves to me, and a lot of them are young women and Asians. That's a good sign."
Cynthia Wang, a longtime entertainment journalist, was a former reporter and editor at People and features editor at TV Week Australia. She has also contributed to publications such as Empire and lectures at the Medill-Northwestern Journalism Institute. Contact her at cynthia@cynthiawangmedia.com.