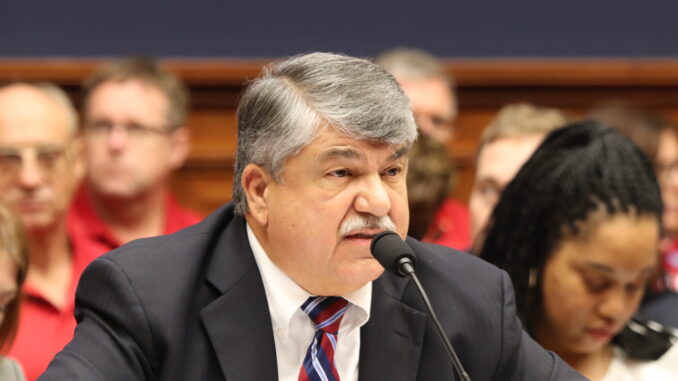 Reprinted from The Washington Post by Eli Rosenberg on August 5, 2021.
AFL-CIO president Richard Trumka, one of the country's most powerful labor leaders and an influential voice in many Washington debates, died suddenly at 72, according to the federation.
Trumka, a third-generation coal miner who rose to power through the United Mine Workers, had become one of the most powerful labor leaders in the country and a key ally of Democrats in Washington, having worked in some capacity with every Democratic White House the last 30 years. …
Trumka had been president of the AFL-CIO, a group of more than 50 labor unions representing 12.5 million members, since 2009, and active in the fight for labor rights dating back decades before that. …
As labor issues took center stage in the Biden administration, Trumka's profile — and sway — was perhaps at its peak. With his blue collar background and working class credibility, he had been a crucial ally and public advocate in the larger discussions about strengthening the country's labor laws, through legislation like the Pro Act, that remains a top Democratic priority. …
AFL-CIO: Labor Legend Trumka Passes Away
Reprinted from an AFL-CIO press release by Communications Director Tim Schlittner on August 5, 2021.
"The labor movement, the AFL-CIO and the nation lost a legend today. Rich Trumka devoted his life to working people, from his early days as president of the United Mine Workers of America to his unparalleled leadership as the voice of America's labor movement. He was a relentless champion of workers' rights, workplace safety, worker-centered trade, democracy and so much more. He was also a devoted father, grandfather, husband, brother, coach, colleague and friend. Rich was loved and beloved. Today, the 56 unions and 12.5 million members of the AFL-CIO mourn the passing of our fearless leader and commit to honoring his legacy with action. Standing on Rich's shoulders, we will pour everything we have into building an economy, society and democracy that lifts up every working family and community."
IATSE President Matt Loeb Calls Trumka's Death 'Heartbreaking'
Reprinted from an IATSE press release by Matt Loeb on August 5, 2021.
The passing of AFL-CIO President Richard Trumka is absolutely heartbreaking. Today we lost a giant amongst giants, a stalwart champion of the labor movement, and a dear friend. President Trumka's leadership was electric and unparalleled, from his early days as president of the United Mine Workers of America through the COVID-19 pandemic. It was an honor to serve alongside him in these difficult times.
President Trumka will be remembered as a legendary labor leader, and we can all honor his memory by carrying forward his life's work: to ensure that all working people can attain the American Dream. In the words of Mother Jones, "Mourn the dead, fight like hell for the living."
My heart and prayers go out to Rich and his family. May he Rest In Peace.
After Trumka's Death, AFL-CIO Faces a Crossroads
Reprinted from The New York Times by Noam Scheiber on August 8, 2021.
"Richard Trumka's 12 years as AFL-CIO president coincided with the continued decline of organized labor but also moments of opportunity, like the election of a devoutly pro-labor US president," writes Noam Scheiber in The New York Times. "With Trumka's death last week, the federation faces a fundamental question: What is the AFL-CIO's purpose?
"For years, top union officials and senior staff members have split into two broad camps on this question. On one side are those who argue that the AFL-CIO, which has about 12 million members, should play a supporting role for its constituent unions — that it should help build a consensus around policy and political priorities, lobby for them in Washington, provide research and communications support, and identify the best ways to organize and bargain.
"On the other side of the debate are those who contend that the federation should play a leading role in building the labor movement — by investing resources in organizing more workers; by gaining a foothold in new sectors of the economy; by funding nontraditional worker organizations, like those representing undocumented workers; and by forging deeper alliances with other progressive groups, like those promoting civil rights causes. …