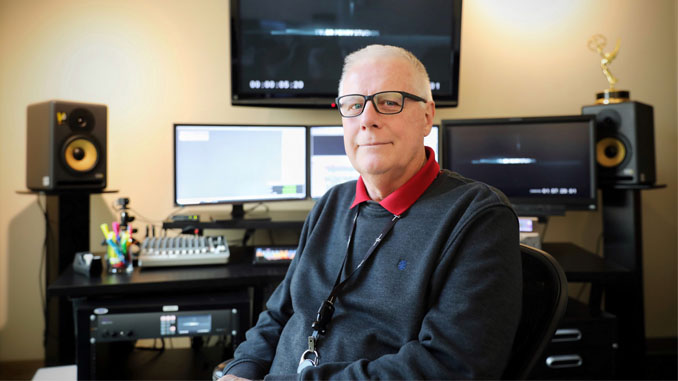 Where are you currently employed?
I currently work at the new Tyler Perry Studios (TPS) complex in Atlanta. A Madea Family Funeral was released in March. 
Current Project?
A yet-to-be-named movie project.
Describe Your Job.
As editor, many times I work directly with Perry on his movie projects. I am allowed the freedom to do the first cut, and then he will sit with me and go over it. I have a fun job, but the chance to work with the creative genius of Tyler Perry is simply an amazing experience. When not working on movies, I work on TPS' television dramas, The Haves and the Haves Nots and If Loving You Is Wrong, both on the OWN Network.
How did you first become interested in this line of work?
I always loved the challenge of creating emotion, blending photography and telling stories within a single image. With a college degree in photojournalism and art, I started photography freelancing with the Minnesota North Stars (now Dallas Stars) pro hockey team. Today, these images are in the permanent photography collection at the Hockey Hall of Fame in Toronto.
I began editing and telling stories with film in news and production at a rural Minnesota TV station. I was able to shoot and process my own film, and edit and write the story. I enjoyed the rush of live news and telling the viewer what I had witnessed through film, copy and creativity.
Moving to Chicago, I started in post with Columbia Pictures Duplication as a tape operator. Over the years I've been a live sports technical director, color assistant, assistant editor, online editor, and online effects editor, and ended up as the first nonlinear tape-based editor in Chicago working on the Montage Picture Processor, one of the NLEs.
Who gave you your first break?
I've had many "first breaks," starting with Len Perlman, who hired me from Columbia to work at Editel in Chicago. There, I worked with and learned from some of the most talented editors I've ever met. For my first break in TV show business, I thank Harpo Productions' Dave Logan who hired me to work on The Oprah Winfrey Show. I thank The View's Candi Carter, producer Leslie Grisanti and Tyler Perry Studios senior vice president Will Areu for my position at TPS. For my break into movies, I thank Tyler Perry who personally believed in me to edit his movies.
What was your first union job?
Picture Editor on the TV series If Loving You Is Wrong at Tyler Perry Studios.
Which of your credits or projects have made you the most proud and why?
My favorite video segment for The Oprah Show is the background piece I did on Stevie Nicks and Fleetwood Mac; the time pressures we worked under made it even more rewarding. Other notables would be Oprah's Legends Ball doc for ABC, the NCAA Final Four open for CBS, and Cicely Tyson's biography piece for the Kennedy Center Honors on CBS. Also, Boo! A Madea Halloween was not only a fun project, but the opportunity to experience the energy of audience laughter was unique — plus two weeks topping the box office made it really special.
What was your biggest challenge in your job (or on a particular project) and how did you overcome/solve it?
In Australia, U2's Bono was the opening guest on The Oprah Show at the Sydney Opera House, and I was assigned the setup piece for the band. The night before the show, U2 recorded the song "Beautiful Day" at a concert, which I would edit with backstage interviews to make a two-minute segment. I needed to time the song so that at 1:45, while Oprah waited on stage, Bono would walk through the curtains to greet her there, singing the chorus with the video.
The segment was needed in the truck for the live show no later than 7:00 a.m. I was ready to go at 3:00 a.m., but the elements from the shoot didn't arrive until after 4:00 a.m.
Bono ad-libbed lyrics with Oprah's name in some verses; I needed to keep those verses but keep one of U2's most popular songs from sounding edited and still hit the 1:45 timing mark. At one point, I almost took the song out of Avid and into Pro Tools so I could do sub-frame editing, but I finally got it to time and was able to re-edit some sections to blend by using riffs from other parts of the song to make the transition. I kept trying pieces over and over again until it worked…perfectly. I delivered the finished segment at 6:50 a.m. —10 minutes to spare.
What was the most fun you've had at work?
Working The Oprah Oscar Special telecasts was lots of fun. But the most fun was editing Bono and U2 for the Oprah live segment and seeing it play on the screens by the Sydney Opera House with Bono coming through the curtain to the music I edited, with 12,000 fans cheering. It was a real rush.
Jobwise, what do you hope to be doing five years from now?
Five years in this business is a long time. I enjoy finding new ways to tell stories that help others. Maybe a shift towards documentary filmmaking.
What are your outside activities, hobbies, passions?
I escape to the quiet of the country or to the sounds of waves at the beach. I talk to and learn from people with different backgrounds and careers. I enjoy photography and doing art projects that encompass photography.
Favorite movie(s)? Why?
Hands down, Caddyshack, an all-time classic. I'm kidding about the classic part, but when I started with Columbia Pictures, I was a VHS tape duplicator and Caddyshack was the movie I duplicated most often. I have seen it over 100 times and know most of the script lines. I've got that goin' for me, which is nice.
Favorite TV program(s)?  Why?
Bloodline, Season 1 on Netflix, and Amazon's Goliath, Season 1. I enjoy their creative show opens and the shows themselves have a good storyline blended with good cinematography and solid editing, a pleasure to watch. To relax, I get good laughs from older shows like Seinfeld, Everybody Loves Raymond or Curb Your Enthusiasm. 
Do you have an industry mentor?
Tom Pyers, editor on Oprah's recent After Neverland TV show, and Big Shoulders Digital Video Productions owner Frank Hanes in Chicago. We all need a peer in the business who can be honest with us, to bounce ideas off. Both Tom and Frank have been that for me, and we've also alerted each other to opportunities.
What advice would you offer to someone interested in pursuing your line of work?
Watch a lot of different types of television shows and movies. Refer to print ads and design for ideas and come up with ways to incorporate those ideas into moving images. Have a solid core expertise, then expand your knowledge to offer clients other abilities. We can no longer be one-dimensional. We are in a creative, customer service business and are only as good as our last jobs. Put your client at ease. Always be positive! My favorite saying is, "How can I make your day better?" When you put others first, somehow everything seems to work out for the best.
Was there ever a circumstance when you had to rely on the Guild for help or assistance?
No. I've been fortunate, I guess.
Is there anything you'd like to say to your fellow Guild members, some words of encouragement?
The industry is changing quickly, with lots of opportunities to go around. Network with others as much as you can. I don't think there's been a better time to be in the business.
Compiled by Edward Landler        
Editor's Note: To recommend a member (including yourself) to be featured on CineMontage.org, and the home page of the Editors Guild website, please contact edlandler@roadrunner.com.