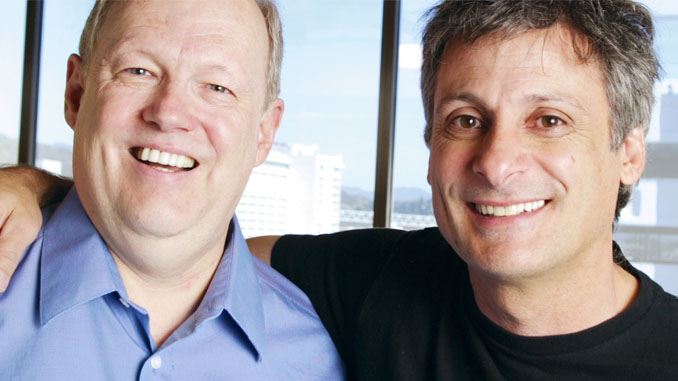 by Mel Lambert
A long-advanced marketing adage states, "If you trust the brand you can trust the product." In the case of Academy Oscar-winning supervising sound editors Mark A. Mangini, MPSE, and Richard L. Anderson, MPSE, there's a very good chance that a customized version of their extensive sound effects library will contain an array of useful material. Now being offered exclusively by Pro Sound Effects, The Odyssey Collection: Complete is a library featuring more than 100,000 sound effects in close to 300 categories. The library was created from Mangini and Anderson's private archive built-up over 30 years of working in the feature film and TV post-production industries.
"The idea behind these new sound effects libraries was pretty simple," recalls Mangini, an Academy Award nominee for Blade Runner 2049 (2017), The Fifth Element (1997), Aladdin (1992) and Star Trek IV: The Voyage Home (1986), and winner of the best Sound Editing Oscar for Mad Max: Fury Road (2015). "Richard and I felt that our life-long work shouldn't fall into obscurity, but could be used by sound editors, sound designers, picture editors, game designers and other professionals to add realism to their soundtracks." Mangini has also received two BAFTA nominations for Best Sound and multiple Motion Picture Sound Editors (MPSE) Golden Reel nominations with two wins.
The two have worked together for close to 40 years, first meeting in 1979 to work on Star Trek: The Motion Picture, and subsequently set up Weddington Productions, a full-service sound editorial and mixing facility based in North Hollywood. "From the very start of our friendship, we always valued a well-curated effects library," confirms Anderson, who was Oscar-nominated for Daylight (1996) Poltergeist (1982) and received a Special Achievement Award from the Academy of Motion Picture Arts and Sciences' (AMPAS) for his work on Raiders of the Lost Ark (1981). "Over the years, our library grew to some 260,000 effects," Mangini says. "The new Odyssey Complete is a thoroughly vetted and re-mastered distillation of a collection that represents the very best Richard and I have to offer."
"For the early parts of the library, we went back to the original recordings or a digital intermediate from our server," Anderson explains. "It was very important to us that we returned to those recordings, some of which were from analog 15 ips Nagra tapes that we had transferred to digital using high-quality Apogee A-to-D convertors." Adds Mangini, "We needed the best transfers because of our overriding belief that, to use a cooking analogy, you cannot make a fabulous dish without the freshest ingredients. Our modus operandi has always been that a carefully crafted soundtrack must use the best possible effects recordings. We always like to record new, fresh sounds; these are what we always need for our film and video soundtracks. I like to think that our content has power and resonance."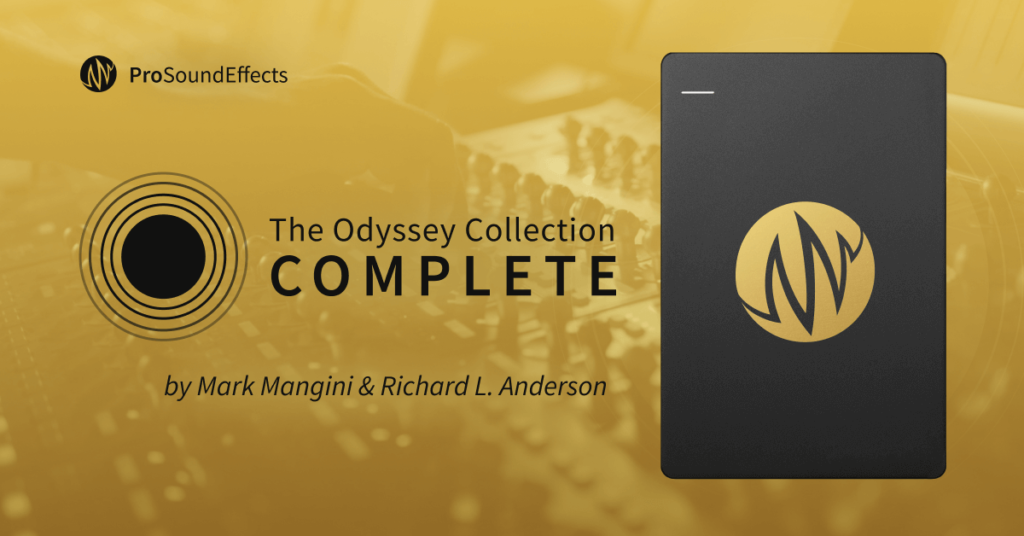 Turning to playback formats, the new libraries include both mono and stereo ambiances, together with quad/4.0, 5.0-, 7.0-, 5.1- and 7.1-channel configurations. Mangini has also been using multi-channel, battery-powered recorders to capture eight-channel immersive effects of outdoor atmospheres and vehicle interiors, for example. "Though not included in Odyssey Complete, some of the recent additions to our library that will be available soon are first-order Ambisonic recordings that can be rendered to surround formats — including 7.1.4 and beyond for [Dolby] Atmos and other soundtrack formats," he says. "When I recently went on vacation to China, I took a Zoom recorder to capture four-channel ambiances for future projects," explains Anderson. As Mangini concedes with a broad grin, "We are both pathologically engaged in capturing the world aurally!" "I remember being in Kenya and all I had was a small recorder; no Nagra," Anderson continues. "I secured some close-up recording of several unique animals late at night and early in the morning, which I used many years later in a jungle film."
The Key to Success 
Both editors emphasize the importance of carefully cataloging each sound effect in a library. "Simple descriptions such as 'Black Car Pass-by' or 'V8 In and Stop' are not useful," Anderson notes. "We always need good labels to locate a real sound for a star car in a key scene; we always added full descriptors of each sound so that the catalog was totally useful for us and our editorial crews." Anderson also received an Emmy Award for sound design on the Steven Spielberg-directed episode of Amazing Stories TV series, and is now writing and directing films in both China and the US, including the recent co-production, Behind Bayonets and Barbed Wire (2016).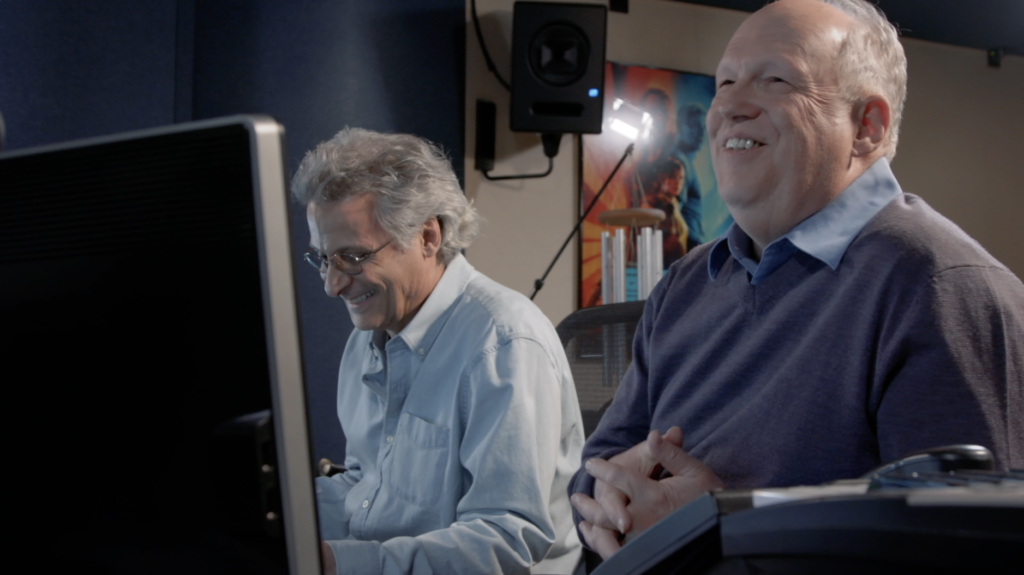 With several thousand sound effects to be searched by end users, a consistent cataloging scheme is essential, according to the pair. "Having worked with sound effects for so many decades, we know the value of a properly cataloged library," says Anderson. "We handed over all our metadata to Pro Sound Effects, which the company used to create a robust and consistent template," Mangini explains. "PSE put on five full-time librarians, who worked for two years to fully edit, master and catalog the entire Odyssey Collection," with optimized metadata for quicker searches and user-friendly results. "The librarians also cleaned out duplicates and ensured that descriptors were consistent across the various sub-libraries. They also made sure the sound files were of a consistent format." Reportedly, a total of 295 categories have been used within all of the Odyssey sound effects libraries, with embedded metadata to speed up searches and streamline the sound editing workflow.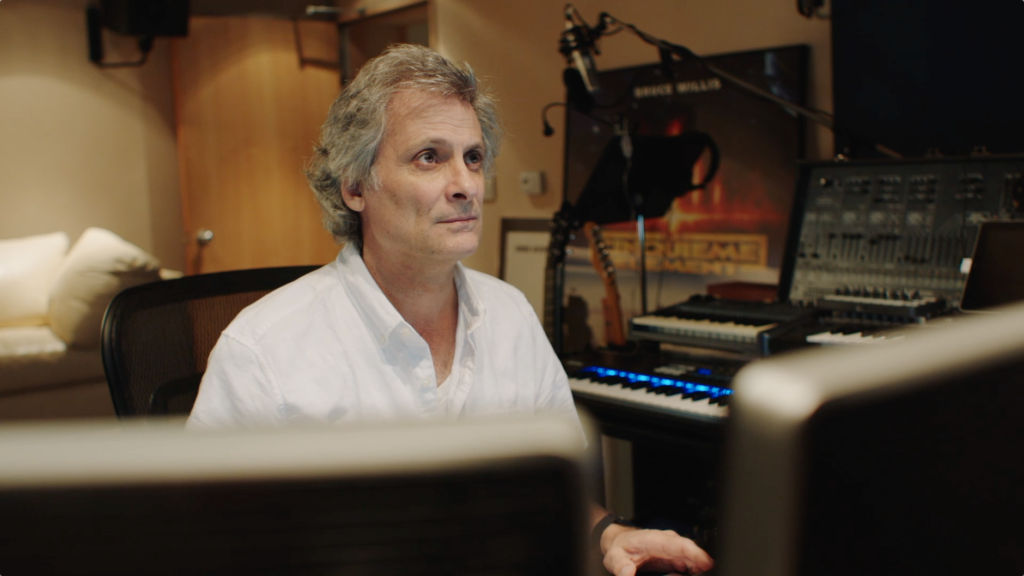 For Mangini, a perfect effects library "is one that has expertly and consistently organized metadata that allows me to quickly find what I need, coupled with high-quality sounds that drop into my timeline with a minimum of editing, processing or layering. In other words, I want my library to facilitate my goal of spending my time telling stories with sound, rather than squandering it fixing, editing or filtering those sounds."
The perfect sound effect achieves two goals, he continues. "First, it tells some part of the story and does so with a minimum of fuss. We might apply 'Occam's Razor here'; often the simplest solution to a problem is the best one. Secondly, a well-recorded sound, artfully chosen, is the most valuable."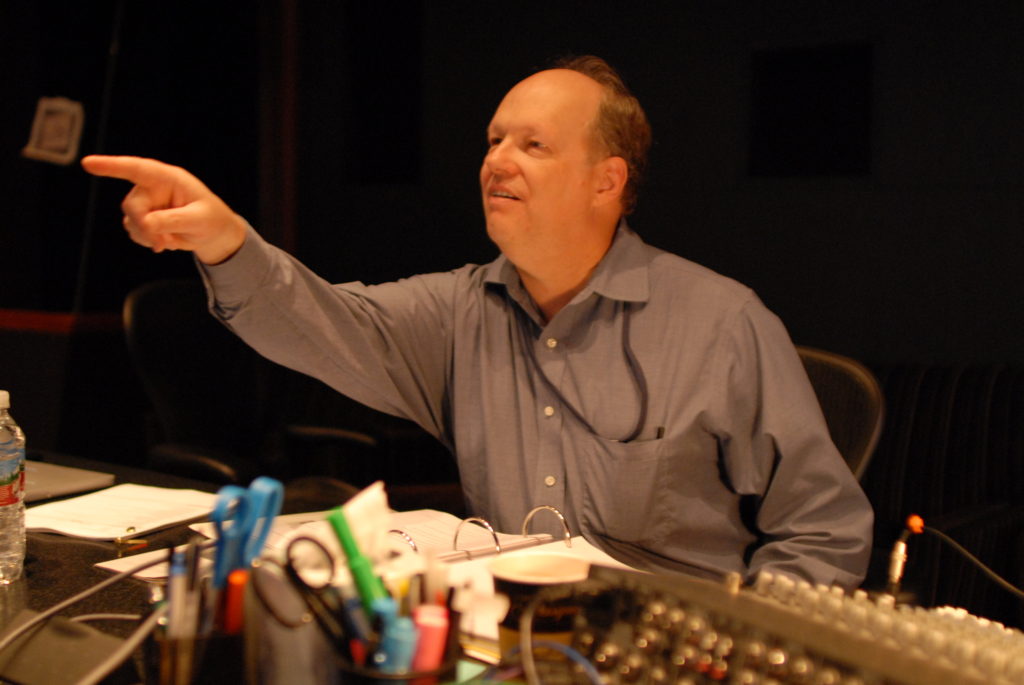 Anderson is equally emphatic: "I look for a library that is of a large size with many different types of categories. And also one that has a good cataloging system; after all, it doesn't matter if you have the sound but cannot find it when you need it right away while a show is dubbing on the stage! I also think that recordings created by sound editors — and maybe re-recording mixers for their shows — are probably the best, because we know the kinds of sounds needed to get the job done. Those sound effects need to be dynamic and as clean as possible."
"Richard and I felt that our life-long work shouldn't fall into obscurity, but could be used by sound editors, sound designers, picture editors, game designers and other professionals to add realism to their soundtracks." — Mark Mangini
Such metadata needs to be updated regularly, as new categories are added to a library. "Consider the sound from 40 years ago of a 1978 Chevrolet Impala," Mangini suggests. "Dependent upon your perspective, that can be described as a 'Classic Car,' an 'Antique Car'or a 'Vintage Car'; we updated our catalogs to reflect all of those designations for sound editors." Adds Anderson, "And a tag such a 'Seventies Autos' is too vague. For example, we found a 1928 recording in the MGM library described as 'New Car!' And that was a 1932 recording of a Ford Model A! We updated everything in our libraries to ensure they had correct descriptions."
Asked why the sound editors' names should add a patina of respectability to a sound-effects library, Mangini's response is pragmatic: "We spent our careers solely obsessed with making sound for movies. Every sound in these libraries has our experience in its DNA; we always focus on the aesthetics of sound — what we record, where we record it, and why we use it on a soundtrack. These libraries were built for movies and other sound-conscious projects. For picture editors, we have done all the thinking necessary for just about any media project to provide better temp tracks."
"As experienced supervising sound editors and sound designers, Mark and I know exactly what is needed and how to record effective sound effects tracks. It's a matter of taste; we develop effects that work within a soundtrack to add clarity and definition." — Richard L. Anderson
Anderson recalls that during the early stages of his career, "We often received effects tracks recorded on location by production mixers. But they were pretty limited. A tractor sound, for example, might just be a 'Drive In'; but we might need a 'Start Up,' 'Drive-By' and a 'Stop.' After all, a production mixer never needs to use or edit his sounds, and hence does not fully understand what's required. As experienced supervising sound editors and sound designers, Mark and I know exactly what is needed and how to record effective sound effects tracks. It's a matter of taste; we develop sound effects that work within a soundtrack to add clarity and definition — just like a classic chef uses carefully selected herbs and spices to add definitive flavors to a meal."
"The Odyssey Collection represents several decades of our passionate pursuit of something we love to do," Mangini concludes. "We recorded these sound effects because we had to; the project needed it and we did what was necessary. Richard and I believe that sound designers and picture editors will love having this library at their fingertips, since it will give them full access to high-quality, carefully recorded and impeccably organized sound effects that have been instrumental to our own success. We still use these sounds every day on award-winning films and current projects. Now they can live on in the hands of the next generation of filmmakers and sound designers."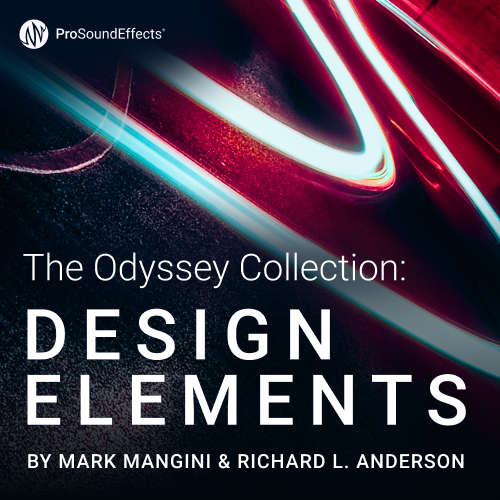 Pricing and Availability 
The Odyssey Collection: Complete comprises sub-libraries in addition to 24,000 exclusive sounds. The bundled sub-libraries include Odyssey Essentials (16,000 sounds), Odyssey Expanded (32,000 sounds) and Odyssey Vehicles (12,000 sounds), plus several unreleased libraries, such as Odyssey Ambiences, Odyssey Creatures and Odyssey Foley. End-user prices are available on the PSE website: www.prosoundeffects.com/odyssey-collection-complete.