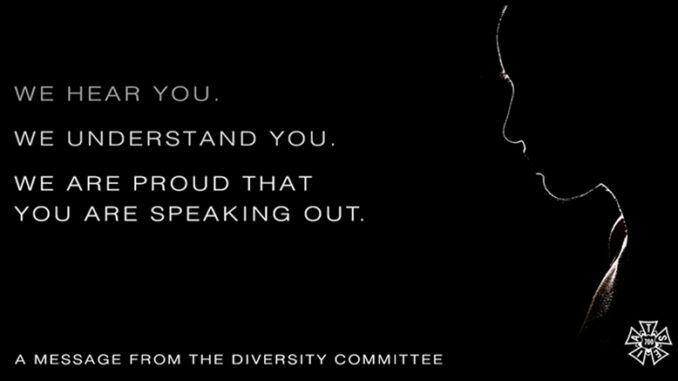 Dear Members of the Motion Picture Editors Guild,
While we continue to grieve the tragic murders of George Floyd, Ahmaud Arbery, and Breonna Taylor, members of Local 700 have been sharing their reactions to police brutality and systemic racism. As members of the Diversity Committee, we want you to know:
We hear you. We understand you. We are proud that you are speaking out.
Remaining silent perpetuates the problem. We are encouraging all of our members, regardless of race or ethnicity, to join the fight to eradicate racism by holding ourselves accountable for promoting inclusive environments and actively working towards long-term solutions.
The Diversity Committee of the Motion Picture Editors Guild will always support our African-American brothers and sisters. We will continue our efforts to positively impact their lives. We believe Black Lives Matter. That doesn't mean all other lives don't matter. Rather, it is a commitment to recognize the unfair treatment of Black people, their under-representation in our workplaces, and to eliminate inequities in our justice systems.
We want to go beyond hashtags and social media support.  It is time to back up our beliefs with action.
If you want to contribute to these efforts, please reach out to diversity@editorsguild.com.
---
---
WAYS YOU CAN TAKE ACTION TODAY
SPEAK OUT
Speak up about the hiring of Black post professionals, and make a point to hire and recommend Black colleagues, especially if you are a department head.
Mentor up-and-coming Black post professionals.
Contact your company's HR to report racist behavior at your worksite, when you are a victim or a witness. It's important to get it on the record.
Contact your Field Rep to report racist behavior at the worksite. It's important to make your union aware.
Attend events sponsored by the Diversity Committee to learn more about others' experiences and what you can do to be more inclusive.
LISTEN
Ibram Kendi Wants to Redefine Racism
"1619" – Podcast From The New York Times
READ
An Open Letter to My Post-Production Community by Jamie Nelsen
Campaign Zero's Campaign to Bring Immediate Change to Police Departments
Hollywood Reporter: WarnerMedia Inclusion Report Shows Workforce Gender Parity, Room for Improvement Elsewhere
CNBC: Five Ways to Start Being a Better Ally to Your Black Coworkers
Linkedin: Do Black Lives Matter enough for you to hire them for leadership positions?
44 Mental Health Resources for Black People Trying to Survive in This Country
So You Want to Talk About Race by Ijeomo Oluo
How to Be Less Stupid about Race by Crystal M. Fleming
How to Be an Antiracist by Ibram X. Kendi
White Fragility: Why It's So Hard for White People to Talk About Racism by Robin Diangelo
Stamped: Racism, Antiracism and You
WATCH
"The 13th," "BlacKkKlansmen," "Roots 2016," "I Am Not Your Negro," "Do The Right Thing," "Malcolm X," "LA 92," "Selma," "Fruitvale Station," "Get Out," "Dear White People," "#blackaf," "Say Her Name: The Life and Death of Sandra Bland," "Watchmen," "When They See Us," "Just Mercy," "Eyes on the Prize," "Uncomfortable Conversations with a Black Man" by Emmanuel Acho
---
Organizations you may consider making donations to:
Black Lives Matter
NAACP
National Action Network
Color of Change
George Floyd's Family GoFundMe
Ahmaud Arbery's Family GoFundMe
Justice For Breonna Taylor GoFundMe
Including these organizations should not be interpreted to mean that the Editors Guild specifically endorses any of them.
---
Active members of the Guild can join the discussion at Diversity in Post: facebook.com/groups/DiversityInPost