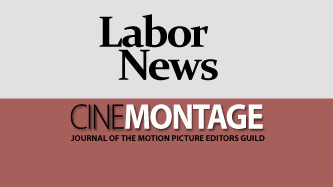 Reprinted from The Hollywood Reporter by Carolyn Giardina on February 25, 2021.
Alan Robert Murray, the supervising sound editor and decades-long collaborator with Clint Eastwood who earned Oscars for his work on the director's American Sniper and Letters to Iwo Jima, died Wednesday, a source told The Hollywood Reporter. He was 66.
Last year, Murray set a sound editing record with his 10th career Academy Award nomination, for Todd Phillips' Joker. His first two noms came for his contributions to Richard Donner's Ladyhawke (1985) and Lethal Weapon 2 (1989).
Murray also received Oscar noms for the Eastwood-helmed films Space Cowboys (2000), Flags of Our Fathers (2006) and Sully (2016) and for Chuck Russell's Eraser (1996) and Denis Villeneuve's Sicario (2015).
He worked on 32 films directed by Eastwood, from Escape From Alcatraz (1979) to Richard Jewell (2019), in a stretch that also included the best picture winners Unforgiven (1992) and Million Dollar Baby (2004). …