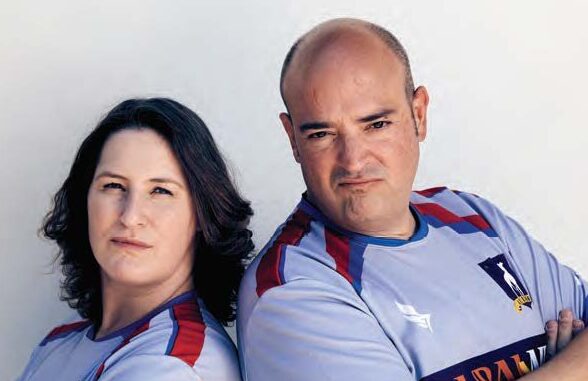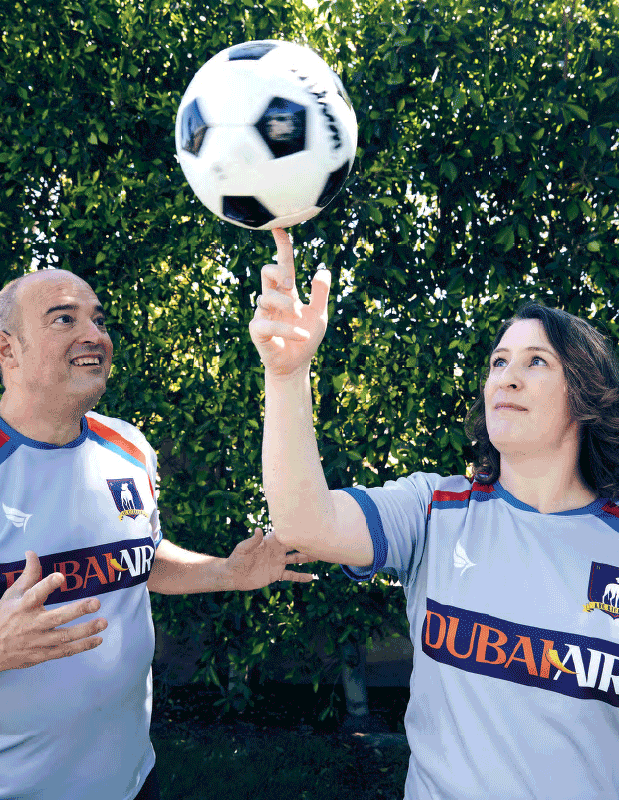 "Ted Lasso" is having a moment—a barbecue sauce moment.
The comedy from Apple TV+ grew into a sleeper hit during the nadir of the pandemic last year and has already been renewed for a second season, coming this summer.
Former "Saturday Night Live" star Jason Sudeikis developed and executive produces the comedy with "Scrubs" creator Bill Lawrence (Jeff Ingold and Liza Katzer are the other executive producers).
Sudeikis stars as the title character, an American football coach hired by a scheming British divorcee (Hannah Waddingham) to supervise her ex-husband's pro soccer club. Ted arrives with zero experience with English football and is initially detested by fans and players, but he doesn't let that deter him, because of his uncanny knack of seeing the positive side of every situation. When life gets him down, he says, he likes to think of things that make him smile, like barbecue sauce. Even out of place in a mixed-up world, Ted remains a nice guy.
His simple philosophy of decency was one that many viewers grabbed onto to amid the partisan screaming, pandemic panic and other nonstop crises of 2020. The news site Politico said, in a long feature story, that the series "has become both a word-of-mouth hit and a quirky metaphor for the political world."
Picture editors A.J. Catoline (an MPEG board member) and Melissa McCoy have won acclaim for their work on the show. Both were recently nominated for ACE Eddie Awards, with McCoy winning.
In an exclusive interview with CineMontage, the pair recounted how they landed on the show, what's coming up next season, and what makes Ted's appeal irresistible.
Q How did you both get involved in editing "Ted Lasso"?
McCoy: I was working on Bill Lawrence's show "Whiskey Cavalier" when I heard he was developing a show with Jason Sudeikis from Kip Kroeger, our supervising producer. Being a big fan of Jason's, I told them I wanted in on the show if it ended up going. So when it was a go, they thankfully remembered I called dibs on the show many times and brought me along.
Catoline: I worked on another sports-comedy show called "Brockmire" with Hank Azaria, also a comedy about more than sports and that had dramatic undertones. I edited a comedy sketch series for The History Channel called "Great Minds with Dan Harmon." Jason Sudekis spoofed Thomas Edison, so I had experience at editing his comedy and always loved his work on "SNL."
I met Kip Kroeger in an interview for a comedy show a couple years before "Lasso" started. We made a connection in the room, and I remembered that. I may not have been hired for that project, but I stayed in touch with Kip over the years.
Q Are either of you soccer fans? Sports fans? How much did you know about English football leagues before jumping into
the edits?
McCoy: While I had minimal English football knowledge, I could easily relate to the team dynamics—the sense of family complete with all the dysfunction and love and coach mentorship that comes in that world. I joined the swim club when I was in middle school and was hooked. I trained year-round until college and was even briefly on the crew team for Michigan State University until I realized I wanted to focus on my film major, so I'm very familiar with team life and all those locker room shenanigans.
Catoline: I was very aware of the game. I've learned that a field is a pitch, cleats are boots, and offside is singular. But the show is enjoyable even if you don't like sports. And that's the point. It's about being the best version of yourself, even off the field too, be it actual or metaphorical.
Q How do you think your previous shows prepared you for editing "Ted Lasso"?
Catoline: I began cutting unscripted, documentary and reality TV. Mel also started in reality before making the jump to scripted. I don't want to embarrass us, but we may have both worked on one of those "trainwreck TV" competition shows called "Rock of Love," though on different seasons.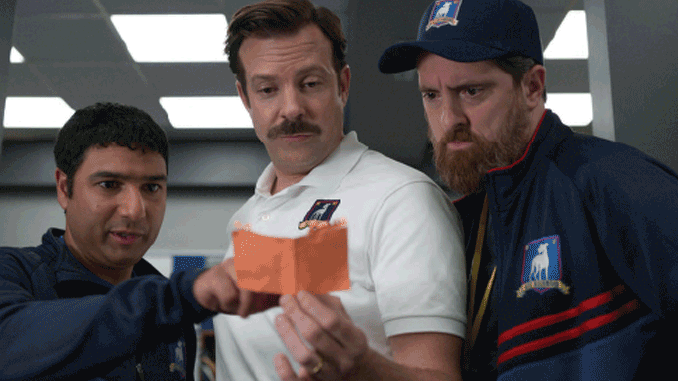 Unscripted TV is a great training ground for a scripted editor. It's the same skill set: good storytelling. Even though a show is written and shots are planned, when the directors and producers get to the cutting room they may want to try new ideas. And then it becomes the challenge for the editor: "How can we make this work with what we have?"
McCoy: I've been very lucky to have worked on a wide variety of genres, from comedy to action and drama, and I drew on all those skills with "Ted Lasso."
I'm thinking of episode 105 when we meet Ted's wife where basically all the genres are represented. In one moment, Ted is merrily waving off an ornery townsperson calling him a wanker which is followed by a devastating scene where Ted's wife basically tells him she doesn't love him anymore. From there the show moves into a complex football match where I had to weave the action on the field with Ted taking off to the owner's box to ask Rebecca to bench the star player, Jamie Tartt.
After the action on the field there's a wonderful scene in the locker room where Ted gives the classic swelling speech firing up the team, but of course with some hilarious Tedisms sprinkled in to keep the "Ted Lasso" flavor.
Unscripted TV is a great training ground.
Q One of the keys to the comedy is the way information is being withheld at crucial times. Ted doesn't know, for example, that Rebecca has hired him in a revenge scheme directed at her ex-husband. How did that notion of withheld info influence your cutting?
Catoline: The season story arc of "Ted Lasso" was withheld from most everyone outside of the writer's room. Cutting several episodes, we didn't know how Season 2 would end. I've heard the cast mention that they get the scripts just before filming. I think that helps with spontaneity and improv in the performances. When I got hired, all I knew about the project was the original short films that were made years ago. It wasn't until before we started that Mel and I got the first few scripts and we could see the show was deeper than a comedy.
I was interested to see how Rebecca's story would develop. Hannah Waddingham plays her brilliantly, revealing so much shame hidden deep in her character. The looks she gives in her close coverage are so powerful and revealing. We see her withholding the truth from Ted and even herself. There is much to mine in the coverage when I go to look for close-up reactions from Hannah. And as the season goes on, we see Ted is helping her to believe in herself, to become comfortable being vulnerable. Her radically honest and real friendship with Keeley Jones (Juno Temple) blossoms on screen.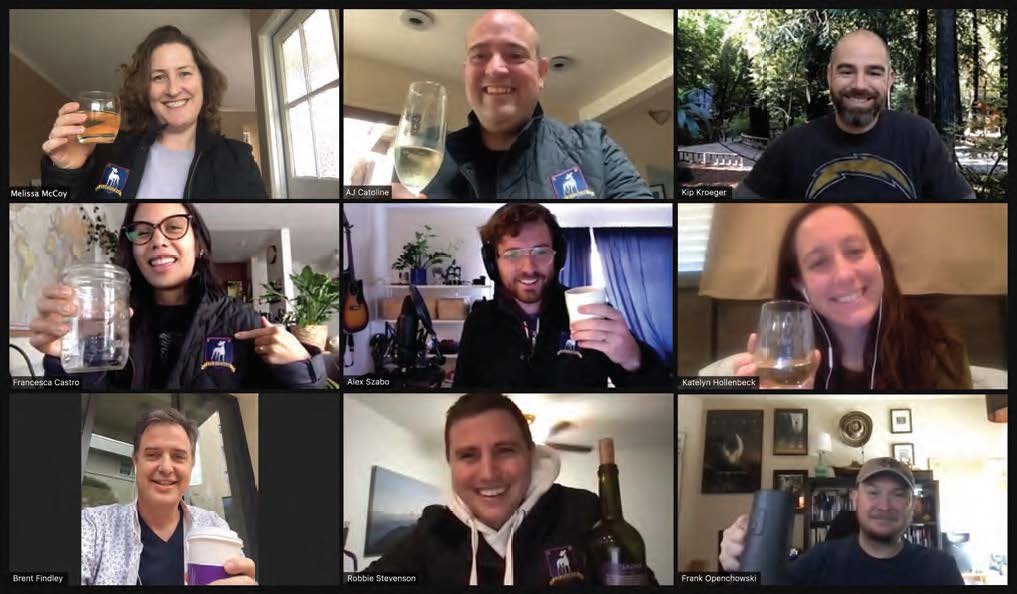 Q How about your work process on the show? What did you have to do differently on this project compared with others? Did COVID impact things, and if so, how? Catoline: Viewers may not realize how much of the show is visual effects. None of the show's football scenes are shot in a stadium or before a crowd. That is all created in the magic of post-production.
McCoy: The only thing I had to do differently on the show was cutting previs of all the football footage. I had never done that process before, but it was really exciting.
They were going to shoot all the football scenes for the series towards the end of production. So to start the previs conversation, I first built the football match using a mix of YouTube clips and stock footage with title cards over the top to basically build the beats. From there, we worked with our post house, Digital Film Tree, to compose the shots with their previs.
Then our post producer, Kip Kroeger, literally flew the sequences AJ and I had built for our episodes to London and was there for the shoot.
I think having the blueprints of the scenes helped the director feel like he was covering everything we needed and then allowed him to get some amazing shots we never had before in the previs. So when all the footage came back, it was another round of building the scene with the real footage, which sometimes took a different direction than the previs.
COVID hit when we were mostly finishing the show, so I had a few Zoom sessions with Jason and Bill to lock the last few episodes, and then reviewing visual effects and music and sound was all at home.
Catoline: The editing room is entirely virtual for season 2. In season 1, we spent the first half together and did all the final cuts remotely once the pandemic hit.
This has its upsides and downsides. I miss having the large TV monitors in the studio at Warner Brothers. It's important to watch full screen playback, to see the characters' faces.
While it's certainly an advantage to dig into the footage coming from Lasso Land in the comfort of my home, I miss the constant connection with my editorial team. I miss being able to go next door to Mel's room and share our insights on watching dailies. We still try to have meetups over Zoom, but I really miss having lunch with my editorial crew: assistant editor Frankie Castro, and my assistant Alex Szabo, and our post supervisor Katelyn Hollenbeck and coordinator Robbie Stevenson. When Mel and I were nominated for an ACE Eddie Award for episode 6—coincidentally titled "Two Aces"—we all popped a bottle of champagne over Zoom.
Q Describe the music on the show and how you worked it into the cuts.
Catoline: Jason has a real ear for music and he knows if the track is right when he hears it. The music is like another character in the show, supporting the mood of the story.
McCoy: Jason would always say there is no rule for the music, that it is just a feel. Having that freedom from genre or time period was so liberating.
Catoline: Sometimes the writers suggest specific cues in the script, and other times they jokingly write "Music Cue: Something good."
McCoy: In 103 there was a wonderful, scripted Vivaldi classical piece for the montage of Higgins reading the Trent Crimm article to Rebecca. And in 107 I found the modern pop song "Strange" by Celeste that played under the montage of everyone's story at the end of this epic night out after a win on the road. Ted signs divorce papers, Rebecca getting a little of her humanity back, Keeley and Roy coming together—so much was happening in that ending, and the song hit every emotional beat.
Catoline: We used all the British rock greats like The Clash, The Kinks, The Sex Pistols, David Bowie's "Diamond Dogs" and Queen. When we played "Sweet Georgia Brown" by Brother Bones [the Harlem Globetrotters theme] in episode 10 when the team thinks up trick plays, it really clicked and helped pace the scene to up the comedy. Ted playing A Tribe Called Quest in the locker room to cheer up the guys after a loss was a nod to Lasso's love of 1990s hip hop. Marcus Mumford's rendition of "You'll Never Walk Alone" was perfect for the finale and it carried the theme of the dark days of the pandemic. It felt so right, I laid the track down and cut the picture to the music and we got the chills. The notes from everyone read "totally cried," that's a good place to start in comedy!
The finale song for the end of season 1, we played with a few ideas and discovered that Edith Piaf's "Non, Je Ne Regrette Rien" was the perfect Lassoian anthem. In French, the lyrics are "Today, it starts with you." Ted would agree.
Q What was it like cutting the performances? You have a performer in Jason who's well known for his sketch work and is here playing a very specific character. Likewise Hannah, whose character seems to be one thing to one person, and quite another to someone else. How did you cut to get the best performances?
McCoy: I marvel over my dailies every day. I'm always excited to open a bin and see what gems these cast of actors have given me for the day. They are all so good.
Catoline: The performances of the cast were stellar—the scowls of Roy Kent (Brett Goldstein), the arrogance of Jamie Tartt (Phil Dunster), the kitman-to-coach Nate (Nick Mohammed) finding his voice, the awkward moments of Higgins (Jeremy Swift)—it was a real ensemble show and there was a lot of overlapping and rapid dialogue. Jason encourages us to take our time with the beats, to give the audience time to laugh at the joke and the reactions after. Most producers would cut these pauses out, but that shows he really gets how comedy plays.
McCoy: Jason has given them all such rich deep backstories. They will usually add a bit of improv that elevates the scene or some surprise element that I didn't quite get from reading the script when I see the actors perform the lines.
One scene that was such a delight when I saw the dailies was in 103 when Keeley comes to Rebecca's office with a cactus as a thank-you gift. The energy between them was that these two women are going to become the best of friends. I didn't see that relationship coming until after I saw the dailies. Keeley is so endearing in her performance pulling Rebecca out of her cold shell and Rebecca is flashing her these, "You are crazy but I kind of like that" looks that I simply loved. The whole scene felt so true to how female friendships form and was a major highlight of season 1 for me.
Q What was your biggest editing challenge during season 1, and how did you meet it?
McCoy: The biggest challenge was finding the line between comedy and pathos. People ask me a lot about how we were able to go between the two, and I think it's because we always tried to stay true to the character and honest to the moment. Sometimes we'd cut a funny joke because it wasn't true to the character, and then on the flip side, sometimes we'd pull back on a very dramatic moment and play a more reserved take to help the moment not get melodramatic.
Catoline: The "Allen Iverson speech" in 106 may be the wildest scene I've ever cut. It was not in the script. Jason said he wrote it days before the shoot. It may be his most inspired improvs in the series, though it's not improv. It's a near word-by-word parody of the infamous, rambling press conference given by NBA star Allen Iverson in 2002 where he repeated the word "practice" dozens of times.
When my assistant Alex Szabo and I watched the dailies coming from London we thought 'what is this? Where have we heard this before?' And that's the joke.
I cut a version of it for the director's cut, and we set it aside. Along with the director, producer, writer, we agreed it would be better to work on with Jason, and sure enough he wanted to watch every take. Jason is very intuitive in the editing process and he imagined this scene like a Western film showdown. I enjoyed working together over many Zoom calls as we built a performance that shows Ted slowly getting hotter and more intense, finally squaring off with Jamie, whom he's butt heads with all season. It was about pacing the repeat of the key line, as Iverson did, "it's about PRACTICE, man! NOT the game. Practice!" We had a transcript of Iverson's speech to stay true to the original, and I think fans appreciate that level of detail. At the crescendo, Ted is towering over Jamie and yelling. And we cut to a 50-50/two shot in a dutch angle that makes Ted look taller and more intense. And then we cut to Jamie's closeup and he looks like Ted has finally broken this cocky guy down. And we cut to Ted as he realizes he has made Jamie feel shamed. And we learn later in the episode that Jamie has been shamed by his own distant dad who only values his son if he wins. And Ted sees the expression on Jamie's face change and he cools back down.
Soccer is a game of collaboration, much like picture editing.
Q Describe your team and how they helped you get the workflow done.
Catoline: Soccer, much like picture editing, is a game of collaboration and passing the ball.
Collaborating with Bill Lawrence is a masterclass. Being a comedy writer, he understands that editing is the final rewrite. He knows how to cut dialogue to pace up a scene, and write a new line of dialogue that we can hide on a character's over-the-shoulder to seamlessly bridge the cut.
I love collaborating with my assistant editor Alex Szabo. We watch scenes together over Zoom and get ideas, and Alex has a good ear for suggesting music tracks. Alex helped me keep track of co-medic improv gems using a color-coded system in Avid Script Sync.
In episode 110, the producers asked us to build a robust temp sound design for the game sequences, because we wanted to feel the energy of the crowd in the picture editing stage before our amazing sound team went to work. Alex layered in sounds of the game. In episode 102, when the entire stadium chants "wanker!" to Ted on the field, we had a clean track of about 10 extras chanting in the pub set. Alex added a D-verb effect in Avid Audio Suite to make it sound like it was coming from 10,000 people in a stadium.
McCoy: This is my fifth show with Bill and I think we've developed a great shorthand when working together. He's a master of getting a scene to its maximum comedy potential.
Working with Jason was not only really fun because he's such a funny guy, but he's also a real cinephile and would reference different movie or TV scenes as inspiration in addition to having such a wonderfully clear vision for the whole world of Ted Lasso. He wears many hats very well.  Our whole post crew bonded last year over discovering what this wild show wanted to be. Everyone was excited to watch cuts as they came out or pitch music ideas or lend their voice for temp ADR.
My assistant Francesca Castro has been my rock star for four years now. She's not only wonderful at all the elements of assisting, she's also a fabulous collaborator. One of our work traditions is right after we've built the show, we watch it together, warts and all.
Q How do you follow up an arena mob screaming "Wanker!"? Without giving anything away, what can fans expect for season 2?
McCoy: Fans can expect to see the cast I think the actors, the scripts and us on the post side of things are very confident in what this show is in this new season, and that's an exciting place to be.
Catoline: Jason said in an interview that Season 2 will be like "The Empire Strikes Back." What is The Force behind Ted Lasso? What does it really mean to be curious and not judgmental? These characters, knowing each other more as their story arcs continue, are feeling more comfortable to open up, be authentic, and explore who they are. That's where the comedy and pathos meet that make this show wonderful. And Ted will continue to be his best Ted Lasso.
Q What's been the most important part of this entire experience for you?
Catoline: I feel so lucky to be editing a show about believing in hope. Being on a hit show is definitely a new experience for me. I've heard others say it is more than a TV show, it is a vibe. And that makes it so enjoyable to go to work each day knowing you are telling a story that is resonating for many people.
McCoy: I feel so fortunate to work on a show that's not only funny, but has such a wonderful heart to it. I love that we can lean into the very real experiences of these characters and show that sometimes life's unexpected turns can not only be sad but also hopeful. It's everything I love in my favorite shows, and I feel so very lucky to be part of this story.