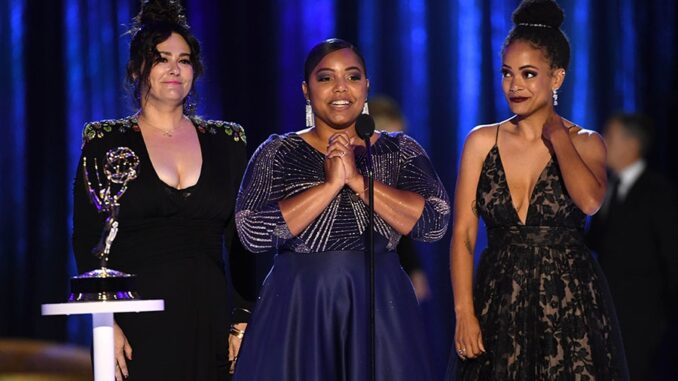 By Kristin Marguerite Doidge
When the pandemic hit in March 2020, the talented team behind HBO's "A Black Lady Sketch Show" had to find a way to rework some of its sketches to fit the new production protocols. By the time they came back together to shoot in October, the limitations imposed only seemed to amplify their creativity.
That creativity was recently honored by the Television Academy at the 73rd Emmy Awards, as the show did the seemingly impossible by unseating the awards juggernaut "Saturday Night Live" in the Outstanding Picture Editing for Variety Programming category.
The series, which was recently renewed for a third season by HBO, was also nominated for Outstanding Guest Actress In A Comedy Series (Yvette Nicole Brown and Issa Rae), Outstanding Writing For A Variety Series, and Outstanding Variety Sketch Series.
Daysha Broadway, ACE, who has led the picture editing team since Season One, was joined by Stephanie Filo, ACE, and Jessica Hernández, ACE, for Season Two. They're the first all-women-of-color editing team to be nominated for and win an Emmy.
Each of the women is accomplished in their own right: Broadway's previous work on "Surviving R. Kelly" was honored with a Peabody Award, and she previously received Emmy nominations for her editing on A&E's "Born This Way." Hernández is a first generation Cuban-American filmmaker whose work has ranged from scripted television to documentaries and narrative features. She was nominated for the Grand Jury Prize and Best Editing Award at the Sundance Film Festival, and earned a Peabody Award for her work on "Bhutto." Filo, an Emmy and Peabody Award-winning TV/film editor and activist, is the first of only two Sierra Leonean women ever to win an Emmy award (the other is actress and executive producer Nzinga Blake). The pair won an Emmy award for their work on the documentary series, "Mental State," which covered ICE deportations.
"Our Season Two Emmy Award-winning editors, led by the incomparable Daysha Broadway and made up of the amazing Stephanie Filo and talented Jessica Hernández, ACE, are the most groundbreaking team in editing history," said Robin Thede, creator, writer and executive producer for "A Black Lady Sketch Show." "I am beyond proud of these women for their accomplishments, but also for being such an unstoppable force in their field. They not only made the show great, their care and skill also made it groundbreaking. Their work is no less than perfection and the way they care about the material is a lesson in love that anyone could learn from."
Together, Broadway, Filo, and Hernández help set the tone and style for the sharp-witted series,  and they hope to use their Emmy win to celebrate the joyful Black womanhood narrative that has often been overlooked.
CineMontage recently spoke with the editing team about the show's groundbreaking success and recognition from the Television Academy, and how they hope it will inspire more positive change in the future.
Q How does working on "A Black Lady Sketch Show" differ from other projects both in terms of content and also the culture?
Hernández:
Since the [sketches] are more like little short films, we do these sort of independently. We're able to do each sketch and then also we show them to each other to get feedback. But it's different from a normal scripted series in that way—not following a character from beginning to end of an episode. We're doing them in smaller versions of that, in these small little arcs.
Broadway:
The pacing is definitely different, too—very fast-paced, the editing, and even just the style of it, the way it looks, and how quickly we go from joke to joke is different from how we would normally cut scripted comedy.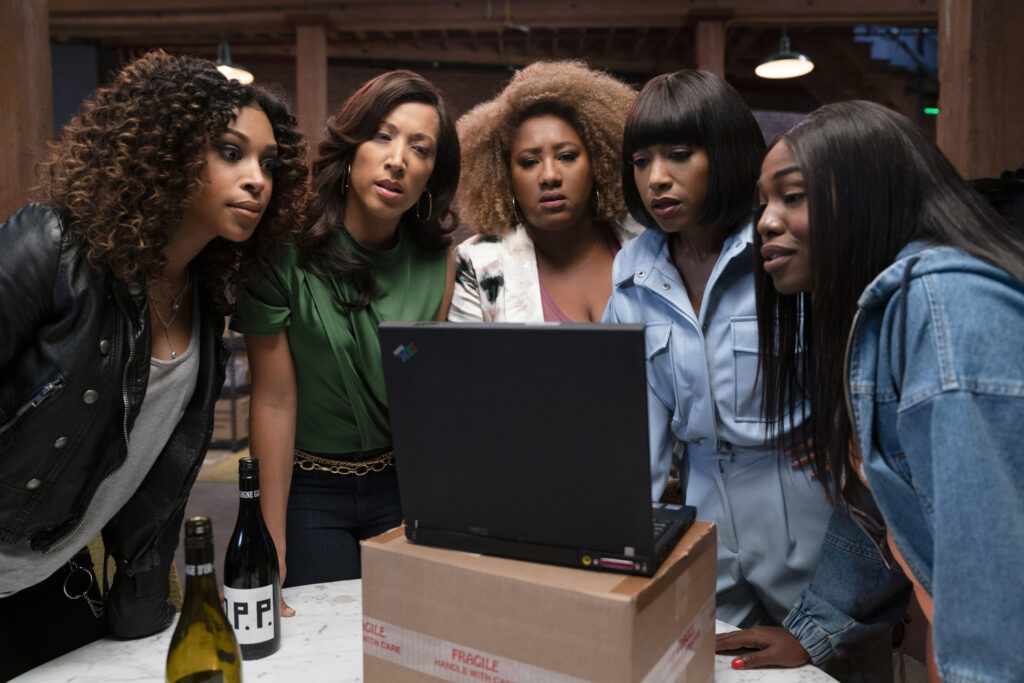 Q Do they pretty much follow the script or do they ad-lib or improv certain takes?
Broadway:
They usually get the clean scripted take, and then it'll be like, 'okay, let's have some fun.' Some improv will be thrown in on the next few takes, but there's a lot of our sketches that we cut that we chose the improved version of the joke because it was a little bit funnier or just punchier. [Head writer and co-executive producer] Lauren Ashley Smith is usually on set with alts that she's writing and will just throw them at Gabrielle [Dennis] or Robin [Thede] or whoever's in the sketch. And then they'll get a take with those. But we do have a script, a huge two-packet script of sketches, and they'll get those takes and then they'll run on some improv.
Filo:
And a lot of times because they do shoot so much improv it ends up being our bloopers at the end of the show. So if you watch the credits, a lot of times those are improv moments that we thought were amazing that just couldn't make it into the sketch for whatever reason.
Q Do each of you have a favorite character or sketch?
Hernández:
I keep mentioning "The Girl Who Cried Vintage." I really enjoyed doing that sketch and this operatic tone that I gave it. It just holds a special place in my heart.
Filo:
I keep talking about this one also: "The Last Supp-her," which is the Biblical sketch where they're basically sitting at the kiddie table at the Last Supper. I loved that one. And also there's another one that I haven't talked about much, but I think it's also my favorite, which is "Come On, Somebody," which has the new Ally character that they introduced in season two. Ashley Nicole Black is everyone's hype man basically.
Broadway:
I always talk about "Get Your Life." The internet has dubbed it the "M*A*S*H sketch." I think that's one of my favorites because I think Robin's character is so desperate and annoying and sad and just funny. But I also really like "Friend-tervention." It goes to a place no one expects—a bone pops out of a leg out of nowhere. And I thought that was insane. I really liked cutting that. I liked building up to that moment and building this increased anger in Skye Townsend's character that makes her rise up and break her own leg just because she's so frustrated with how supportive her friend is. It's insanity. I love that sketch.
Q Coming off  your Emmy win, what do you think other teams can learn from your work on this show?
Hernández:
I hope it somehow leads to a little more respect for what you're saying or doing in the room. I think one of the things we've been talking about a lot is not only hiring people of color, but actually listening to what they have to say, and maybe the statuette helps [with that] a little.
Filo:
I think that we've all probably been on projects where we feel like we're there for the optics, as opposed to people wanting to hear what we have to say, and that's what makes this project so different. I've never seen a post team that's an all women post team, that's completely unheard of. But then on top of that, obviously we're an all women of color editing team, which is unheard of. And so just having that kind of shorthand and shared experiences I think is something that is super-unique to this show, but I think it's something that other projects, hopefully, will start to see the value in and see why it's important to have us telling these stories and sharing our perspectives.
Broadway:
There's a weird stigma that women can't get along in the workplace, and we can't necessarily get things done together. But we didn't have that issue. We got things done to the point where we won an Emmy. I'm hoping that it pushes that weird narrative just completely out of the way. Your team doesn't always have to look the same on every project. And the only way we were able to do something like this is because Robin Thede prioritized hiring people that might have been overlooked before or didn't have all the credits that so-and-so had. But she met with them, knew they had the talent, knew they had the drive, knew they had the work ethic. I think there's a way to get around hiring the same people time and time again. I'm hoping like Jessica said, that this just moves the needle a little bit and people start to listen a little bit more.
Q Do you feel like working together on this you were able to be more creative or did you feel safer to make suggestions?
Hernández:
It's easier. There wasn't a barrier to jump—that extra 'Oh, they're not hearing me.' It just wasn't there.
Broadway:
Anytime you start a new project you're sort of re-proving yourself to a group of people you've never worked with before, so there was never a moment, especially on season one, it's not like, 'Oh, she's Black. She gets it.' It was never like that. I very much had to show and prove. But I felt like if I had questions they would be answered in a respectful manner. It was about collaboration and it was about, 'how do we make this sketch better?' And if I had an opinion about something, it was listened to, it was considered, and then we would work on things together.
Filo:
I think collaboration on a show like this is huge. Robin has cultivated this environment that we all feel safe enough to have these conversations and to be like, 'I don't think this joke is working.' A lot of times we would have alt versions of things where it's like, 'Okay, I'm going to cut the sketch this way. I think this is going to be funnier, but I'm just going to save it in a bin and show her once we get to the room.' There's a lot of space for those conversations.
Q Is there anything else we should know about the show or the future work for women of color in editing?
Broadway:
I've never worked on an all-woman team before and been able to collaborate in this way. I hope that things begin to change, but every time I'm on this show, it's a moment—I like to be in the moment and enjoy it because I don't know when I'm going to be able to do something like this again. I know that Robin and Lauren Ashley Smith are people who are very much committed to making sure they have a diverse staff, no matter what they do. It's such a unique show and a gift to Black women everywhere. We definitely hope that any woman of color watching us or reading about us, anyone who's thinking, "Maybe this is a thing I can do": It is definitely a thing you can do. But I think more people need to be open to hiring outside of their very small circles.
Filo:
I think so often when we're thinking about Black stories, we're inundated with Black trauma. You have slavery, you have all these things. You're not always able to just watch Black joy and see Black women excelling in all of these different forms. And so aside from obviously the importance of diversity throughout any production, I hope that there's diversity in the stories that we start to see and that we're able to see there's so many different types of Black women. I would love to see shows about Black women doing awesome things.
Hernández:
I completely agree. I just think diversity is really important—and hearing us, not just seeing us.
Kristin Marguerite Doidge is a frequent contributor to CineMontage.