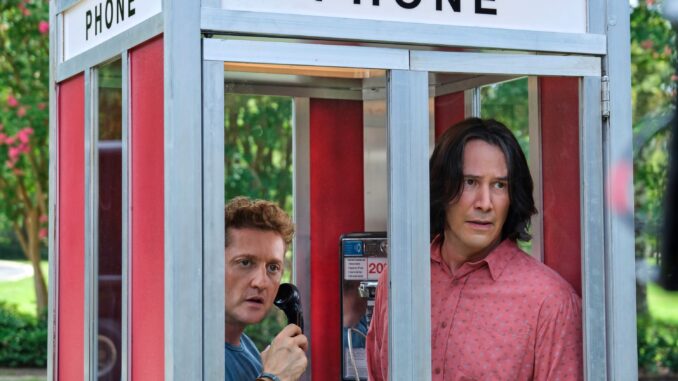 By Peter Tonguette
Picture editor Don Zimmerman, ACE, had entered a period of peaceful retirement when a pair of most excellent dudes beckoned him back into the cutting room.
"Bill & Ted Face the Music" — the latest film in the popular series featuring Keanu Reeves and Alex Winter as spaced-out, songwriting Southern Californians — will be released on-demand and in selected theaters on Friday by United Artists Releasing. The long-deferred sequel comes on the heels of the earlier, generation-defining comedies "Bill & Ted's Excellent Adventure" (1989) and "Bill & Ted's Bogus Journey" (1991).
Zimmerman, though, was not lured out of retirement merely by the prospect of advancing the mythology of Bill and Ted. After all, the editor had not worked on the earlier films. He had not even seen them prior to beginning work on the new film. No, it was the involvement of a third excellent dude who was the deciding factor in Zimmerman accepting the gig: Director Dean Parisot.
"Dean called me and said, 'Don, you've got to do this,'" said Zimmerman, who previously worked with Parisot on "Galaxy Quest" (1999), "Fun with Dick and Jane" (2005), and "RED 2" (2013). "It was one of those things where I just said, 'OK, I'll do it for a buddy.'"
"It wasn't that hard to coax him out again," Parisot said.
In fact, the process of returning Zimmerman to his perch in the edit bay was far simpler than getting the go-ahead to actually make "Bill & Ted Face the Music," which revolves around the efforts of Bill (Winter) and Ted (Reeves) to devise a song that will cure all that ails the world. In an acknowledgment of nearly three decades that have elapsed since the last installment in the series, both characters have grown daughters (played by Samara Weaving and Brigette Lundy-Paine).
Bill and Ted as parents? Totally.
"A domestic comedy is a very difficult thing to get launched in the theatrical world at this point in time because it doesn't really translate overseas — or that's what everybody believes," said Parisot, who ended up making the film on a low-budget — the equivalent, he said, of what many television pilots would cost. "I was on it for about six years before it actually found its final money," Parisot said.
Despite such limitations, the filmmakers say they produced an elaborate, freewheeling film that deposits Bill and Ted in multiple settings and time periods, including the future and Hell itself, where they encounter a figure likely to be familiar to fans of "Bill & Ted's Bogus Journey": Death (William Sadler). "They're all over the place," Zimmerman said. "Each time, they're meeting different people. . . . Visually, it's stunning when you go to all these different places."
Visual effects supervisor Bill George of Industrial Light & Magic oversaw a trio of effects houses to create the desired look within the budgetary constraints. For his part, Zimmerman was focused less on the spectacle than on the story (scripted by the same team who penned the original "Bill & Ted" films, Chris Matheson and Ed Solomon).
"If I don't care about the characters, I don't care if they're in the Taj Mahal," he said. "You have to care for the people. You have to care about the story. Then it just moves you right along. You could shoot it against cardboard and it would work." It helps that the rapport between Reeves and Winter, Zimmerman says, is not faked. "They're good buddies," he said.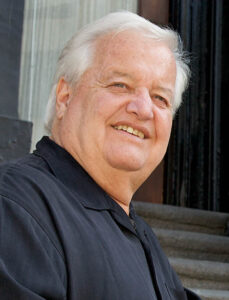 Zimmerman began as an apprentice and then assistant editor for noted editor-turned-director Hal Ashby, accumulating credits on such classic Ashby films as "The Landlord" (1970), "Harold and Maude" (1971), and "Bound for Glory" (1976). Then, for his first credit as picture editor, Zimmerman cut Ashby's Vietnam War drama "Coming Home" (1978), starring Jon Voight and Jane Fonda, for which he was Oscar-nominated. Throughout his career, Zimmerman has alternated heavy, intense dramas with comedies — including the three earlier films he made with Parisot, starting with "Galaxy Quest."
"For me, Hal Ashby was a hero, and when somebody told me Don Zimmerman was coming in, I was like, 'What, he's on this?' It was a done deal before he even walked in," said Parisot, who, upon viewing Zimmerman's first cut of that film, realized that the veteran editor also knew a thing or two about concision.
"I still remember coming into the first edit on 'Galaxy Quest' and thinking, 'Wow, Don cut out a lot of dialogue,'" Parisot said. "He said, 'It's all exposition. You don't need any of it, but we can put it right back if you want it.' Then I watched it and I went, 'Oh my God, he's totally right.'"
Even today, Zimmerman says that most comedies don't have to run to extreme lengths; "Bill & Ted Face the Music" clocks in at a judicious 91 minutes. "The audiences today have gotten so sophisticated and smart that they don't want to take the time like in the old days," Zimmerman said. "I did 'Liar Liar' in 82 minutes. . . .You don't have to preach to them. You don't have to take it step by step by step. You go from A to Z, really. You don't do it in the interims."
When COVID-19 hit in early March, however, Zimmerman and Parisot were temporarily stopped in their tracks. Post-production halted for a spell, though Zimmerman eventually returned to an eerily empty, "ghost town"-like offices to pick up where he left off. "It was tricky to get everything done," Zimmerman said, but it helped that he was working with a longtime collaborator in Parisot. "I pretty much knew where he was at, and he knew where I was at," Zimmerman said. "From the first cut to the release, the picture really didn't change that much."
However, a planned reshoot meant to incorporate test screening feedback was scrapped.
"We were going to translate [the feedback] into a one-day shoot that was going to give us a different ending," Parisot said. "All of a sudden, we're thrown into our homes and we can't go into production."
Instead, the editor and directed added new visual effects and reworked existing footage to produce a new ending without having to roll a single frame of new film. "I have to say I think it came out better than the ending we thought we were going to do," Parisot said. "We were sort of forced to do an ending that made way more sense."
As he sees it, Zimmerman thinks that the scrappy, low-budget "Bill & Ted Face the Music" might be a harbinger of things to come in a post-COVID 19 Hollywood. "It was tough, troubling times, but it was also, I think, a wave of the future," Zimmerman said. "I have a feeling that independents are going to come on more and more, and it'll all be cheaper and cheaper and cheaper."
Yet does Zimmerman have one more excellent adventure in him? "I love to edit," said Zimmerman, whose three sons, Dean, Dan, and David, each work in postproduction. David Zimmerman served as first assistant editor and additional editor on "Bill & Ted Face the Music." "It's in the blood, so to speak, of the family," Don added. "I've done like — I don't know — 50 movies or so. I have a tendency to still want to do it."
Whatever the future holds, Parisot hopes that his new movie will have a positive impact on audiences eager to have a good time and set aside their worries — and not just because of the eternally sanguine guys on camera but also the intrepid editor who helped bring them to life.
"It is about being excellent to each other," Parisot said. "We liked what the movie was doing, so I hope it has resonance — but Don Zimmerman cut it!"
Fans know that is a sure sign that a movie is most excellent.