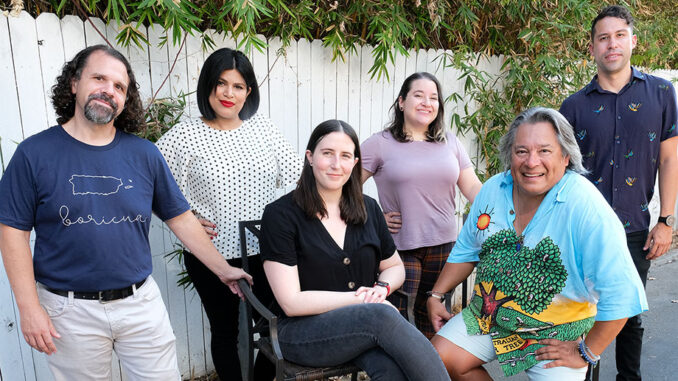 by Su Fang Tham 
During the last two weeks of September, the Latin Steering Committee celebrated Latin Heritage Month for the first time, with a three-panel series headlined by a brilliant roster of filmmakers.
Although the U.S. has 60 million Latinx residents, comprising 18% of the population, only 4% of the directors, 3% of producers and 3% of leads/co-leads are Latinx (according to a study by the USC Annenberg Inclusion Initiative). Moreover, Latinx moviegoers make up 23% of the U.S. audience—a robust consumer spending block.
So when LSC co-chairs Susana "Susy" Benaim, a Venezuelan TV editor ("Self Made: Inspired by the life of Madam CJ Walker") and respected supervising sound editor Glenn T. Morgan, MPSE ("Real Women Have Curves") began organizing the event, the challenge in coming up with enough Latinx editors to fill the panels further underscored the profound need to educate and engage – not only MPEG members, but also the public—about the work that still lies ahead.
"¡¿Qué pasa, mi gente?!," a jovial Agustin "Auggie" Rexach—the assistant editor on FOX's freshman soapy saga "Filthy Rich"—opened the virtual event as more than 50 MPEG and ACE members tuned in for the first panel, "Hiding in Plain Sight: Visibility of Latinx in Post." "Before we reach a comfortable cruising altitude, I would like to go over some safety guidelines," Rexach joked.
Moderator and LSC committee member Waldemar Centeno ("Big Time Adolescence") was honored to share the Latinx experience in post-production "through the eyes and hearts of our celebrated Latinx guests."
Raising awareness
The already low representation of Latinx talent across the industry—and even lower visibility of those who have succeeded—contributes to the low awareness. Even today, many do not see filmmaking in their future because they don't often see directors, editors or cinematographers within their own environment.
Best known for the 2018 live-action/animation hybrid "Mowgli: Legends of the Jungle," Alex Márquez, ACE, grew up in the predominately white neighborhood of Bel Air and didn't see himself differently. "But I'd never heard of what an editor was, I only knew about the actor. I didn't know about film school or that I could work on a movie."
"I never knew there were opportunities to work in movies, and that's what this panel is for—to bring awareness," added Cuban-American editor Jessica Hernández, ACE – who won a Peabody Award for the documentary "Bhutto."
Márquez's last two projects were Spanish-language films but he had a tough time finding Spanish-speaking assistant editors. "Now I'm going to get a ton of resumes, which is great!"
"When I got older, I started asking why is everyone the same color?" Hernández continued. Recalling the first time she was around another Latinx filmmaker in a decision-making role: "Working with Alex was the first time I worked with another Latino editor, and until I worked with Susy, I hadn't seen another female Latin editor."
"Someone mentioned he'd never seen so many Latino editors in one place. This is a first for me too. I've only worked with a handful of Hispanic filmmakers in my career," added Mexican-American television editor Oscar Rene Lozoya, who has cut cop procedural mainstays such as "Chicago Fire" and "Law & Order: SVU" after getting his start as a post-production assistant at Wolf Films.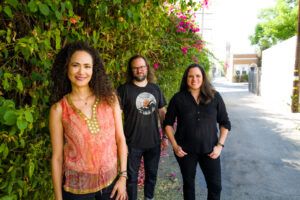 Busting stereotypes
 Sabrina Gimenez got her start as an assistant editor on Puerto Rican director Miguel Arteta's comedy "Like A Boss." Touting one's Latinx heritage as a filmmaker could also be a double-edged sword, as she saw from her days of cutting trailers. "As soon as they know you're Latinx, you're assigned all the Latin content, so some of my colleagues stayed silent. Just because you're Latinx doesn't mean you can only cut Spanish-language material."
When it comes to stereotypes, many feel you have to work twice as hard to combat some pre-conceived notions. On the studio lot where Lozoyo has been working frequently for 10 years, he has been mistaken for the valet, maintenance or kitchen staff many times. "It's embedded in the mind of some in the industry that we only occupy the non-creative positions."
Latin-themed projects aren't necessarily easy to find, either. "It's not easier because there just aren't that many Latino projects going around. There are certain shows that are labeled Latino that are not very good or projects the wrong message. There has to be a shift of who is making these films and the talent behind the scenes," said Márquez, who often has to specifically ask his agents to look for Latin-centric projects.
With the Latinx population being one of the largest blocks of entertainment consumers, Hernández is surprised they're still considered a specialty demo. "They could be getting huge hits [from Latinx consumers] but they're still seen as a niche market," she said. "Just looking at the bottom line, the studios could be making a lot more money."
Iconic portrayals?
With the Selena movie wallpaper adorning the [Zoom] screen and sultry Latin rhythms playing in the background, the second panel—"Latinx Movies That Inspired Us"—paid tribute to some of the iconic films many viewers have grown up with.
Moderated by "Narcos: Mexico" editor Joaquin Elizondo, the panel offered a trip down memory lane via movie clips from some of the most iconic English-language Latinx-themed films, beginning with the Oscar-winning musical drama "West Side Story." Nonetheless, contemporary audiences have differing opinions when it comes to how Puerto Ricans have been portrayed in movies such as the classic musical.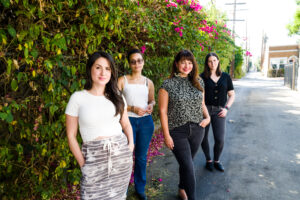 As a native Puerto Rican, "The Morning Show" editor Aleshka Ferrero was less than thrilled about how her community was portrayed in the classic. "It's such a wonderful musical with amazing choreography," she said. "But I don't recognize my people when I watch it – it feels more like what white Hollywood perceives Puerto Ricans to be."
Best known for indies "Chuck & Buck" and "The Good Girl," veteran director Miguel Arteta nevertheless recalled "West Side Story" as a big moment for his native island: "It was a step forward for Latinos in film. The sheer force of Rita Moreno's performance, her fierceness transcended the many blind spots in the film."
Honduran-American editor Karen Castañeda—whose credits include "Desperate Housewives" and "Scandal"—recognized that while it generalizes Latinx cultures as a monolithic identity, she also put the film in perspective, given that it was made in the early 1960s.
Emmy-nominated editor Nancy Richardson, ACE, dropped by as a special guest when the 80s classic "Stand and Deliver" was being discussed. Even 30 years on, she will never forget the first feature she ever cut and what gave the story its authenticity. "There were many Latino cast and crew on the film, the writer/director Ramón Menéndez is Cuban, and [lead actor] Edward James Olmos was also very collaborative on the film." The film made Elizondo—who watched it as a kid—realize how he might be perceived by others: "Man, this is how they see us??"
Richardson – who also edited the iconic biopic "Selena"—vividly recalls the audience erupting at a premiere when Olmos, who played the famous singer's dad, uttered a cry of frustration that drew familiar nods from many Latinx viewers: "We gotta be more Mexican than the Mexicans and more American than the Americans. It's exhausting!" It resonated deeply with Elizondo and Perez, who have both felt like they've been perceived as "not being Latino enough."
The "Scarface" problem
Latinx characters are often portrayed as violent criminals, drug lords and gangsters—as in another movie under discussion, "Scarface," with Al Pacino as a violent Cuban drug lord.
This hit a nerve with Cuban-American editor Julio Perez, ACE (HBO's "Euphoria"), who sees it more as a caricature version of "Cuban-ness." "The massive overrepresentation of violent drug lords and criminals is a serious issue. What it says about "Cuban-ness" is not very illuminating."
While Castañeda can enjoy the film for what it is, she agreed: "When it's all you see depicted for a culture, it's definitely an issue." Ferrero is curious about how Elizondo navigates this on Netflix's "Narcos: Mexico." "It's based on true events, but it tells the story from both sides of the border," he remarked.
As Márquez alluded to above, authenticity in storytelling will only improve when more Latinx filmmakers are able to play a major role in telling their stories.
Viva la "Vida"
Organized in partnership with the LGBTQ+ Steering Committee and moderated by co-chair Susy Benaim, the third panel, a discussion on how STARZ's dramedy "Vida" has showcased queer women of color, dove right into the thorny issue of terminology.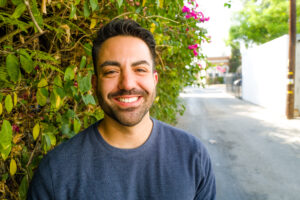 Early on, there were discussions to make sure certain terms were captured correctly on the series, about two sisters in East Los Angeles. As an Assistant Editor with roots in the Dominican Republic and Puerto Rico, Génesis Henriquez ("Hunters") recalled: "We talked about how the term 'Latinx' would be accepted by those from different generations. Is this a term actually used by Latinos or by 'Americanized' Latinos?"
"One of our actors, Ser Anzoategui, who plays Eddy, is non-binary, so it naturally led to many discussions about terminology," added editor Joanne Yarrow, ACE, who was nominated for an HPA Award for her work on the first season. "The sincere and deep love that Eddy had for Vidalia was unbelievable. It's one of the most sincere love stories." Veteran editor Amy E. Duddleston, ACE ("Hunters") agreed: "I just wanted to protect Eddy."
Benaim also chimed in with a term she first heard on the series—"white-tinas"—referring to Latinas who are seen as identifying more with white America. As Yarrow reveals, that actually stemmed from a real-life incident on set that one of the EPs suggested incorporating into the show.
Since the series was set and filmed in Boyle Heights, it was important to be mindful of how the locals would respond to how their community is portrayed. "Two cast members are from Boyle Heights and we had neighborhood ambassadors to communicate with the locals," Yarrow noted.
'Authentically queer'
Duddleston still can't believe she worked on the show. "As a queer woman, I felt like the show was calling my name when my agent pitched it to me. "Vida" is so authentically queer. There's nothing else like it on television; I hope Tanya [Saracho] keeps making shows like this."
As the daughter of Mexican immigrants, producer Christina Perez ("The Walking Dead") knew the show would be handled differently when she attended the first production meeting. "You look across the room and see all the diverse faces, and now there's level of trust. Most of the department heads were women and that authenticity really came across in our storytelling," she said. For the gorgeous songs in Season 2, they also had an all-Latinx female songwriting team in partnership with Pulse Studios.
Even though the series has done really well on STARZ, the Lionsgate-owned streaming platform isn't seen as a brand for Latinx stories. But co-chair Morgan thinks the show being on STARZ is actually a blessing. "The authenticity really captivated me," he said. " I think being on STARZ, it sort of flew under the radar which relieves the pressure of what you can and can't do on the show, and that allows the freedom for more authenticity."
Henriquez is encouraged with the future of authentic Latinx stories, especially with one of Showrunner/EP Tanya Saracho's recent initiatives. "Recently Tanya has gotten a group Latinx writers together for the Untitled Latinx Project. The project fosters support for these writers so they can tell authentic stories the way that "Vida" has been able to," she said.
Mentoring and outreach 
Due to financial and socioeconomic factors, higher education isn't always as accessible to people of color. But Gimenez sees a way around this: "Filmmaking doesn't necessarily need a college degree—anyone can work in storytelling if you have the passion for it. We shouldn't be "gatekeeping" this job—it should be accessible to everyone."
Just as the Dogme 95 movement in the mid-90s precipitated the boom in digital photography by democratizing the artform, the same can be said for editing. Hernández is more hopeful now because "everyone can edit videos on their iPhones, editing as an artform has become more accessible. But ultimately, it has to be the outreach programs to the kids, maybe as young as junior high." And the outreach effort has already started: Centeno and Benaim were recently invited on a panel for students in the LAUSD—a school district where more than 70% of students are Latinx—to share their experiences in the film industry.
Besides networking, outreach programs and mentoring, Lozoya's advice to his assistants is to get to know other editors. "I always tell my assistants: 'Don't just hang out with me. You've got an entire hallway of TV editors to learn from—go hang out with other editors!'" Hernández seconded the message: "Be proactive and ask to be in the [editing] room," she said. "If you want to move up fast, wow the producers by staying late to cut the trailer. Show them what you can do."
Arteta is thrilled see more Latinx talent coming up the ranks. He works with Sundance in finding and mentoring more people of color and encourages everyone to send scripts into the festival. "Writing is the best way to get Latino voices out there. Write down your observations in life, things that you wouldn't dare tell anyone can end up being your strongest weapons in writing," he said. "That's how you find your voice."