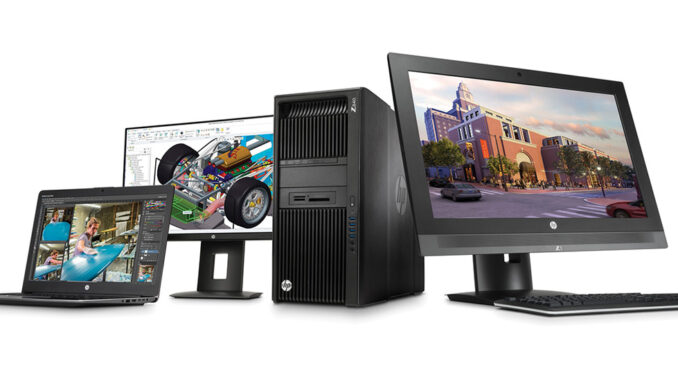 by Joseph Herman
It seems that no matter how fast workstation computers get, there are always new developments on the horizon that push the limits of what machines can do. That's good, because it forces workstation manufacturers to continuously improve performance to keep up with the times.
One new development gaining lots of attention these days is Virtual Reality (VR). While some people may have an idea of what virtual reality is, many of us have yet to realize its implications on the future of visual entertainment.
We all know the concept: Put on a VR headset and suddenly you are immersed in a full, 360-degree, virtual world. However, as with any new technology, questions arise. What applications will benefit from VR? What impact will it have on motion pictures and television? What kind of computer hardware do I need for it?
Of course, games will greatly benefit from VR, which allows you to fly through entire alien worlds as you chase down bad guys. Game developers and 3D animators, more than others, will need a powerful graphics card, preferably one from NVIDIA.
But what effect will VR have on motion pictures? Well, one thing a VR movie can allow you to do is interactively look around the set and pay attention to whatever you want — making it a different experience every time you watch it. In fact, several VR movies have already done this.
Of course, in a movie, shots are carefully selected and storyboarded by the director to tell the story. It's part of the craft of making motion pictures, and you can't brush that away. That's not to say that VR wouldn't work well in a nature documentary, however. With VR, you could be surrounded by stunning landscapes with the ability to freely look around, an experience comparable to actually being there.
It will be interesting to witness the effect of VR on our industry. Whatever the case, one thing is for sure: VR workflows and editing VR footage will put serious demands on your workstation — whether you're re-creating 3D virtual worlds in real time or editing high-resolution footage shot by a VR camera.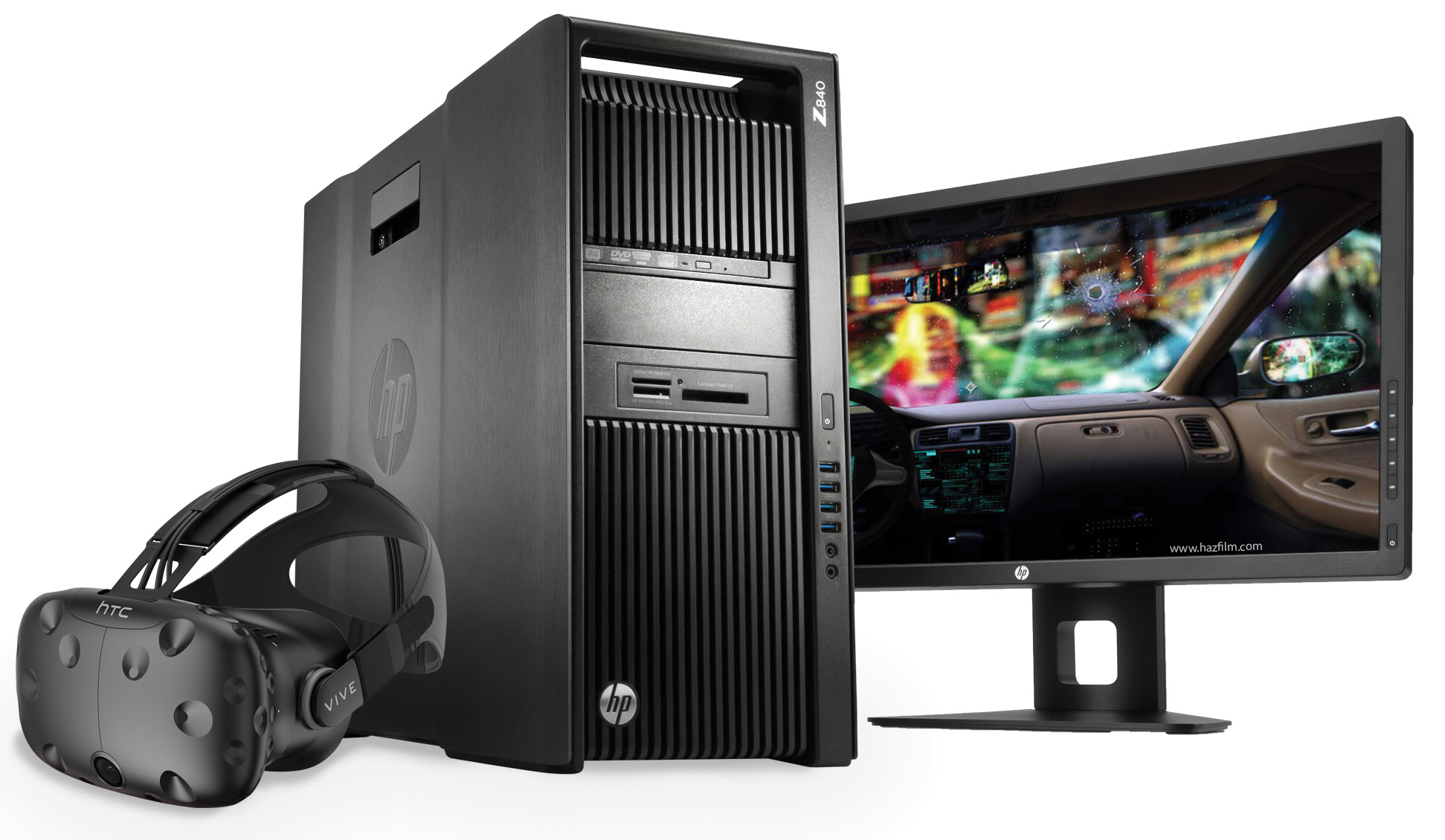 Which Workstation Should You Get?
Color graders, 3D animators and game developers have long relied on Windows workstations to do their work. Editors, on the other hand, have traditionally gravitated to the Macintosh platform. The times have a-changed, however; a comparison of the tech specs of a top-of-the-line Mac Pro and one from HP (the world's workstation leader) will reveal that HP workstations beat the Mac in almost every aspect. In addition, editing software such as Avid Media Composer, Premiere Pro and DaVinci Resolve are all available on the Windows platform, but that's nothing new. I've been using HP workstations to edit for years.
Recently, I have heard from die-hard Mac enthusiasts (editors included) that their next machine won't be a Mac since they don't compete with the power you get on a Windows workstation. Making great phones and tablets are one thing, but professional workstations are another — an area to which HP is deeply committed. Let's take a look at some key machines that HP offers, starting with the top-of-the-line Z840. Along the way, we'll make some comparisons with the Mac.
The HP Z840: Extreme Power
The top rated HP Z840 is a powerhouse of a machine with the muscle needed for the most intense challenges, whether they be high-resolution editing, 3D rendering or virtual reality (see Figure 1).
Equipped with two E5-2600 v4 Xeon processors, the Z840 is now available with a jaw-dropping 44 physical cores (22 cores on each processor). Compare that with Mac Pro's single 12-core Xeon offering (dual Xeons are not available on the Mac). The new Xeons also support faster memory speeds of 2400 MHz, with a maximum of 1 TB of memory supported in the machine. In case you're wondering, the Mac Pro only supports 1866 MHz DDR3 memory with a maximum of 64 GB.
For graphics, the HP Z840 features the latest GPU options from NVIDIA Quadro such as the top rated M6000 (as well as AMD FirePro). Know what's even better than an HP Z840 with an NVIDIA Quadro M6000 in it for VR? An HP with two Quadro M6000 cards. Now that sounds heavenly.
The Mac Pro's only option is for AMD FirePro. Many workstation connoisseurs, however, consider NVIDIA's GPUs the best in the market, especially when it comes to VR.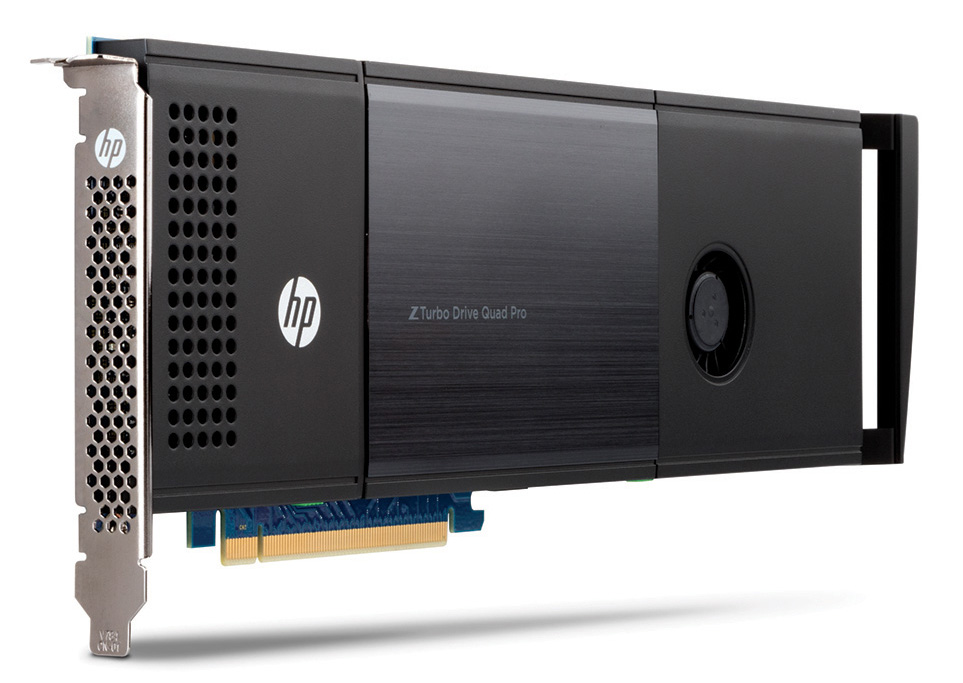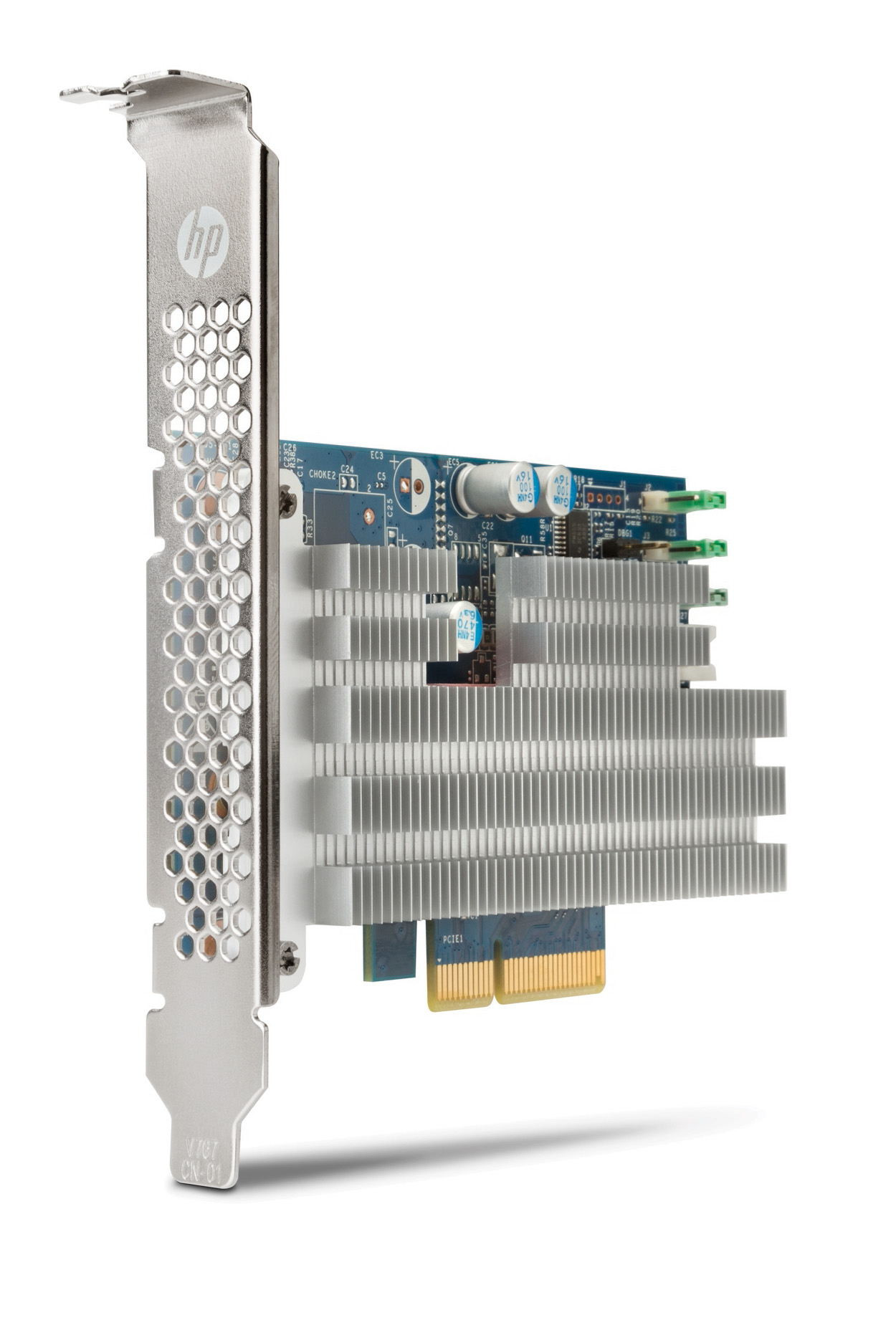 Let's Talk Turbo
The HP Z Turbo Drive is a PCIe-based hard drive solution powered by Samsung M.2 PCIe SSD technology that achieves ultra-fast speeds around four times faster than SSDs at a cost that is remarkably equivalent (see Figure 2). Z Turbo drives are now available with 1 TB of storage (previously 512 GB was the maximum).
Adding one or two Z Turbo drives to your system is certainly a nice thing to do. However, HP recently introduced the HP Z Turbo Drive Quad Pro, which features four Z Turbo Drive modules on a single PCIe x16 card that only requires one slot (see Figure 3). Currently available with a maximum storage capacity of 2 TB, the Z Turbo Drive Quad Pro (when configured into a RAID) is four times faster than a single Z Turbo Drive and 16 times faster than an SSD. It's a great product and, in my opinion, a no brainer for those intending to work with high-resolution or VR footage.
PCIe-based storage is also available on the Mac Pro, but there are no products from Apple like the HP Z Turbo Drive Quad Pro. In addition, the Mac Pro has no extra drive bays available in case you want to add more internal storage. However, the Mac Pro and the Z840 both have Thunderbolt 2 connections capable of delivering speeds of 20 GBps.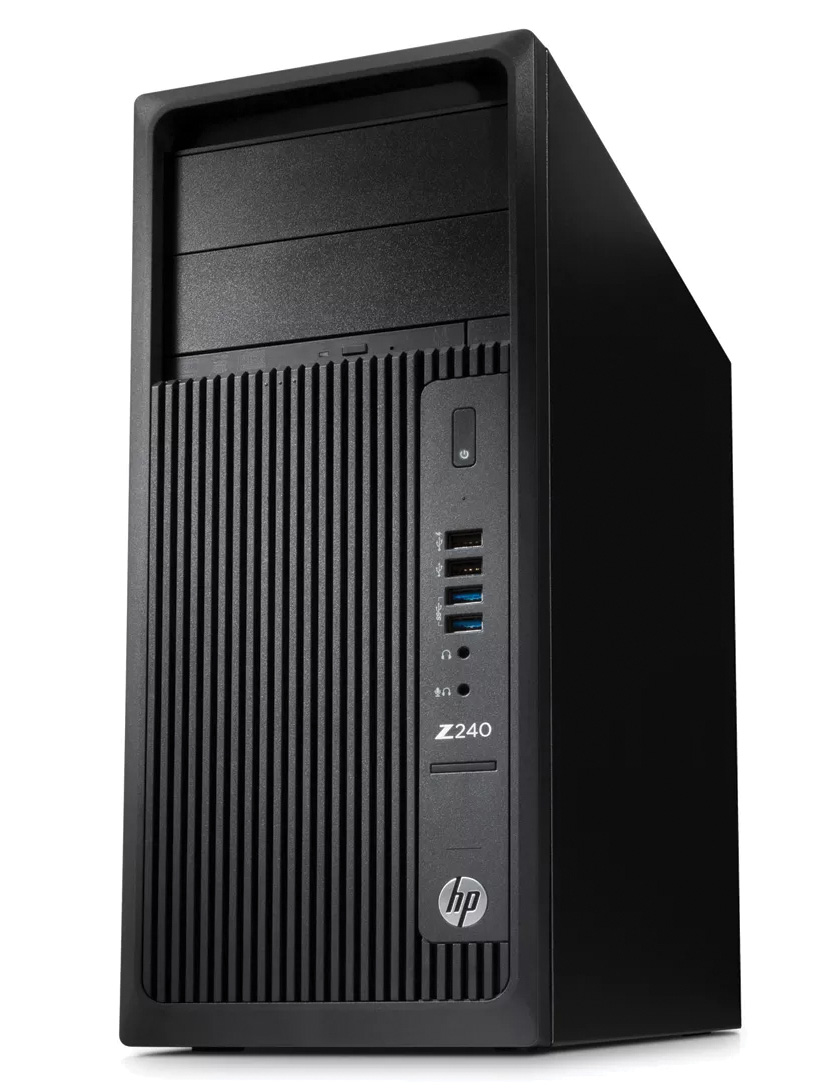 The HP Z240: Performance at the Entry Level
If your needs are more modest, right beneath the Z840 is the HP Z640 and under that is the HP Z440 workstation. Both of those machines offer Xeon processors and speedy RAM and NVIDIA graphics. However, let's focus on HP's robust entry-level workstation, the HP Z240 (see Figure 4).
The HP Z240's compact yet capable design features a 4-core Intel Xeon processor (or a 4-core i7 if you prefer), up to 64 GB of DDR4 RAM, and the ability to install two NVIDIA Quadro video cards.
A great new feature on the Z240 is the addition of an M.2 slot integrated directly on the motherboard. It provides the same bandwidth of PCIe and lets you add things like a Z Turbo drive or other expansion cards without tying up a PCIe slot.
If you're on a budget, this machine might be exactly what the doctor ordered. Actually, the HP Z240 can be appointed very similarly to a Mac Pro, only it's more economical.
The HP ZBook Studio: Power on the Go
Recently, HP released several new models to their mobile workstation line including the ZBook Studio, a very exciting new mobile workstation that combines power with extreme portability (see Figure 5). Let's take a look and compare it to Apple's MacBook Pro.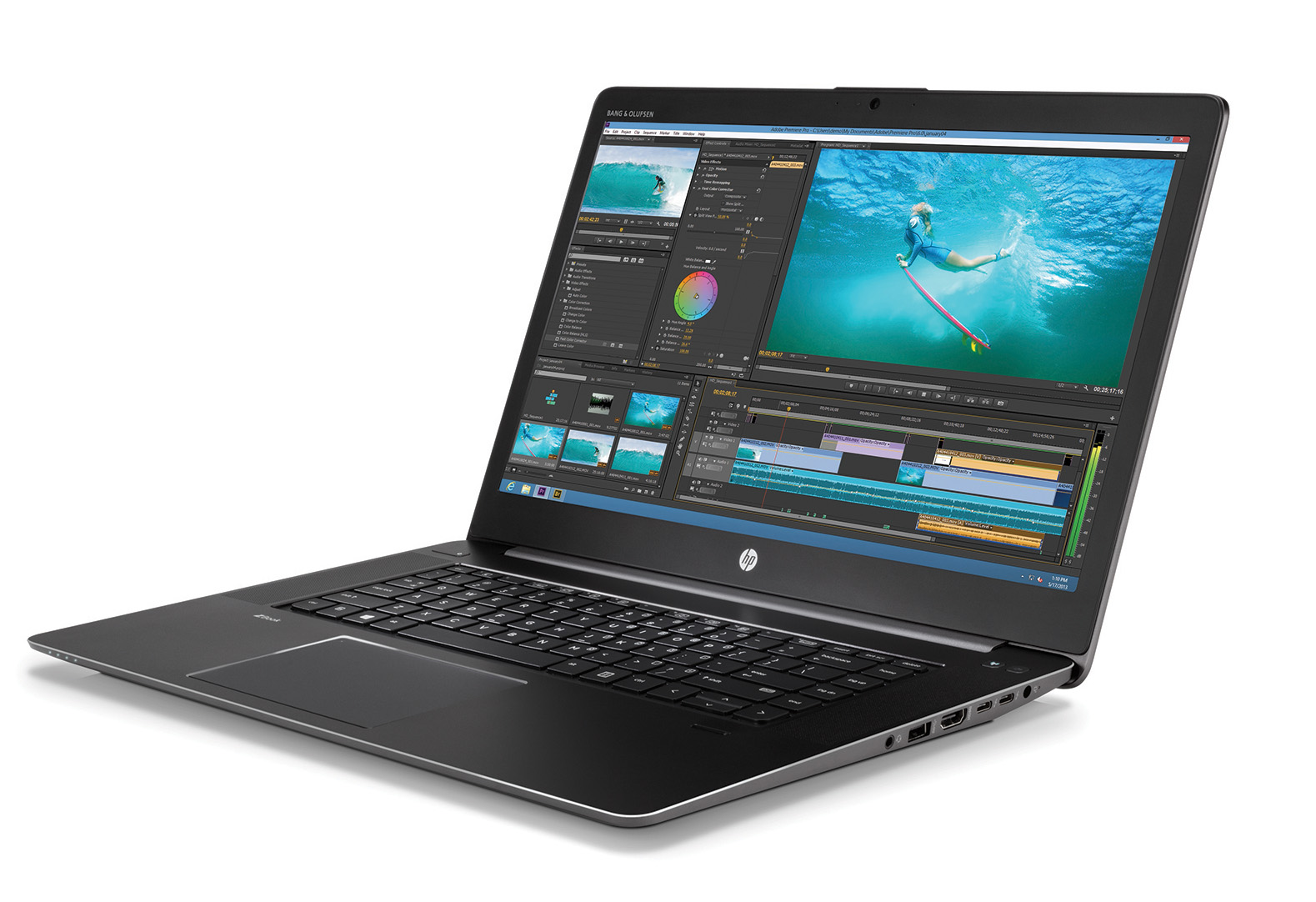 HP has dubbed the ZBook Studio the world's first quad core Ultrabook, with a weight of around 4.4 lbs and a thickness of 18mm. In addition to being thin and light, the machine not only can be equipped with Intel Core processors, but with Intel's industrial-strength Xeon processors (which aren't an option on the MacBook Pro).
The ZBook Studio also accepts two 1 TB HP Z Turbo Drive G2s for a total of 2 TB of screaming fast PCIe storage. Another great thing about the ZBook Studio is its two built-in Thunderbolt 3 ports. Thunderbolt 3 was announced last year and offers incredibly fast transfer speeds of 40 GBps (eight times faster than USB 3.0). It's a great option for connecting external PCIe peripherals and high-resolution 4K displays. Note that MacBook Pros, at this time, don't have Thunderbolt 3.
For memory, the ZBook Studio allows up to a hefty 32 GB of ECC memory, as well as a powerful special edition NVIDIA GPU: the NVIDIA Quadro M1000M 4 GB GDDR5. The MacBook Pro, on the other hand, only permits up to 16 GB of DDR3 memory and does not support NVIDIA GPUs.
The HP Z1: The All-in-One Workstation
HP also makes an all-in-one workstation, the Z1, that takes up about the same room on your desk as a display. If you're space-conscious or work in a cubicle, this machine will appeal to you. Just this April, HP announced important upgrades to the Z1, a machine which the company claims is the world's first and only true all-in-one workstation (see Figure 6).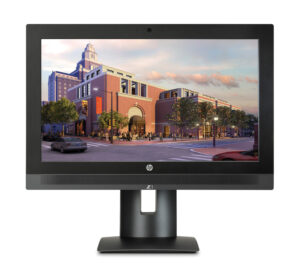 First of all, the price has been lowered while the design and features have been improved. The Z1 G3 now has a high-resolution, 24-inch 4k display, two Thunderbolt 3 connections with dual 4K display support, the ability to contain two 1 TB HP Z Turbo Drive G2s as well as two additional 2.5-inch SATA hard drive bays. The HP Z1 features pro-level components such as Xeon processors, ECC memory and NVIDIA Quadro graphics.
Let's not overlook one of the best features of the Z1: It offers easy and tool-less serviceability. Just remove the back panel and you have access to all the internal components of the machine.
For comparison's sake, an Apple iMac does not have Xeon processors, has less memory capacity and only allows for one hard drive. It also does not support NVIDIA graphics, nor does it have Thunderbolt 3. It's also not easily serviceable.
HP Remote Graphics Software
Besides making powerful workstations, HP has created a unique piece of software called HP Remote Graphics Software (RGS). With it, you can operate an HP Workstation remotely from any computer — be it a desktop, laptop or Windows-based tablet. With RGS, you feel like you're working on a workstation, even if that workstation is down the hall or somewhere across the country.
Interestingly, HP has announced that it will make a Mac client for RGS. You'll soon be able to use your MacBook to harness the raw power of a Z840, for example. With RGS, a whole team can economically share one Z840, no matter where they might live. HP RGS is compelling and promises to give new life to older, less capable computers.
Final Thoughts
Filmmakers are always looking for innovative ways to tell their stories. High-resolution workflows, intricate computer-generated imagery and new technologies such as VR require unprecedented workstation power. Of these several HP workstation models — the top-of-the-line HP Z840, the entry level HP Z240, the HP ZBook Studio mobile workstation and the new third-generation Z1 all-in-one workstation — are all compelling machines that offer unprecedented levels of power in their respective class.