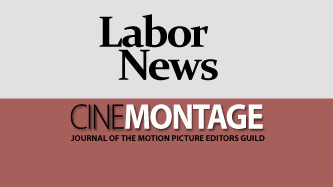 Reprinted from Deadline Hollywood by Dominic Patten on July 2, 2020.
The history of labor unions and social change in America are obviously deeply entwined. Now a portion of that alliance is marching to increasing inclusion and opportunity in Hollywood with studios, streamers and Tyler Perry.
The Editors Guild, IATSE Local 700 has teamed up with SunWise Media co-founder Ri-Karlo Handy and the LA Urban League to provide a new pipeline to Tinseltown training and below-the-jobs for people of color. Working with the Urban League's existing Backstage Careers Program, the Editors Guild has signed on specifically to foster exposure and hands-on skills to young people from communities that are often excluded from the entertainment industry.
"As a union, we remain committed to enhancing our outreach to programs and schools that serve all communities, especially those who might not otherwise have opportunities to be exposed to the array of jobs with our jurisdiction so they can envision a career path they may not have known existed or believed was possible," says Editors Guild chief Cathy Repola [Thursday]. …