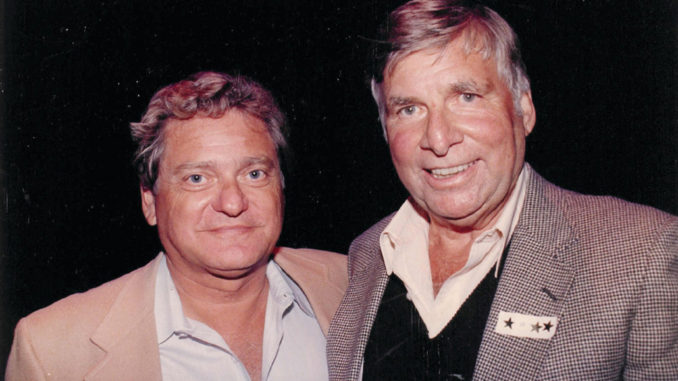 by Michael Kunkes
The original Star Trek series, which ran on NBC from 1966 to 1969, boldly went where no series had gone before in terms of sound effects editing.  The universe of the USS Enterprise was alive with sound, much of it musical in nature: computer banks, phasers, transporters, photon torpedoes, communicators, and alien and creature vocals.  Much of that was due to the singular vision of writer/producer Gene Roddenberry, along with the inventiveness of Douglas H. Grindstaff, who served as the show's supervising sound effects editor for the entire 80-episode run.
Grindstaff, who entered the industry in 1954 after service in the Korean War, won five Emmy Awards for his television sound work as well as the Motion Picture Sound Editors' Lifetime Achievement Award in 1998.  He also headed the sound departments at Paramount Studios, Lorimar Telepictures, Columbia Studios and Pacific Sound before his retirement in 1990.
"When I went to work on the series, Gene described to me what he wanted the Enterprise to sound like," Grindstaff recalls.  "I asked him if he didn't think we were getting a little too 'cartoony' with the sound effects, and he told me, 'Doug, I want you to think like an artist and paint everything with sound.'  That's what he wanted, and that's why the show sounded the way it did.  He had a very strong vision; you had to give him what he wanted, but you also had to use your own instinct about what should be.  You were either on his wavelength or you weren't."
Grindstaff and his crew built their tracks mainly from some material in the Paramount and Desilu sound effects libraries, as well as their own personal libraries.  Additional sounds came from Paramount's 1953 version of War of the Worlds.  Sadly, the library he meticulously created, bundled and catalogued is now lost to history.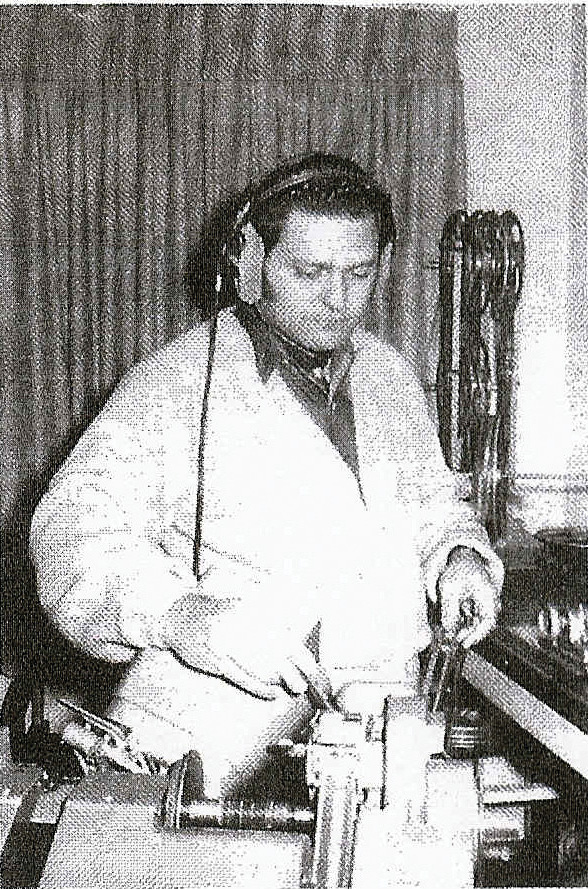 Working with small TV budgets, Grindstaff maximized what he had.  For example, to create the shimmering, musical sound of the Enterprise transporter, he blended together a few musical effects and electric generator sounds.  Then, on a Moviola, he would create his own fades by shaving the mag sound with a razor blade at the desired point, a technique he learned from the late George Emich, who was Fred Astaire's music editor at RKO, and who is co-credited with applying the click track to music editing.  "I created my own fades because I didn't trust the mixers to get it the way I wanted it," Grindstaff laughed.  "We also did all our own Foley and ADR looping."
Other sounds were just as inventive.  At Roddenberry's insistence, each planet visited by the Enterprise had to have its own sound, and for these, Grindstaff would use variations of an orchestra tuning up.  In one legendary episode, "The Trouble with Tribbles," Grindstaff used screech-owls, doves and rat "vocals" for the voices of the furry pets, who came aboard the Enterprise and began reproducing at an alarming rate.  "I had to go from a single Tribble to the sounds of thousands of them filling the ship," he says.  "I ran them backwards and forwards, put them on the variable speeder and edited loops, so I could have multiple tracks and mix them at different levels for different spots in the ship."
The schedule was brutal.  "You were making things every week, and that was the tough part," he recalls.  "I'd try and get as much ready as I could a couple of weeks before we got an episode, so that when the show was turned over to the editors, I had the sound effects pretty well set, and could tell them the right spots to put everything.  I also always insisted on having a sound effects editor at every mix."
Nearly ten years after the Enterprise concluded its five-year mission, Grindstaff was offered a job by Roddenberry on Star Trek: The Motion Picture (1979).  He turned it down.  "Not long before that, I had gone to see Star Wars, and I flipped out," he says.  "I just said to myself, 'Man, we blew it; we should have made a Star Trek movie a lot sooner.'  But I sure intend to go see this one."  Was he aware that he was creating something entirely new in sci-fi sound effects?  "Hardly; I was too busy working for Gene."