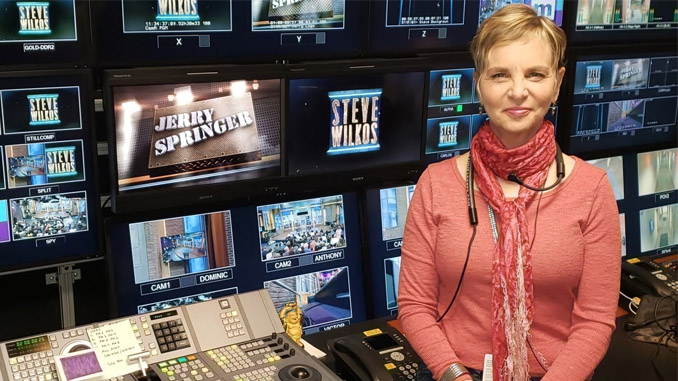 Where are you currently employed?
NBC Universal's Stamford Media Center in Stamford, Connecticut.
Current Project?
The Jerry Springer Show and The Steve Wilkos Show as technical director, and Maury with Maury Povich as backup tech director.
Describe Your Job.
I am both technical director and crew chief. As technical director, I am the co-pilot and the director is the pilot. Our team of 30 brings producers' scripts to life through pictures and sound that best show and tell the story. Because we have a live audience of nearly 200, I simultaneously switch two shows — one for the studio audience and one for viewers at home. While our handheld cameras follow show guests backstage into green rooms and onto the street, I mix graphics, tapes, cameras and effects into monitors on set, in the studio and backstage. Equipment includes a Sony MVS-7000X switcher, 10 cameras, 24 digital recording channels and eight graphics channels.
As crew chief, I act as a bridge between crew and management to help troubleshoot equipment, production or facility issues. Clear communication with the director, engineers and the production and facility managers helps keep the shows flowing smoothly.
How did you first become interested in this line of work?
In my senior year at Fairfield University, I interned at CPTV, a public television station on campus. I was research assistant to the news anchor and rotated crew positions on live shows. Thanks to that internship, I knew what I wanted to do for my livelihood.
Who gave you your first break?
MTV Networks.
What was your first union job?
Technical director at ABC.
Which of your credits or projects have made you the most proud and why?
Starting out in my career, cable television was taking off. Working at MTV Networks, I was given the opportunity to help design and implement the technical operation of a new network that hadn't hit the airwaves — VH1. Six of us were chosen to train operators on just released state-of-the-art equipment. This was back in the days of one- and two-inch tape! On launch day, I was the technical director who faded VH1 up from black into being a network. After that successful launch, at the age of 23, I was promoted to Supervisor of On-Air Operations and helped manage the 10 networks and staff, and made all live on-air programming decisions.
Later in my career, after I joined the IA, television was still being broadcast in standard definition (SD). I was fortunate to transition my skill set from SD to high definition (HD), as well as the shows I was tech directing. I helped up-convert from SD to HD the shows of Montel Williams, Martha Stewart, Jerry Springer, Steve Wilkos and, along with technical director Richie Wirth, Maury Povich. Technical director Jon Pretnar's expertise guided both Richie and me at NBC.
Up-converting these shows to HD involved designing and programming the layout of the switcher, control room, studio, backstage, green room and house monitors. At NBC, I helped coordinate the incorporation of new equipment and HD graphics packages to accommodate both production and post-production. Knowing directors' styles and productions' needs, along with prioritizing in a precise and flexible manner, made these transitions seamless.
What was your biggest challenge in your job (or on a particular project) and how did you overcome/solve it?
When I was offered the job of technical director and crew chief for The Montel Williams Show, the person I was replacing was asked to leave and I inherited his crew. A few key individuals struggled with having a woman as his replacement and had difficulty "hearing me" over their headsets, among other issues. I'd never faced anything like this and, after a few months of trying everything I could think of, I decided it was best for the show for me to leave. I spoke with Executive in Charge of Production Peter Villapol, who was very supportive of me and pro-active with the specific individuals. After much deliberation, I decided to stick it out through the end of the season and continued with the show until it ended five years later.
As crew chief, I act as a bridge between crew and management to help troubleshoot equipment, production or facility issues. Clear communication with the director, engineers and the production and facility managers helps keep the shows flowing smoothly.
What was the most fun you've had at work?
Throughout the years, I've had the opportunity to help launch shows and networks; to cover breaking news stories, the Oscars and the Grammys; to be nominated for an Emmy Award, to fly in a chopper around the Statue of Liberty at sunrise directing a series open that I conceptualized; to be on the last plane from New York to LA packed with fellow journalists covering the O.J. Simpson trial verdict; and to work with some of the most creative and kindest people I have the pleasure to call friends.
Jobwise, what do you hope to be doing five years from now?
This may sound crazy, but first and foremost I hope to be here in five years, happy and healthy. No matter what our age, we never know how much time we have.
That said, in five years I hope to be working with like-minded people on projects that make a difference. I believe the divide in our country fueled by fear and anger can be healed using this powerful medium of television. Mixing a pure intention with innovative programming, I imagine TV leading the way for us to join hands rather than point fingers.
What are your outside activities, hobbies, passions?
I'm a glass artist. I blow and fuse glass to create semi-abstract collage wall hangings. I also love to write, meditate, study Buddhism and do yoga. And I especially treasure walks by the ocean with my husband Steve, whom I married two years ago.
Favorite movie(s)?
Her, City of Angels, It's A Wonderful Life, The Wrecking Crew, Before Sunrise, Finding Vivian Maier, Philadelphia, Thelma and Louise, Good Will Hunting.
Do you have an industry mentor?
We never get where we are on our own. The support I've received along the way is humbling. Because I've worked on the technical, production and management sides of television, it's impossible to name just one mentor. I've been blessed with many and I'm very thankful.
What advice would you offer to someone interested in pursuing your line of work?
If you're in college, become an intern. The experience and personal contacts are invaluable. Integrity, hard work and knowing how to collaborate well with others is most helpful!
Was there ever a circumstance when you had to rely on the Guild for help or assistance?
Daily. The IA shows I've worked on benefit from the union checks and balances. My experience in cable, local and network news, entertainment, lifestyle and talk shows has shown me this firsthand.
Is there anything you'd like to say to your fellow Guild members, some words of encouragement?
What's happening today reminds me of when I was starting out, with changes so fast you can barely keep up. We've entered the "wild west" with the US President tweeting his news rather than being interviewed by journalists.
With inexpensive digital equipment and accessible outlets for everyone — YouTube, social media, podcasts, etc. — the function of television morphs. My question is how do unions navigate this terrain and stay ahead of the curve in order to benefit everyone?
Compiled by Edward Landler
Editor's Note: To recommend a member (including yourself) to be featured on CineMontage.org and the home page of the Editors Guild website, contact edlandler@roadrunner.com.