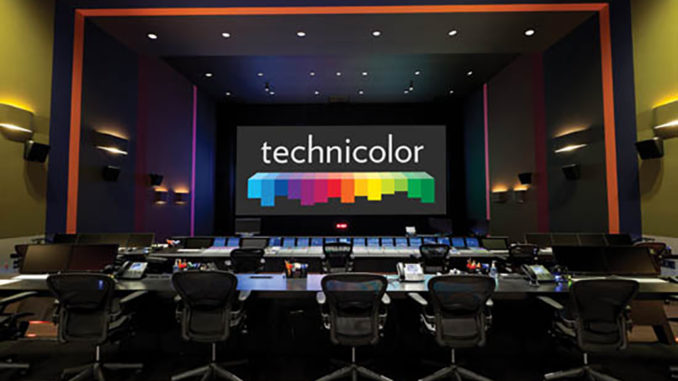 by Mel Lambert
For both mixing and workstation technologies at Technicolor's new post complex, Avid served as the primary hardware supplier. All eight theatrical stages are equipped with Euphonix Series 5 digital consoles with full EuCon connection to a series of companion Pro Tools HD digital audio workstations.
Stages 1 and 2 feature 80-fader S5 consoles with 746 available inputs, connecting to five 64-channel and one 128-channel Pro Tools playback systems, plus a 64-channel Pro Tools recorder for stems and final mixes. The mid-sized Stages 3 and 4 will house identical 80-fader/746-input S5 consoles each connecting to six playback rigs and a master Pro Tools recorder, with a pair of dual-monitor editorial positions. The four medium-sized stages — 5 thru 8 — each feature 48-fader/368-input S5 consoles linked to a 128-channel and two 64-channel Pro Tools playback rigs, plus a 64-channel recorder.
Monitoring in the larger stages consists of five JBL Model 5742 four-way ScreenArray cabinets and JBL Goldwyn subwoofers powered by Crown I-Tech HD amplifiers; an IMAX Voice of God system uses JBL Model 3731 3-Way ScreenArrays with JBL AM6350-95s for IMAX surrounds. The other stages utilize three JBL Model 5732 ScreenArrays with custom subwoofers powered by Crown amplifiers, plus Genelec Model 8250s as near-fields. Video playback is handled by a mixture of NEC Model 800 and Model 2500 2k projectors and large-format screens fed from Avid Nitris DX systems, and augmented by several 65-inch Panasonic Viera VT30 plasma monitors. Stage 4 also offers a 13-by-23-foot silver screen for RealD 3D playback.
"In terms of speed and asset management, Pro Tools 10 dramatically enhances our workflow throughout the facility." – chief engineer Michael Novitch.
ADR1, ADR2 and ADR3 feature 24-fader Avid ICON D-Command consoles and 32-channel Pro Tools HD rigs, with JBL Model LSR6332 cabinets, LSR6312SP subwoofers and LSR6328P surrounds. The Foley Stage boasts a 24-fader Avid ICON D-Control console with a Pro Tools HD system. The Sound Design and Editorial Suites will be equipped with Avid Control-24, ICON D-Command or Artist Series controllers linked to multi-channel Pro Tools HD workstations.
All stages are equipped with two Toy Boxes — dedicated 64-channel Pro Tools systems that are fully loaded with a large arsenal of Pro Tools plug-ins from such vendors as Waves, Dolby, CEDAR, Minnetonka, Audio Ease, Altiverb, McDSP, ReFuse and Soundtoys. Outboards include TC Electronic TC6000 processors, Junger de-essers and Lexicon 96S reverbs.
The facility has also fully updated to Pro Tools 10, which enables the various re-recording stages to directly mount disc volumes from the facility's central 750 TB data store, where a Quantum StorNext file-based system can be accessed via a dedicated high-speed storage area network between editorial suites, ADR and re-recording stages. "In terms of speed and asset management, Pro Tools 10 dramatically enhances our workflow throughout the facility," says chief engineer Michael Novitch. Avid Satellite Link also streamlines the synchronization of audio and video playback systems via Ethernet connections. "An operator simply mounts the appropriate drive and hits play," he  adds. The facility's file-based workflow via dual-fiber 10 GB/sec connections enables connection to facilities around the world via the Technicolor Production Network (TPN). A master machine room houses the various audio and video workstations, console engines and data routers.