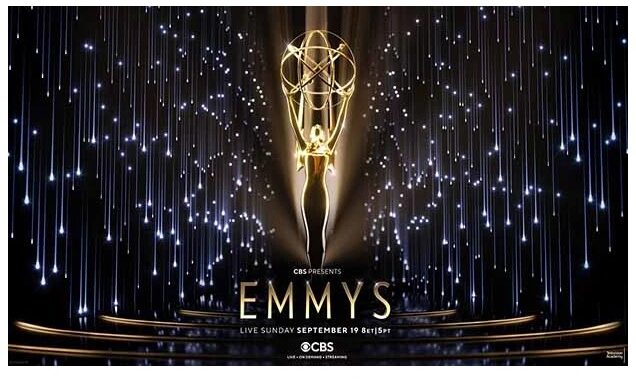 Reprinted from Deadline Hollywood by Patrick Hipes on July 13, 2021.
[An earlier version did not include the names of all Guild members nominated by the Television Academy. Cinemontage apologizes for the error.]
Netflix's The Crown and Disney+'s The Mandalorian tied with the most nominations with 24 on Tuesday as the 73rd Primetime Emmy Awards were unveiled. The noms, which come for a TV season that took place amidst the global pandemic, were announced by the Television Academy in a virtual ceremony hosted by Ron Cephas Jones and Jasmine Cephas Jones. …
With Tuesday's noms set, final voting by members of the Television Academy will run from August 19-30.
The Primetime Emmys will air live Sunday, September 19, on CBS and stream on Paramount+. The Neighborhood star Cedric the Entertainer was just set to host the ceremony, which after a virtual 2020 ceremony will be held in-person at the Microsoft Theater in Los Angeles, featuring a limited audience of nominees and their guests. …
EDITING
Single-Camera Picture Editing for a Drama Series
The Crown • Avalanche
Netflix • Left Bank Pictures in association with Sony Pictures Television for Netflix
Paulo Pandolpho, Editor
The Crown • Fairytale
Netflix • Left Bank Pictures in association with Sony Pictures Television for Netflix
Yan Miles, ACE, Editor
The Handmaid's Tale • The Crossing
Hulu • Hulu, MGM, Daniel Wilson Productions, The Littlefield Company, White Oak Pictures
Wendy Hallam Martin, ACE, Editor
The Mandalorian • Chapter 11: The Heiress
Disney+ • Lucasfilm Ltd.
Dylan Firshen, Editor
J. Erik Jessen, Additional Editor
The Mandalorian • Chapter 13: The Jedi
Disney+ • Lucasfilm Ltd.
Andrew S. Eisen, ACE, Editor
The Mandalorian • Chapter 15: The Believer
Disney+ • Lucasfilm Ltd.
Jeff Seibenick, Editor
The Mandalorian • Chapter 16: The Rescue
Disney+ • Lucasfilm Ltd.
Adam Gerstel, Editor
Single-Camera Picture Editing for a Comedy Series
The Flight Attendant • In Case of Emergency
HBO Max • HBO Max in association with Berlanti Productions, Yes, Norman Productions, and Warner Bros. Television
Heather Persons, Editor
Hacks • Primm
HBO Max • Universal Television in association with Paulilu, First Thought Productions, Fremulon Productions, 3 Arts Entertainment
Susan Vaill, ACE, Editor
Hacks • There Is No Line (Pilot)
HBO Max • Universal Television in association with Paulilu, First Thought Productions, Fremulon Productions, 3 Arts Entertainment
Jessica Brunetto, Editor
Hacks • Tunnel of Love
HBO Max • Universal Television in association with Paulilu, First Thought Productions, Fremulon Productions, 3 Arts Entertainment
Ali Greer, Editor
Ted Lasso • The Hope that Kills You
Apple TV+ • Apple / Doozer Productions in association with Warner Bros. Television and Universal Television
A.J. Catoline, Editor
Ted Lasso • Make Rebecca Great Again
Apple TV+ • Apple / Doozer Productions in association with Warner Bros. Television and Universal Television
Melissa McCoy, Editor
Multi-Camera Picture Editing for a Comedy Series
The Conners • Jeopardé, Sobrieté and Infidelité
ABC • Werner Entertainment
Brian Schnuckel, ACE, Editor
Man With A Plan • Driving Miss Katie
CBS • Double Double Bonus Entertainment, 3 Arts Entertainment, CBS TV Studios
Sue Federman, ACE, Editor
Mom • Scooby-Doo Checks And Salisbury Steak
CBS • Chuck Lorre Productions, Inc. in association with Warner Bros. Television
Joe Bella, Editor
Single-Camera Picture Editing for a Limited or Anthology Series or Movie
Mare of Easttown • Fathers
HBO • HBO in association with wiip Studios, The Low Dweller Productions, Juggle Productions, Mayhem and Zobot Projects
Amy E. Duddleston, ACE, Editor
Naomi Sunrise Filoramo, Editor
Mare of Easttown • Miss Lady Hawk Herself
HBO • HBO in association with wiip Studios, The Low Dweller Productions, Juggle Productions, Mayhem and Zobot Projects
Amy E. Duddleston, ACE, Editor
The Queen's Gambit • Exchanges
Netflix • Netflix
Michelle Tesoro, ACE, Editor
WandaVision • On a Very Special Episode…
Disney+ • Marvel Studios
Nona Khodai, ACE, Editor
WandaVision • The Series Finale
Disney+ • Marvel Studios
Zene Baker, ACE, Editor
Michael A. Webber, Editor
Tim Roche, Additional Editor
Nona Khodai, ACE, Additional Editor
Picture Editing for Variety Programming
A Black Lady Sketch Show • Sister, May I Call You Oshun?
HBO • HBO in association with JAX Media, 3 Arts Entertainment, Issa Rae Productions and For Better or Words Inc.
Daysha Broadway, Supervising Editor
Stephanie Filo, Editor
Jessica Hernández, Editor
Bo Burnham: Inside
Netflix • Netflix
Bo Burnham, Editor
Hamilton
Disney+ • Lin-Manuel Miranda and Nevis Productions LLC, Old 320 Sycamore, and RadicalMedia
Jonah Moran, Editor
Last Week Tonight with John Oliver • Trump & Election Results / F*ck 2020
HBO • HBO in association with Sixteen String Jack Productions and Avalon Television
Ryan Barger, Editor
Anthony Miale, Editor
Saturday Night Live • Murder Show (segment)
NBC • SNL Studios in association with Universal Television and Broadway Video
Ryan Spears, Editor
Saturday Night Live • Stu (segment)
NBC • SNL Studios in association with Universal Television and Broadway Video
Ryan McIlraith, Editor
Picture Editing for a Nonfiction Program
Allen v. Farrow • Episode 1
HBO • HBO Documentary Films presents in association with Impact Partners and Chicago Media Project, a Jane Doe Films Production Mikaela Shwer, Editor
Parker Laramie, Editor
Sara Newens, Editor
The Bee Gees: How Can You Mend a Broken Heart
HBO • HBO Documentary Films And Polygram Entertainment Present A Kennedy/Marshall Production and a White Horse Pictures Production in association with Diamond Docs
Derek Boonstra, Editor
Robert A. Martinez, Editor
Billie Eilish: The World's a Little Blurry
Apple TV+ • Apple / Interscope Films / The Darkroom / This Machine / Lighthouse Management & Media
Greg Finton, ACE, Editor
Lindsay Utz, ACE, Editor
Azin Samari, Additional Editor
David Attenborough: A Life on Our Planet
Netflix • A Silverback Films and WWF Production for Netflix                                                            Martin Elsbury, Editor
Charles Dyer, Additional Editor
Framing Britney Spears (The New York Times Presents)
FX Networks • The New York Times and Left/Right
Geoff O'Brien, Editor
Pierre Takal, Editor
Q: Into the Storm • The Storm
HBO • HBO Documentary Films in association with Hyrax Films and Hyperobject Industries
Tom Patterson, Lead Editor
David Tillman, Editor
Cullen Hoback, Editor
Ted Woerner, Editor
Evan Wise, Editor
The Social Dilemma
Netflix • An Exposure Labs Production in association with Argent Pictures for Netflix
Davis Coombe, Editor
Picture Editing for a Structured Reality or Competition Program
The Amazing Race • Series Body of Work
CBS • WorldRace Productions, Inc.
Eric Beetner, Editor
Michael Bolanowski, Editor
Kellen Cruden, Editor
Christina Fontana, Editor
Jay Gammill, Editor
Katherine Griffin, Editor
Jason Groothuis, Editor
Darrick Lazo, Editor
Ryan Leamy, Editor
Joshua Lowry, Editor
Gary Pennington, Editor
Jason Pedroza, Editor
Queer Eye • Preaching Out Loud
Netflix • Scout Productions Inc. and ITV Entertainment LLC for Netflix
Kris Byrnes, Lead Editor
Susan Maridueña Barrett, Editor
Nathan Ochiltree, Editor
Tony Zajkowski, Editor
Carlos J. Gamarra, Editor
Brian Ray, Editor
RuPaul's Drag Race • Condragulations
VH1 • World of Wonder
Jamie Martin, Lead Editor
Paul Cross, Editor
Ryan Mallick, Editor
Michael Roha, Editor
Top Chef • Restaurant Wars
Bravo • Magical Elves, LP
Steve Lichtenstein, Lead Editor
Mike Abitz, Editor
Ericka Concha, Editor
Tim Daniel, Editor
George Dybas, Editor
Eric Lambert, Editor
Matt Reynolds, Editor
Daniel Ruiz, Editor
Dan Williams, Editor
The Voice • Series Body of Work
NBC • MGM Television, Warner Horizon Unscripted & Alternative Television, ITV Studios, The Voice USA, Inc.
John M. Larson, ACE, Supervising Editor
Robert Michael Malachowski Jr., ACE, Supervising Editor
Hudson H. Smith III, Supervising Editor
Matt Antell, Editor
John Baldino, Editor
Sommer Basinger, Editor
Matthew Blair, Editor
Melissa Silva Borden, Editor William Fabian Castro, Editor
Nick Don Vito, Editor
Alyssa Dressman Lehner, Editor
Glen Ebesu, Editor
Noel A. Guerra, Editor
John Homesley, Editor
Omega Hsu, ACE, Editor
Charles A. Kramer, Editor
Terry Maloney, Editor
James J. Munoz, Editor
Andy Perez, Editor
Robby Thompson, Editor
Eric Wise, Editor
Picture Editing for an Unstructured Reality Program
Below Deck • Steamy Vibes
Bravo • 51 Minds Entertainment
Garrett Hohendorf, Supervising Editor
Cameron Teisher, Supervising Editor
Michael Sparks, Lead Editor
Josh Franco, Editor
Allison Anastasio, Editor
Drew Whitaker, Editor
Kimberly Fennik, Editor
Lane Gillis, Editor
Tom McCudden, Editor
Deadliest Catch • Series Body of Work
Discovery Channel • Original Productions, LLC for the Discovery Channel
Rob Butler, ACE, Supervising Editor
Isaiah Camp, ACE, Supervising Editor
Joe Mikan, ACE, Editor
Art O'Leary, Editor
Alexander Rubinow, ACE, Editor
Ben Bulatao, ACE, Additional Editor
Alexandra Moore, ACE, Additional Editor
Nico Natale, Additional Editor
Alberto Perez, Additional Editor
Chris Courtner, Additional Editor
Life Below Zero • The Other Side
National Geographic • BBC Studios for National Geographic
Tony Diaz, Editor
Matt Edwards, Additional Editor
Jennifer Nelson, Additional Editor
Eric Michael Schrader, Additional Editor
Michael Swingler, Additional Editor
Naked and Afraid • Sand Trapped
Discovery Channel • Renegade 83, LLC for Discovery Channel
Eric Goldfarb, Editor
Morgen Stary, Editor
Todd Beabout, Editor
PJ Wolff, Editor
Igor Borovac, Editor
Felise Epstein, Editor
Michael Russell, Editor
RuPaul's Drag Race Untucked • The Bag Ball
VH1 • World of Wonder
Kellen Cruden, Editor
Yali Sharon, Editor
Shayna Casey, Editor …
SOUND EDITING
Outstanding Sound Editing for a Comedy or Drama Series (One Hour)
The Falcon and the Winter Soldier • One World, One People • Disney+ • Marvel Studios
Matthew Wood, Co-Supervising Sound Editor Bonnie Wild, Co-Supervising Sound Editor James Spencer, Dialogue Editor
Richard Quinn, Dialogue Editor
Steve Slanec, ADR Editor
Kimberly Patrick, Sound Designer / Sound Effects Editor Teresa Eckton, Sound Effects Editor
Frank Rinella, Foley Editor
Devon Kelley, Foley Editor
Larry Oatfield, Foley Editor
Anele Onyekwere, Music Editor
Dan Pinder, Music Editor
Ronni Brown, Foley Artist
Andrea Gard, Foley Artist
Lovecraft Country • Sundown • HBO • HBO in association with afemme, Monkeypaw, Bad Robot, and Warner Bros. Television
Tim Kimmel, MPSE, Sound Supervisor John Matter, Dialogue Editor
Paula Fairfield, Sound Designer Bradley Katona, Sound Effects Editor Brett Voss, Foley Editor
Jeff Lingle, Music Editor
Jason Lingle, Music Editor
Jeffrey Wilhoit, Foley Artist
Dylan Tuomy-Wilhoit, Foley Artist
The Mandalorian • Chapter 13: The Jedi • Disney+ • Lucasfilm Ltd.
Matthew Wood, Co-Supervising Sound Editor
David Acord, Co-Supervising Sound Editor/Sound Designer Richard Quinn, Dialogue Editor
James Spencer, ADR Editor
Benjamin A. Burtt, Sound Effects Editor
J. R. Grubbs, Sound Effects Editor
Richard Gould, Foley Editor
Stephanie McNally, Music Editor
Ronni Brown, Foley Artist
Jana Vance, Foley Artist
Star Trek: Discovery • That Hope Is You (Part 1) • Paramount+ • CBS Studios in association with Secret Hideout and Roddenberry Entertainment
Matthew E. Taylor, Sound Supervisor
Sean Heissinger, Dialogue Editor
Tim Farrell, Sound Designer
Harry Cohen, Sound Designer
Michael Schapiro, Sound Effects Editor Darrin Mann, Foley Editor
Clay Weber, Foley Editor
Moira Marquis, Music Editor
Alyson Dee Moore, Foley Artist
Chris Moriana, Foley Artist
The Umbrella Academy • The End of Something • Netflix • UCP for Netflix
John Benson, Sound Supervisor
Jason Krane, MPSE, Dialogue/ADR Editor
John Snider, Sound Design/Sound Effects Editor AJ Shapiro, Foley Editor
Dario Biscaldi, Foley Editor
Lodge Worster, Music Editor
Lindsay Pepper, Foley Artist
Zane D. Bruce, Foley Artist
Outstanding Sound Editing for a Comedy or Drama Series (Half-Hour) and Animation
Cobra Kai • December 19 • Netflix • Sony Pictures Television for Netflix
Patrick Hogan, Sound Supervisor Jesse Pomeroy, MPSE, Sound Editor Daniel Salas, Sound Editor
Ryne Gierke, Sound Editor
AJ Shapiro, Foley Editor Andres Locsey, Music Editor Shane Bruce, Foley Artist Mitchell Kohen, Foley Artist
Love, Death + Robots • Snow in the Desert • Netflix • Blur Studio for Netflix
Brad North, Supervising Sound Editor/Dialogue Editor Craig Henighan, Sound Designer
Dawn Lunsford, Foley Editor
Jeff Charbonneau, Music Editor
Alicia Stevens, Foley Artist
Mythic Quest • Everlight • Apple TV+ • Apple / Lionsgate / 3 Arts Entertainment / Ubisoft
Matthew E. Taylor, Sound Supervisor Sean Heissinger, Dialogue Editor Pete Nichols, Sound Effects Editor Matthew Wilson, Sound Effects Editor David Jobe, Foley Editor
Joe Deveau, Music Editor
Jody Holwadel Thomas, Foley Artist Elizabeth Rainey, Foley Artist
Star Trek: Lower Decks • No Small Parts • Paramount+ • CBS Eye Animation Productions, Titmouse, Secret Hideout and Roddenberry Entertainment
James Lucero, Sound Supervisor
James Singleton, Sound Effects Editor
Jeff Halbert, Sound Effects Editor Michael Britt, Foley Editor
Amber Funk, Music Editor
Ted Lasso • The Hope That Kills You • Apple TV+ • Apple / Doozer Productions in association with Warner Bros. Television and Universal Television
Brent Findley, MPSE, Sound Supervisor
Bernard Weiser, MPSE, Dialogue Editor
Kip Smedley, Sound Effects Editor Richard David Brown, Music Editor Sharyn Gersh, Music Editor
Sanaa Kelley, MPSE, Foley Artist Matt Salib, Foley Artist
Outstanding Sound Editing for a Limited or Anthology Series, Movie or Special
Fargo • East/West • FX Networks • MGM Television and FX Productions
Kurt Nicholas Forshager, Co-Supervising Sound Editor Tim Boggs, Co-Supervising Sound Editor
Todd Niesen, Dlalogue Editor
Matt Temple, Sound Effects Editor
Adam Parrish-Kin, Sound Effects Editor Brad Bakelmun, Foley Editor
Ben Schor, Music Editor
Stef Fraticelli, Foley Artist
Jason Charbonneau, Foley Artist
The Haunting of Bly Manor • The Two Faces (Part Two) • Netflix • A Paramount Television Studios Presentation for Netflix
Trevor Gates, Sound Supervisor
Jason Dotts, Dialogue Editor
Kristen Hirlinger, Dialogue Editor
Paul B. Knox, Sound Effects Editor
Piero Mura, Sound Effects Editor
James Miller, Sound Effects Editor
Matthew Thomas Hall, Sound Effects Editor Mark Coffey, Sound Editor
Ryan Meadows, Sound Editor
Amy Barber, Foley Editor
Julia Huberman, Foley Editor
Brett "Snacky" Pierce, MPSE, Music Editor Jonathan Bruce, Foley Artist
Ben Parker, Foley Artist
The Queen's Gambit • End Game • Netflix • Netflix
Gregg Swiatlowski, Co-Supervising Sound Editor Eric Hirsch, Co-Supervising Sound Editor
Wylie Stateman, Sound Designer
Leo Marcil, Sound Editor
Mary-Ellen Porto, Sound Editor
Patrick Cicero, Sound Editor
James David Redding III, Sound Editor Eric Hoehn, Sound Editor
Tom Kramer, Music Editor
Rachel Chancey, Foley Artist
The Underground Railroad • Chapter 9: Indiana Winter • Prime Video • Plan B, PASTEL, Big Indie with Amazon Studios
Onnalee Blank, Sound Supervisor Chris Kahwaty, Dialogue Editor Katy Wood, Dialogue Editor
Bryan Parker, Dialogue/ADR Editor Jay Jennings, Sound Designer Harry Cohen, Sound Designer Luke Gibleon, Sound Effects Editor Pietu Korhonen, Foley Editor
John Finklea, Music Editor Heikki Kossi, MPSE, Foley Artist
WandaVision • The Series Finale • Disney+ • Marvel Studios
Gwendolyn Yates Whittle, Co-Supervising Sound Editor Kim Foscato, Co-Supervising Sound Editor
James Spencer, ADR Editor
Chris Gridley, ADR Editor
Steve Orlando, Sound Designer
Scott Guitteau, Sound Effects Editor Jon Borland, Sound Effects Editor Samson Neslund, Sound Effects Editor Richard Gould, Sound Effects Editor Jordan Myers, Sound Editor
Luke Dunn Gielmuda, Foley Editor Greg Peterson, Foley Editor
Fernand Bos, Music Editor
Anele Onyekwere, Music Editor
Ronni Brown, Foley Artist
Shelley Roden, Foley Artist
Outstanding Sound Editing for a Nonfiction or Reality Program (Single or Multi-Camera)
Allen v. Farrow • Episode 2 • HBO • HBO Documentary Films presents in association with Impact Partners and Chicago Media Project, a Jane Doe Films Production
Dane A. Davis, Co-Supervising Sound Editor/Sound Designer
Stephanie Flack, Co-Supervising Sound Editor
Jon Michaels, Dialogue Editor Ezra Dweck, Sound Effects Editor Ellen Segal, Music Editor
The Bee Gees: How Can You Mend a Broken Heart • HBO • HBO Documentary Films And Polygram Entertainment Present A Kennedy/Marshall Production and a White Horse Pictures Production in association with Diamond Docs
Jonathan Greber, Sound Supervisor
Pascal Garneau, Sound Effects Editor
Billie Eilish: The World's a Little Blurry • Apple TV+ • Apple / Interscope Films / The Darkroom / This Machine / Lighthouse Management & Media
Richard E. Yawn, MPSE, Sound Supervisor
Rob Getty, MPSE, Dialogue Editor
Steven Avila, MPSE, Sound Effects Editor Shawn Kennelly, Foley Editor
Michael Brake, Music Editor
Melissa Kennelly, Foley Artist
Vince Nicastro, Foley Artist
David Attenborough: A Life on Our Planet • Netflix • A Silverback Films and WWF Production for Netflix
Tim Owens, Sound Supervisor Kate Hopkins, Sound Editor Tom Mercer, Foley Editor Gareth Cousins, Music Editor Paul Ackerman, Foley Artist
The Social Dilemma • Netflix • An Exposure Labs Production in association with Argent Pictures for Netflix
Richard Gould, Supervising Sound Editor/Sound Designer James Spencer, Dialogue Editor
Andrea Gard, Foley Artist
Tulsa Burning: The 1921 Race Massacre • HISTORY • BLACKFIN in association with Firelight Films and WhyNot Media for The HISTORY Channel
John Moros, Sound Editor
MIXING 
Outstanding Sound Mixing for a Comedy or Drama Series (One Hour)
The Boys • What I Know • Prime Video • Sony Pictures Television, Inc. and Amazon Studios
Alexandra Fehrman, Re-Recording Mixer Rich Weingart, CAS, Re-Recording Mixer Thomas Hayek, Production Mixer
The Crown • Fairytale • Netflix • Left Bank Pictures in association with Sony Pictures Television for Netflix
Lee Walpole, Re-Recording Mixer Stuart Hilliker, Re-Recording Mixer Martin Jensen, Re-Recording Mixer Chris Ashworth, Production Mixer
The Handmaid's Tale • Chicago • Hulu • Hulu, MGM, Daniel Wilson Productions, The Littlefield Company, White Oak Pictures
Lou Solakofski, Re-Recording Mixer Joe Morrow, Re-Recording Mixer Sylvain Arseneault, Production Mixer
Lovecraft Country • Sundown • HBO • HBO in association with afemme, Monkeypaw, Bad Robot, and Warner Bros. Television
Marc Fishman, CAS, Re-Recording Mixer Mathew Waters, CAS, Re-Recording Mixer Amanda Beggs, Production Mixer
The Mandalorian • Chapter 13: The Jedi • Disney+ • Lucasfilm Ltd.
Bonnie Wild, Re-Recording Mixer Stephen Urata, Re-Recording Mixer Shawn Holden, CAS, Production Mixer Christopher Fogel, Scoring Mixer
Outstanding Sound Mixing for a Limited or Anthology Series or Movie
Genius: Aretha • Respect • National Geographic • National Geographic presents an Imagine Television and 20th Television Production
Dan Brennan, Re-Recording Mixer
Ken Hahn, CAS, Re-Recording Mixer
Jay Meagher, Production Mixer
Mare of Easttown • Sore Must Be The Storm • HBO • HBO in association with wiip Studios, The Low Dweller Productions, Juggle Productions, Mayhem and Zobot Projects
Joe DeAngelis, Re-Recording Mixer
Chris Carpenter, Re-Recording Mixer
Richard Bullock, Production Mixer
The Queen's Gambit • End Game • Netflix • Netflix
Eric Hirsch, Re-Recording Mixer
Eric Hoehn, Re-Recording Mixer Roland Winke, Production Mixer Lawrence Manchester, Scoring Mixer
The Underground Railroad • Chapter 1: Georgia • Prime Video • Plan B, PASTEL, Big Indie with Amazon Studios
Onnalee Blank, CAS, Re-Recording Mixer Mathew Waters, CAS, Re-Recording Mixer Joe White, CAS, Production Mixer
Kari Vähäkuopus, Foley Mixer
WandaVision • The Series Finale • Disney+ • Marvel Studios
Danielle Dupre, Re-Recording Mixer Chris Giles, Production Mixer
Doc Kane, ADR Mixer
Casey Stone, Scoring Mixer
Outstanding Sound Mixing for a Comedy or Drama Series (Half-Hour) and Animation
B Positive • High Risk Factor • CBS • Chuck Lorre Productions, Inc. in association with Warner Bros. Television
Bob LaMasney, Re-Recording Mixer Jeff A. Johnson, CAS, Production Mixer
Cobra Kai • December 19 • Netflix • Sony Pictures Television for Netflix
Joe DeAngelis, Re-Recording Mixer Chris Carpenter, Re-Recording Mixer Mike Filosa, CAS, Production Mixer Phil McGowan, Scoring Mixer
Hacks • Falling • HBO Max • Universal Television in association with Paulilu, First Thought Productions, Fremulon Productions, 3 Arts Entertainment
John W. Cook II, Re-Recording Mixer
Ben Wilkins, Re-Recording Mixer
Jim Lakin, Production Mixer
The Kominsky Method • Chapter 21. Near, Far, Wherever You Are • Netflix • Chuck Lorre Productions, Inc. in association with Warner Bros. Television
Yuri Reese, Re-Recording Mixer
Sean Madsen, Re-Recording Mixer
Brian Wittle, Production Mixer
Ted Lasso • The Hope That Kills You • Apple TV+ • Apple / Doozer Productions in association with Warner Bros. Television and Universal Television
Ryan Kennedy, Re-Recording Mixer
Sean Byrne, Re-Recording Mixer
David Lascelles, Production Mixer
Outstanding Sound Mixing for a Variety Series or Special
Bruce Springsteen's Letter to You • Apple TV+ • Thrill Hill Productions in association with Apple
Kevin O'Connell, Re-Recording Mixer Kyle Arzt, Re-Recording Mixer
Brad Bergbom, Production Mixer Bob Clearmountain, Music Mixer
David Byrne's American Utopia • HBO • HBO in association with RadicalMedia, 40 Acres And A Mule
Paul Hsu, Re-Recording Mixer Michael Lonsdale, Production Mixer Pete Keppler, Music Mixer
Hamilton • Disney+ • Lin-Manuel Miranda and Nevis Productions LLC, Old 320 Sycamore, and RadicalMedia
Tony Volante, Re-Recording Mixer Roberto Fernandez, Re-Recording Mixer Tim Latham, Re-Recording Mixer
Justin Rathbun, Production Mixer
Last Week Tonight with John Oliver • Trump & Election Results / F*ck 2020 • HBO • HBO in association with Sixteen String Jack Productions and Avalon Television
Siara Spreen, Re-Recording Mixer
Eleanor Osborne, Re-Recording Mixer
The Late Show with Stephen Colbert • Live Show Following Capitol Insurrection; Senator Amy Klobuchar, Rep. Adam Kinzinger, Performance By Jamila Woods • CBS • CBS Studios
Pierre de Laforcade, Production Mixer
Harvey Goldberg, Music Mixer
Alan Bonomo, Monitor Mixer
Outstanding Sound Mixing for a Nonfiction or Reality Program (Single or Multi-Camera)
The Bee Gees: How Can You Mend a Broken Heart • HBO • HBO Documentary Films And Polygram Entertainment Present A Kennedy/Marshall Production and a White Horse Pictures Production in association with Diamond Docs
Gary A. Rizzo, CAS, Re-Recording Mixer
Jeff King, Re-Recording Mixer
John Rampey, Production Mixer
Billie Eilish: The World's a Little Blurry • Apple TV+ • Apple / Interscope Films / The Darkroom / This Machine / Lighthouse Management & Media
Elmo Ponsdomenech, CAS, Re-Recording Mixer
Jason "Frenchie" Gaya, Re-Recording Mixer
Aron Forbes, Music Mixer Jae Kim, Production Mixer
David Attenborough: A Life On Our Planet • Netflix • A Silverback Films and WWF Production for Netflix
Graham Wild, Re-Recording Mixer
Life Below Zero • The Other Side • National Geographic • BBC Studios for National Geographic
Tony Crowe, Re-Recording Mixer
Stanley Tucci: Searching For Italy • Naples And The Amalfi Coast • CNN • CNN Original Series, RAW
Tom O'Pray, Re-Recording Mixer Chris Gibbions, Production Mixer
Tina • HBO • HBO Documentary Films presents a Lightbox Production
Lawrence Everson, Re-Recording Mixer Phil McGowan, CAS, Scoring Mixer …
TECHNICAL DIRECTION
Outstanding Technical Direction, Camerawork, Video Control for a Series
America's Got Talent • Episode 1523 • NBC • Fremantle and Syco Entertainment
Allan Wells, Technical Director Iqbal Hans, Technical Director Brian Reason, Camera
Ron Lehman, Camera
David Eastwood, Camera Adam Margolis, Camera Dave Levisohn, Camera John Gardner, Camera
Rob Palmer, Camera
Kary D'Alessandro, Camera Helena Jackson, Camera Hector Ramirez, Camera Dan Webb, Camera
Easter Xua, Camera
Chuck Reilly, Video Control
Jimmy Kimmel Live! • Jimmy Kimmel Live – Sacha Baron Cohen, Wesley Snipes, and Music from Charlotte Lawrence • ABC • ABC Signature in association with Kimmelot
Ervin D. Hurd Jr., Technical Director
Garrett Hurt, Camera
Greg Grouwinkel, Camera Steve Garrett, Camera Bernd Reinhardt, Camera Kris Wilson, Camera
Guy Jones, Senior Video Control
Last Week Tonight with John Oliver • Trump & Election Results / F*ck 2020 • HBO • HBO in association with Sixteen String Jack Productions and Avalon Television
Russell Swanson, Camera
John Schwartz, Camera
Scott Buckler, Camera
Michael Carmine, Camera Matthew Fleischmann, Camera Jon Graham, Camera
Dexter Kennedy, Camera Maxwell Tubman, Camera Michael Isler, Camera
Grgo Sevo, Camera
Saturday Night Live • Host: Dan Levy • NBC • SNL Studios in association with Universal Television and Broadway Video
Steven Cimino, Technical Director John Pinto, Camera
Paul Cangialosi, Camera
Joe DeBonis, Camera
Dave Driscoll, Camera
Eric A. Eisenstein, Camera Franco Coello, Camera
Frank Grisanti, Video Control Roberto Lopez, Video Control
The Voice • Live Finale (Part 2) • NBC • MGM Television, Warner Horizon Unscripted & Alternative Television, ITV Studios The Voice USA, Inc.
Allan Wells, Technical Director
Mano Bonilla III, Camera
Martin J. Brown Jr., Camera Robert Burnette, Camera Suzanne Ebner, Camera Guido Frenzel, Camera
Alex Hernandez, Camera Marc Hunter, Camera Scott Hylton, Camera Kathrine Iacofano, Camera Scott Kaye, Camera
Steve Martyniuk, Camera
David Plakos, Camera
Ray Reynolds, Camera
Jofre Rosero, Camera
Steve Simmons, Camera Terrance Ho, Senior Video Control
Outstanding Technical Direction, Camerawork, Video Control for a Special
David Byrne's American Utopia • HBO • HBO in association with RadicalMedia, 40 Acres and a Mule
Ellen Kuras, Camera Gregor Tavenner, Camera Peter Agliata, Camera Charles Libin, Camera Declan Quinn, Camera Sam Levy, Camera
David Waterston, Camera Tim Ives, Camera
Kerwin DeVonish, Camera Yousheng Tang, Camera
The 63rd Annual Grammy Awards • CBS • Fulwell 73 Productions
Rod Wardell, Technical Director Eric Becker, Technical Director Iqbal Hans, Technical Director David Eastwood, Camera
Sean Flannery, Camera Marc Hunter, Camera
Tore Livia, Camera
Allen Merriweather, Camera David Plakos, Camera
Jofre Rosero, Camera Keyan Safyari, Camera Dylan Sanford, Camera Guy Jones, Video Control Terrance Ho, Video Control
Hamilton • Disney+ • Lin-Manuel Miranda and Nevis Productions LLC, Old 320 Sycamore, and RadicalMedia
Pat Capone, Camera
Jack Donnelly, Camera Dave Knox, Camera
Bruce MacCallum, Camera Bill Winters, Camera Maceo Bishop, Camera Abby Levine, Video Control Joe Belack, Video Control
The Oscars • ABC • Academy of Motion Picture Arts and Sciences
Eric Becker, Technical Director Iqbal Hans, Technical Director
John Pritchett, Technical Director Kenneth Shapiro, Technical Director Devin Atwood, Camera
Danny Bonilla, Camera Mano Bonilla, Camera David Carline, Camera Keith Dicker, Camera David Eastwood, Camera Suzanne Ebner, Camera Freddy Fredericks, Camera Garrett Hurt, Camera
Tore Livia, Camera
Steve Martyniuk, Camera Allen Merriweather, Camera Rob Palmer, Camera
David Plakos, Camera
George Prince, Camera
Dan Webb, Camera
Easter Xua, Camera
Brad Zerbst, Camera
Guy Jones, Video Control Kevin Faust, Video Control Terrence Ho, Video Control John Palacio Jr., Video Control
The Pepsi Super Bowl LV Halftime Show Starring The Weeknd • CBS • Jesse Collins Entertainment, DPS and Roc Nation
Rod Wardell, Technical Director Eric Becker, Technical Director Robert Del Russo, Camera Kevin French, Camera
Shaun Harkins, Camera
Jay Kulick, Camera
Jeff Latonero, Camera
Tore Livia, Camera
Allen Merriweather, Camera Jofre Rosero, Camera
Mike Harvath, Camera David Geller, Camera
Don Miller, Camera
Keith Rees, Camera Timmy Mueller, Camera Jeff Gentile, Camera
Jon Mantak, Camera Carmen Long, Camera Frank Lombardo, Camera Steve Webster, Camera Stephen Wharton, Camera Ed Martino, Camera
Rian Weigart, Camera
JD Curl, Camera
Christian Pantuosco, Camera Andrew Lawing, Camera
Joe Ward, Camera
John "JM" Hurley, Video Control Ian Fleisher, Video Control Emelie Scaminaci, Video Control …
Academy of Television Arts and Sciences site