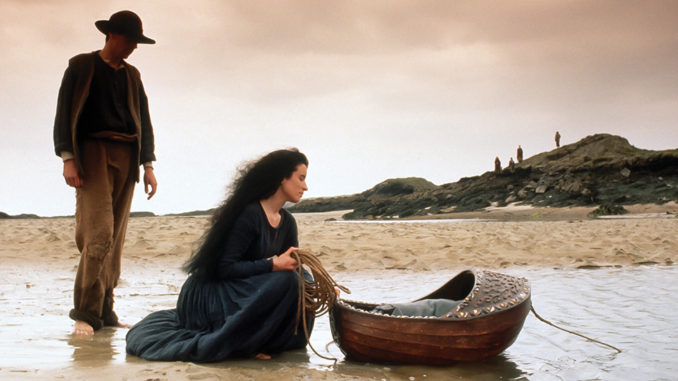 by Edward Landler
In traditional Celtic lore, the Selkie or "Seal Folk" are beings who transform from seals to humans when they shed their skin and, donning it again, change back as well. The myth of the Selkie lies at the heart of filmmaker John Sayles' The Secret of Roan Inish, which premiered 25 years ago at the Toronto International Film Festival on September 12, 1994.
Sayles explains to CineMontage, "Like the oral traditions passed on from generation to generation, these stories are hooked into the nature around you, who you are as a person and what you need to know to survive." A gentle yet enthralling film, Roan Inish examines the vital human bond with nature increasingly threatened by our own industrial and technological development.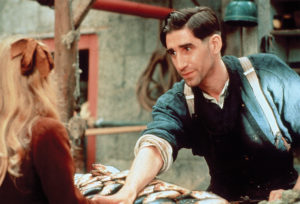 Since making his first independent film, The Return of the Secaucus Seven (1979), as writer, director and editor, Sayles has established a unique relationship with the industry. While managing to keep creative control over much of his work, he has achieved membership in several Hollywood guilds, representing writers, directors, producers and editors. Regarding his Local 700 membership, he stresses, "I wanted to join the union because I wanted to be fair to our assistant editors and other post personnel."
Sayles based his Roan Inish screenplay on Rosalie K. Fry's 1957 novella The Secret of Ron Mor Skerry, a favorite book from childhood of Maggie Renzi, his life's companion and frequent co-producer. The two met in college and have worked together on most of his movies. They acquired the rights to the book during the production of City of Hope (1991) and, while Sayles was editing Passion Fish (1992), Renzi and co-producer Sarah Green went to Ireland to start scouting locations for the film.
Although faithful to the novella's main story in his script, the Irish-American filmmaker transferred its location from the Scottish coast to the northwest coast of Ireland. In the book Sayles on Sayles (1998), he tells interviewer Gavin Smith he did this "because one of the things I did get from…growing up was that sense of Ireland being this island that's obsessed with loss."
Seeking a connection to home and nature is key to 10-year-old Fiona Coneelly's (Jeni Courtney) return in 1949 from a bleak factory town on the mainland, where her father works, to her grandparents' home in the small islands, where making a living from the sea has become more difficult. In the filmmaker's final revised shooting script (dated December 10, 1992), his written visualization already suggests how Fiona's growing perspective in the film is interwoven with the seals' and gulls' POVs as sentient natural beings who also inhabit the scattered small islands of her home.
The nature of storytelling itself is explored as well. Sayles plays with ways of presenting oral storytelling, arranging voiceovers and cutting to the stories' narrators differently for each story Fiona hears about her family's ancestors (one of which married a Selkie in human form) and for the story of how her baby brother Jamie was carried out to sea in his cradle. A concrete sense of magic and fantasy is conveyed through the child's visualization of these stories. As Sayles tells CineMontage, "It's 1949 and Fiona imagines the events untouched by film or television…literally, without special effects."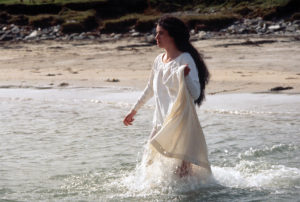 As Kirk Honeycutt wrote in The Hollywood Reporter in April 1993, to finance the project,  "Sayles said he raised the money for the low-budget film through home video pre-sales, foreign money and by investing some of his own money." Personally putting up a third of the movie's projected $5 million budget to get production started, the filmmaker set up production offices above a pub in Rosbeg, a town in County Donegal close to all the shooting locations. Scheduled for an eight-week shoot, the film's production started April 30.
Director of photography was Haskell Wexler, ASC, who had shot Sayles' Matewan (1987) and would later work with him on Limbo (1997) and Silver City (2004). In an interview with Douglas Bell for the Academy of Motion Picture Arts and Sciences oral history project, the cinematographer offered, "The Secret of Roan Inish was a film I'm very proud of. I liked the attitude, I liked the sweetness, I liked the fantasy aspects of it."
Unfortunately, the financing deal Sayles made with Denver-based Jones Intercable was not finalized until two weeks after the shoot began, and the cast and crew began work without knowing if there would be enough money to finish. Wexler relates that an Irish worker who had helped build the thatched cottages and had already been paid for his work "got really super drunk…and he burned down half the sets. The people of the village all pitched in and rebuilt it."
A July 30, 1993 Los Angeles Times article reported that the fire caused $150,000 of damage and quoted Renzi saying, "Insurance covered us and we started building the next day with 80 locals employed by the production. After the fire, they behaved toward us as if we'd lost a child." With the Jones deal finalized, the money started coming in and production went so smoothly that it came in under budget. The entire cast and crew, including the locals, received a $650 bonus, and the film's ending credits conclude with "Thanks to the kind people of Rosbeg and Portnoo, County Donegal."
The most unpredictable factor during production was the Irish weather. In Sayles on Sayles, the director asserts, "I knew how good Haskell was at making everything match and appear seamless… Some of our montages are supposed to take place in a five-minute period and they were shot on 12 different days." Every day, the call sheet would be distributed with several different shooting plans that depended on how the weather turned out.
Another major concern was working with the seals. Wexler and his camera crew photographed most of the key seal scenes, but British wildlife cameraman Jeff Goodman, assisted by American Jeff Wood, also shot some of the seal footage. In addition to actual seals, several animatronic seals were constructed and used.
"I told Haskell that the seals and the gulls are characters," Sayles says. "At the opening, the establishing shot is Fiona from the seal's point of view. That was the hardest shot in the whole movie. How do you get seals to look where you want them to? We had to put the seal on a fake rock on top of a raft."
During production, assistant editor Plummy Tucker (now ACE), synched dailies in a cutting room over the pub. She had been an apprentice editor on City of Hope and an assistant on Passion Fish; on her next project after Roan Inish, she was already a full editor. "I like working with assistant editors who are ready to cut," Sayles notes.
"I cut while I shoot, doing an awful lot of editing in my head," the director confides. Agreeing, Tucker tells CineMontage, "John is economical in his shooting and very clear about what he wants. He's incredible with story structure and character, and writes wonderfully nuanced female characters, with a real focus on authenticity. I'd assemble the scene rolls for John to cut on the Steenbeck: wides, mediums, close-ups… "
It generally took a couple of days for prints to come back from the lab in Dublin, but every night, Sayles would announce, "Popcorn, dailies and Guinness," and the footage would be screened for cast and crew in the pub. The shoot wrapped on June 28.
During post-production, Sayles and Tucker returned to Ireland and performed a now-obsolete procedure at Dublin's Ardmore Studios. The assistant editor recalls, "We did actual looping, not ADR. We prepped 35mm full-coat mag loops to record on. That was a throwback!"
While the shooting was finishing up, second assistant editor Sheila Moloney set up cutting rooms in the garage at Sayles and Renzi's home in upstate New York to be ready for their return. The editor/director worked on the Steenbeck upstairs while the assistant editors worked downstairs.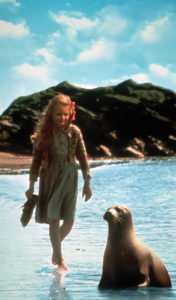 Sayles remembers that cutting the picture to lock took about 10 weeks at the most. "Editing is where you breathe life into the film," he explains. "All of post is part of it; it's not just me, you get to enlist other people… You take all you have from actors, script, cinematography, sets, wardrobe and music — and make it better. The trickiest editing was the sequences with the seals."
For those scenes and other montage sequences in Roan Inish, Tucker recalls that Sayles had shot a lot of material so he could play with it. Working without an Avid before the great digital changeover, they devised a different method to experiment. "John would lay the sequences out and then we'd take all the shots with handles to a video facility and transfer to tape so he could play with the length of fades, dissolves and supers — you couldn't do that on film," she explains. "Then I'd make a detailed count sheet showing how to recreate it, and we'd take that to an optical house to print."
Composer Mason Daring, who has worked on all but one of the filmmaker's features, arranged traditional Irish music for the film's score. After recording some of the score at his own studio near Boston, he and Sayles recorded and cued the rest of the music at Windmill Studios in Dublin (U2's studio) with native musicians playing traditional Irish instruments.
When picture was locked early in September, supervising sound editor Philip Stockton, MPSE, came upstate to take all the sound material back to prep at c5 Sound in New York City. "John's jobs were among the first on which I was sole supervisor," Stockton says (Roan Inish was the fifth of nine Sayles movies he has supervised). "When he locks it, it's all ready to go. I'm proud of the dialogue editing; the Irish accents are heard clearly among the ocean and other natural sounds."
The sound editor also praised the special quality of the effects devised by Foley artist Marko Costanzo for the Selkie shedding her skin. For the fifth of the 10 Sayles films on which Costanzo has worked, he reveals, "We created a gooey world using wet chamois cloth peeling over a wet burlap sack… We did an additional pass with hand creams that worked best for the viscous slop."
After about four weeks of prep at c5 on Sonic Solutions (before ProTools was developed), Tom Fleischman, CAS, did the final mix at Sound One in less than two weeks during October 1993.
In January 1995, after its Toronto premiere, The Secret of Roan Inish became the first Sayles film presented at the Sundance Film Festival. Having no idea of how to market such a unique picture, studios gave it a pass on distribution, but First Look Pictures, a unit of the Overseas Film Group, stepped in for domestic distribution. Released on February 3, 1995 in the US, it earned over $6 million dollars in its initial run, Sayles' largest box office take thus far in his career. Overseas went on to distribute it internationally.
As our long-term survival becomes more obviously endangered by humankind's blindness to the natural environment from which we've evolved, the reality of the myth depicted in The Secret of Roan Inish may yet find its audience. A child who wants to bring her family back together, and finds living creatures in nature to guide her — that may indeed be a fantasy. But, as the filmmaker himself confirms, "She doesn't just find the magic passageway or the magic ring. She does the hard work."
If we all could do the same, we may find reconciliation with one another and with nature itself.