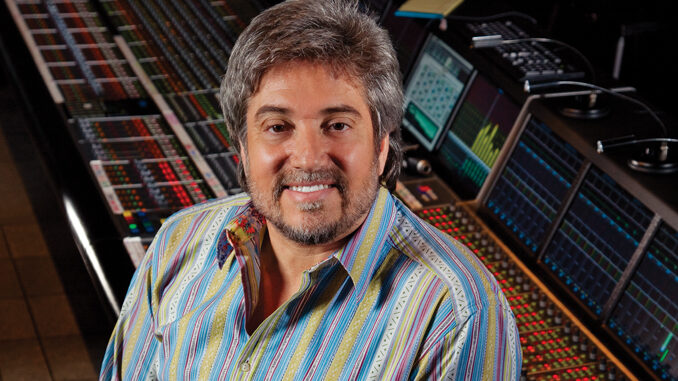 by Mel Lambert  • portraits by Gregory Scwartz
With some 190-plus films to his credit, not to mention 14 Academy Award nominations, it is perhaps hard to believe that such a seasoned re-recording mixers Greg P. Russell, CAS,got his start in a modest recording studio. "My first inspiration was my father, Sheldon 'Shelly' Russell, a studio musician who played lead alto sax on The Merv Griffin Show," Russell recalls. "I went to the studio with him for various sessions, and saw the guy behind the panel working the dials––that was always very intriguing to me."
Russell, Sr. worked at several facilities while recording film and TV scores as well as jingles, including TTG Studios in Hollywood. "They had a recording class where I went at night during my senior year at high school," Russell, Jr. says. "It was an invaluable experience. Then I got a call from TTG's owner and, within six months, I was working on scoring sessions for Spelling-Goldberg Productions' TV shows, including Charlie's Angels, The Love Boat and Starsky and Hutch."
Although his primary ambition was "to make records and be part of that business––hopefully as a producer––I spent four years at TTG and then moved to Evergreen Studios in Burbank, where I learned about film music," he continues. A call from B&B Sound, a small post-production facility in Burbank, led to Russell mixing Foley and recording live actors for Saturday-morning cartoons. "The dub stage was transitioning to stereo and so the owners asked me to handle music," he says. "I teamed up with Jeff Haboush and for five years mixed 55 feature films and numerous TV shows, including Moonlighting, as well as cartoon series. The irony is that back in 1986 I mixed music for the TV cartoon series Transformers. And now, I am completing the third Transformers movie with Michael Bay; I've come full circle!"
"Re-recording is like painting on a huge caves with hundreds of sound 'colors' and 'textures' to create the soundtrack."
Russell's big break into the mainstream came in 1988 with a call from Warner Hollywood to mix music with Bob Litt. "My first film was Tequila Sunrise, directed by Robert Towne with supervising sound editor Kaye Rose," he recalls. "I was surrounded by all these Oscar-winning or -nominated people." In 1989, he worked with Don Mitchell on Ridley Scott's Black Rain, his first Oscar nomination within a year of moving to Warner. "I was 30 years old and completely dumbfounded," he reveals.
His well-publicized move in 1995 to Sony Pictures Studios to work with Kevin O'Connell, "resulted in some of my best work," and a long-term collaboration with director Bay, starting with the director's second feature, The Rock, through his most recent project, Transformers: Dark of the Moon, which Paramount Pictures releases June 29 in 3-D (see sidebar, page 22). "I received an Oscar nomination in 1996 for The Rock, then in 1997 for Con-Air, and again in 1998 for both Armageddon and Mask of Zorro––it was the start of an amazing run that I still cannot quite believe."
The Sony move also meant a transition to mixing effects. "While Jeff Haboush mixed dialogue and other elements, I always mixed music; we split sound effects," Russell explains. "Warner need- ed a music mixer, but I missed mixing effects; I got the opportunity in 1991 on Star Trek VI: The Undiscovered Country and Flight of the Intruder. While Kevin handled effects and dialogue, [his former co-mixer] Rick Kline handled all the music. A more realistic split for a two-man crew is for one to handle dialogue, ADR and music, and the other backgrounds, Foley and sound effects. So I took the effects chair with Kevin, although I still mix music on the occasional film." Returning to his roots, last year Russell mixed music, dialogue and effects for Kenny Chesney: Summer in 3-D concert film.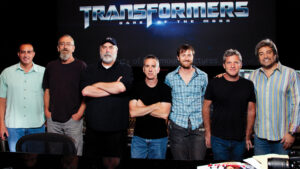 Prior to embarking on a project, Russell likes to get a good handle on the film's direction and overall flow. "It's always nice to sit down and talk story," he says. "That is what we are all in support of––the script and the characters. Where are the strengths in the film and the focal points, and what do we want to make very clear within the full arc of the film? What are the needs of the film, sonically? I can then zero in on sound textures for the backgrounds and have the audience feel the reality of each and every location. Sitting with the supervising sound editor and the director, I look for opportunities to discuss the set pieces. We talk 'big picture' first and then get into the nuances of integrating the various characters.
"Normally, we try to put together a schedule to accommodate pre-dubs," he continues. "Because of condensed time scales, the dialogue, ADR and group ADR are happening on one stage, and effects and Foley on another. A typical movie requires two weeks of pre-dubbing for dialogue, three weeks for effects and then three weeks for finaling with individual notes, plus two to three days for tweaks and then print mastering. That means up to nine or ten weeks of stage time for the domestic release, plus sever- al days of M&Es [music and effects] and foreign passes. On Transformers: Dark of the Moon, we spent two weeks on dialogue pre-dubs, five weeks on effects pre-dubs and four for finals—that's three months of intense creative work."
In terms of his overall mixing philosophy, Russell has three main criteria. "My primary concerns are always definition, detail and articulation," he says. "The only way to achieve that is to be really, really focused on each and every shot. Clarity has always been key for me; my objective is that everything I have in front of me should have purpose and be pristine.
"For me, mixing is an absolute art form––but also a craft," he adds. "I like to use sound elements in the most effective way to best tell the story and support the context of each and every scene. Re- recording is like painting on a huge can- vas with hundreds of sound 'colors' and 'textures' to create the soundtrack. One of the most gratifying aspects of being a re-recording film mixer is that the full experience of a filmmaker's vision hap- pens here on the dub stage. It is remark- able to see a filmmaker light up when his or her film comes to its full fruition on the stage; it is a gratifying experience to work hand-in-hand as we come to the final production."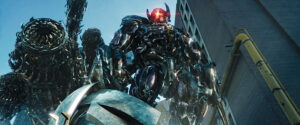 The effects re-recording engineer believes in using panning to create a convincing sound environment. "I use the imagery to dictate where my sounds will go to match the images. And I take a dramatic license within sound design––like flying sounds over the top of the audience, as well as pulling sounds into the room to provide an enveloping experience. I like a proper sound movement, which can be exquisite. I don't like movement for movement's sake; panned dialogue, for example, is very distracting.
"Everyone has an opinion, since film- making is such an subjective art form," Russell adds. "I need to totally wrap my head around a director's vision of what he is looking for. You have to know what is needed. I like to get involved early with the pre-dubs so that I am learning the film; you are then in better shape as you go into the finaling."
But, Russell cautions, as big and powerful as the effects may play in a sequence, they should be used judiciously. "All of the nuances of the drama in the dialogue must be as clear as a bell," he says. "So I sometimes need to keep the effects out of the way. A well-balanced track is what I look for in a movie. Dialogue is clear. Music is pulling at all of the emotional strings, and yet the believability of the threats, tensions and danger, etc., can be implied by the sound effects. All of this must come together to produce an enveloping, involving soundtrack. In a way, the audience gets aboard for the film's emotional journey. We owe it to the filmmaker to really support this with our soundtrack.
"I've had the opportunity to work with some of the biggest names in our indus- try––the best directors, the best picture editors and the best sound editors," Russell concludes. "I have to raise my game on each and every movie, which forces me to never rest on my laurels. They've all made me a better mixer. I need to push the boundaries and look for new aspects that I can bring to the task, and which will be signatory to that movie."