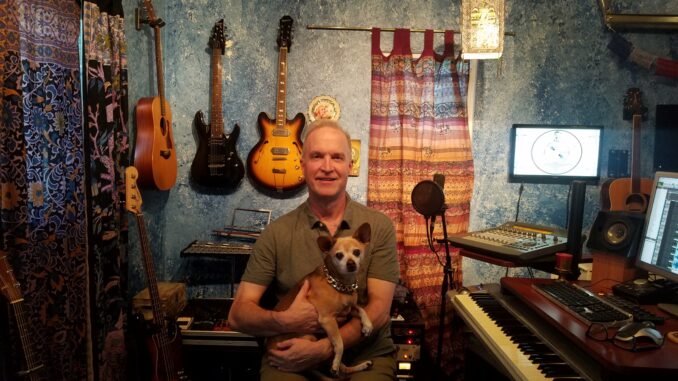 Where are you currently employed?
I am at home, waiting for the world to open.
Current projects?
As soon as things open up, we will mix a film directed by Dennis Dugan.
Describe your job.
I help tell stories by placing music to picture. It ranges from the mundane, like cutting source music into perspective for the dubbing mixers, to the more creative such as constructing the score for key montage sequences. I spot the shows with the producers and composers and music supervisors to decide where the music should go and what purpose it serves. I often participate in the song cue selection and placement. Ideally, I get the music approved by the show runners before the mix, prepare all of the music for the mix, make changes on the stage if needed, prepare cue sheets so everyone entitled can get performance royalties, and I deliver files to the studios for archiving. On some shows I create the temp score using existing score or library music for studio executive screening. I am a liaison between the composer and editorial department and the one who executes for the showrunners the final changes they want made as they finish their shows.
How did you first become interested in this line of work?
I've known since I was a boy I wanted to make music and have always just gone from the next indicated step to the next in order to end up where I am now.
Who gave you your first break?
My older brother's high school best friend Randall Wallace moved from Lynchburg, Va., to Los Angeles and became a screenwriter. He grew friendly with the TV composer Mike Post. At the time, I was playing in bands and writing commercial jingles and corporate soundtracks in Richmond, Va. Randall invited me out to meet Mike, so I decided I should just go for it. I drove cross-country and presented myself at Mike's office. I eventually got a job doing studio cartage for his sessions (as well as many car washes and grocery-store runs). After a while, I worked in his studio as a programmer and recording engineer. Later, I worked for Mike and John Bidasio's studio/editorial company, Westwind, where I helped the music editors with technical issues. Eventually, I started to work as a music editor myself.
I've gotten a few big breaks since. Music supervisor (and now music editor) Julie Houlihan has sent a few things my way, including "Malcolm In The Middle." Producer Linwood Boomer took a big chance on me and changed my life.
What was your first union job?
I actually first joined the Sound Local 695 as a scoring mixer, mixing live sessions for TV shows such as "Hunter." Later, 695 merged with the Editors Guild. One of my first union jobs as music editor was the pilot and first season of "New York Undercover," a tumultuous show which provided a few stories that are entertaining in hindsight.
What credits or projects are you proudest of, and why?
I was the composer and music editor on "Malcom In The Middle," and I am proud of my work there. My composing for that show was nominated for an Emmy. There are some big musical moments in "Sons of Anarchy" that were rewarding to create, working closely with composer Bob Thiele, editors including Hunter Via and Jordan Goldman, and especially executive producer Kurt Sutter.
What was your biggest challenge in your job (or on a particular project) and how did you overcome/solve it?
Finding the right balance between my ambition to improve my professional situation versus taking for granted the opportunities I currently have has been a big challenge. My daily practice of meditation, yoga, and personal creativity helps me see things more clearly and focus on the things I can control. The more I am concerned with others, e.g. comparing myself to others' accomplishments and talents, worrying about others' perceptions of me, etc., the more prone I am to resentment. Working every day on my own creative projects is key to keeping me cheerful when I show up to work.
What was the most fun you've had at work?
Every day at "Malcolm In The Middle," I was grateful to be there. We all brought our best in an environment of creativity and mutual respect and much laughter. Working with Victor Fresco on the excellent "Santa Clarita Diet" was a delight.
Jobwise, what do you hope to be doing five years from now?
Same as now — I hope to work with kind, creative, intelligent people who appreciate my talents and enjoy collaborating to make the best work possible.
What are your outside activities, hobbies, passions?
Meditation, yoga, fitness, delicious plant-based food, my two Chihuahuas, traveling the world with my love Emily Lawless. I create music: orchestral concert works, chamber music, songs. I am currently finishing an album of guitar-based songs.
Favorite movie(s)? Why?
"O Brother Where Art Thou" — I love its sprawling spectacle, its music, its link to classic literature. "Pulp Fiction" — its pure entertainment value, innovative form, dialogue. I enjoy the way Quentin Tarantino uses music in all his films. "Idiocracy" — though it's not as funny living in it. "Shawshank Redemption" and its iconic score. "Eternal Sunshine of the Spotless Mind," "Adaptation," "Being John Malkovich" — I love Charlie Kaufman stories.
Favorite TV program(s)? Why?
"The Wire" — I was sad to finish watching that series, I felt so close to the characters.
"Breaking Bad" and "Better Call Saul" — gripping and unexpected storytelling executed at a high level. "Handmaid's Tale" — though currently, the authoritarian government depicted is more uncomfortable than entertaining. "Veep" and "Silicon Valley" — great comic writing, great performances. "High Maintenance" — fascinating, unusual, and real characters. Great music too. "Atlanta" — Donald Glover's genius. Lately I've really enjoyed the synthesized scores of Atticus Ross and Trent Reznor in "Watchmen," Labrinth's "Euphoria" (both the score itself and the way music editors Bryant Fuhrmann and Jason Newman have it weave in and out of the other music), and the score to "Devs" by Geoff Barrow and Ben Salisbury.
Do you have an industry mentor?
I don't currently have a mentor, though I do always get a lot out of my talks with Bob Thiele. Sometimes I will understand something Mike Post said to me decades ago and I'll marvel at both his wisdom and my thickness. Early on, some of the old Wrecking Crew musicians like Gary Coleman, Tommy Morgan, and Mike Melvoin would offer kind guidance. Now I try to learn from literally everyone I meet.
What advice would you offer to someone interested in pursuing your line of work?
My best advice is to ask someone else as I am a bit of a cautionary tale. As for myself, whenever I have been less than kind and polite I've regretted it. I regret being polite only once with one producer. Learning lots of skills has helped me stay working, though some might say it's better to be known to do one thing really well. I like learning new things, it keeps it interesting.
Thinking is fine, but I can think about something to exhaustion and literally nothing has changed. The more I include other people and take action, the more real things get. As I've gotten older, I've seen that generally things work out; I just need to show up and put in the work. The media I work in and the tools I use will change, but working with others telling stories will always be the heart of what I do.
Was there ever a circumstance when you had to rely on the Guild for help or assistance?
I have been extremely grateful for the health insurance provided through our Guild. I've also appreciated the advocacy the Guild has done on my behalf from time to time.
Is there anything you'd like to say to your fellow Guild members, some words of encouragement?
As we face unprecedented turmoil and change and uncertainty, professionally we are better off united in the Guild. May we emerge from this challenge better than before and may we be kind to each other.
Compiled by Jeff Burman. 
Interested in being featured in What Our Members Do? Please email CineMontage editor Scott Collins at SCollins@editorsguild.com.